Hyundai Tempts Potential Buyers With Subscription Service for its EVs
Americans are more likely to buy electric vehicles if they see electric vehicles around their neighborhood and if they've driven one themselves. At the Chicago Auto Show Hyundai put its money where it's mouth is offering no-strings-attached rentals for its new selection of EVs.
The program called Evolve+ is meant to give customers a chance to try out an EV before buying, for as long as they'd like. It is a month-to-month subscription service that allows the driver 1,000 miles, with insurance, maintenance, registration, and road-side assistance included.
"Consumers will learn the most about EVs in the first few days of ownership: from experiencing the addictive instant torque, to improved handling from a low center of gravity and to the convenience of never having to visit a dirty gas station again, among many other attributes," Tyson Jominy, vice president of data and analytics at J.D. Power told Newsweek.
"To that end we applaud Hyundai for taking an initiative to increase awareness and trying to get more "butts in seats" that will ultimately lead to more EV sales for it and all automakers."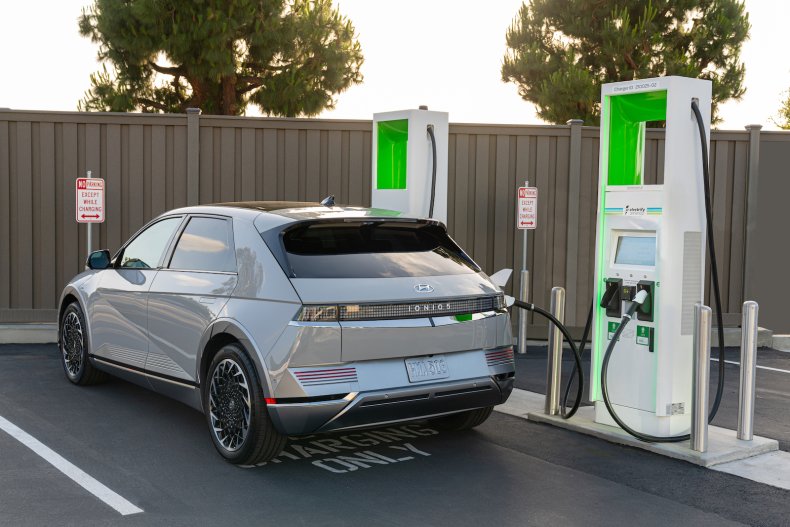 The Hyundai Kona Electric has a starting price of $699 per month; an Ioniq 5 is $899 per month. Subscribers can cancel at any time during each subscription period and no long-term commitment is required.
Evolve+ is currently available at select dealerships in six states (South Carolina, Maryland, N.J., Colorado, Massachusetts, Oregon) and has plans to add more by the year's end. Consumers can find available dealers within the Hyundai app.
"However, as is typical, this subscription program is limited in scope, operating only in a handful of cities and states, and only for two models, Kona EV and Ioniq 5. It is cost competitive only from a certain perspective. For about the price of renting a Tesla from Hertz for one week, Hyundai is offering a 28-day subscription. A traditional lease remains significantly cheaper per month, while an installment finance contract is likewise cheaper, too," said Jominy.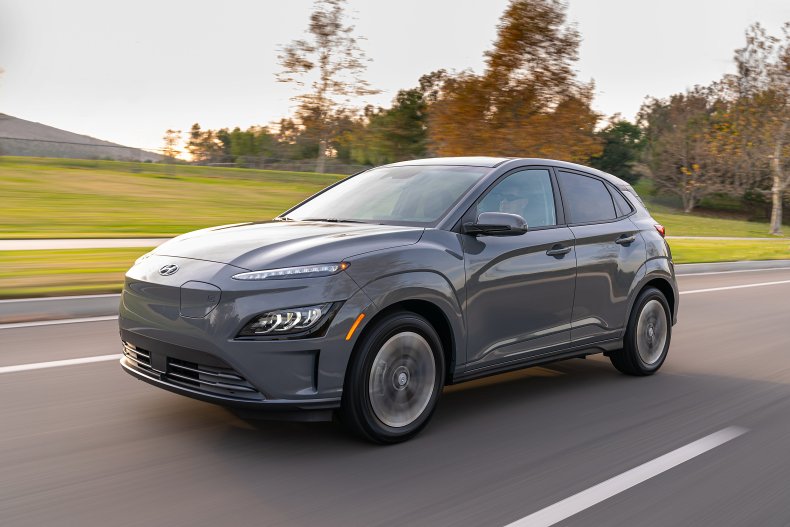 This is similar to the car subscription service model that Cadillac, Audi and BMW supported for a few years; Porsche and Volvo still do today. Porsche even lets buyers subscribe to its Taycan EV, for $2,750 per month. It too can be extended month to month.
Like Porsche, Hyundai is also partnering with its dealers, letting customers work locally and have someone responsible for the vehicles delivery condition and required maintenance.
It's an easy process starting with downloading the app. Buyers can then search by zip code, select a model, and choose the length of the loan. The price is displayed, they log in, and follow the instructions to qualify. Pay with a credit card and reserve the vehicle.
"As a 'try before you buy' approach, its success may be limited, but one tweak could make it one of the most interesting sales programs conceived. Including the activation fee, the initial month of the subscription is almost $1,200 out of pocket for an Ioniq 5 -- money that will come directly out of any down payment should the driver switch to ownership," said Jominy.
"A potentially successful model of converting to ownership could be that a renter buys out their existing rented vehicle with all previous monies credited as a down payment. There are hurdles to overcome to make this feasible, but such an approach would be more risk free and could lead to greater success for the program."