Update (01/04/2022, 10:40 p.m. ET): The Virginia Department of Transportation (VDOT) announced Tuesday evening that the I-95 had reopened after emergency crews spent the majority of the day clearing the streets and rescuing disabled vehicles after a massive snowstorm.
The storm caused hours worth of delays as drivers were unable to traverse the snowy and icy conditions.
Even with the road open again, the VDOT urged travelers to be cautious to slick roads, and added that most secondary streets remain unplowed.
Original Story:
Officials in Virginia continued to work Tuesday to get traffic cleared on Interstate 95 following a snowstorm that left dozens of vehicles stranded in the cold overnight.
A winter storm Monday night dumped nearly 14 inches of snow along across portions of the city of Fredericksburg, according to the latest update from the Virginia Department of Transportation (VDOT). This caused a massive pileup of cars along a 50-mile stretch of I-95 as wet, heavy snow forced vehicles to a halt.
The stoppage of cars was also in part due to a number of large disabled trucks that were blocking cleared paths, the VDOT added.
As of Tuesday afternoon, emergency teams continued to assist stranded motorists and attempt to forge paths for the remaining stuck cars to get out. "Crews have made substantial progress since Tuesday morning directing travelers stopped on I-95 to the nearest possible interchange, allowing them to use alternate routes to access their destination," the VDOT continued.
While I-95 southbound was mostly cleared by the afternoon, the interstate's northbound lanes remained plugged with stranded cars. However, the VDOT noted that emergency crews were "actively clearing [northbound] traffic" in order to expedite the process.
Once I-95 is cleared of all trapped vehicles, the VDOT stated that a fleet of plow trucks will make sweeps of the interstate, both northbound and southbound, before it is reopened to motorists.
Kelly Hannon, a spokesperson for the VDOT, told CNN that rescue teams were "clearing trucks one by one to break through this blockage, and we will get to each driver and restore traffic flow."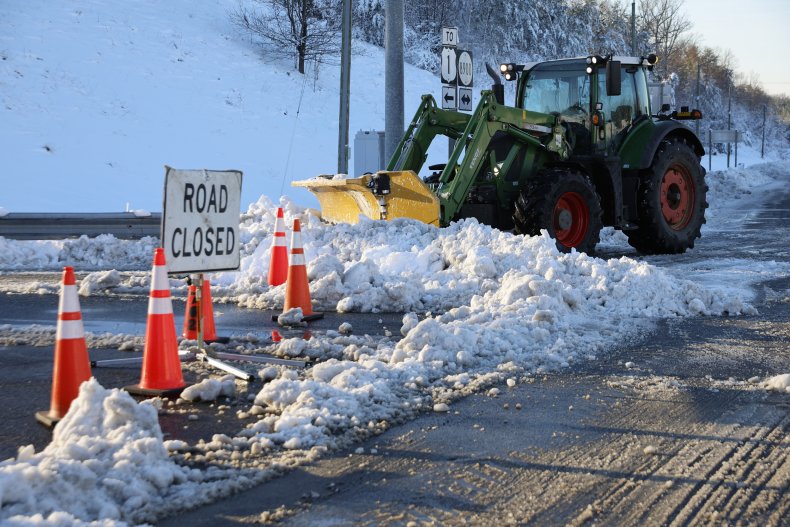 The dig out came after a night of uncertainty for many Virginians who were stranded in their cars as snow continued to pummel the interstate. Reports of shared supplies, fuel conservation efforts, and warming up using car engines have circulated across various media outlets.
One driver, Vania Masaya, told Washington, D.C. news station WRC-TV that she feared for her life after she got stuck on the interstate for 12 hours with her young children.
"I just kept thinking, they're gonna die in this cold," she stated. "It was freezing. My daughter's cheeks were so cold."
Masaya and her children were eventually rescued by a passing firefighter.
Another motorist who told his tale of getting stranded was Virginia Senator Tim Kaine, who remained stuck in traffic Tuesday morning after 19 hours on the road.
"I started my normal 2 hour drive to DC at 1pm yesterday. 19 hours later, I'm still not near the Capitol," Kaine tweeted. "My office is in touch with @VaDOT to see how we can help other Virginians in this situation."
Kaine eventually made it to Washington, D.C. after a 27-hour journey.
Beyond just I-95, the VDOT estimated that approximately 80 other roads remained closed due to downed trees or power lines across Fredricksburg and the greater Virginia area. Many of these streets are residential in nature, and "the majority of the secondary routes and subdivision streets remain in severe condition, meaning snow-covered with little to no bare visible pavement showing."
The VDOT added that the main snow removal efforts were still concentrated on "primary routes and high-volume secondary routes."
As the rescue efforts continue on the interstate, the snowstorm also caused problems for Virginians in their homes, as an estimated 218,000 people across the state were without electricity due to downed power lines.
Virginia Governor Ralph Northam remained in contact regarding the situation but hesitated to deploy the National Guard, even amidst calls on social media.
"[The National Guard is] available, and they do a wonderful job," Northam stated. "We have the resources we need right now, we just need to be able to get them where they need to be."
Newsweek has reached out to the VDOT for comment.