'I Accidentally Moved Into A Retirement Home at 19'
Growing up in Oklahoma I spent a lot of time without the support of a family and I entered adulthood by myself. So, I began to use social media to share my feelings and experiences as a new adult, showing what I was learning as I grew.
Then in June of 2020, a woman named Lori Parker added me on TikTok and over the months that followed, we became friends. In November 2020 she invited me to meet her family over Thanksgiving holiday, and though I wasn't able to make it, we remained in contact and in February, I decided to take a leap of faith to visit her and her family where they lived, in Piggot, Arkansas.
I left my hometown and traveled more than 500 miles to meet strangers from the internet and I remember thinking to myself: "this could either be the worst decision I have ever made or one that could change the rest of my life for the better."
I spent the whole weekend in Piggott and during my stay there I got to know the area, bonded with Lori and her family and had a ton of fun. Towards the end of my trip I was at a Mexican restaurant with Lori and her best friend Kim—who I now call Mom and Aunt Kiki—when Lori suggested I move to Piggott and become a part of their family.
I returned to Oklahoma and after several weeks spent praying and considering the decision, I made the choice to move there.
Unfortunately, I wasn't able to look at any apartments in Piggott in person as I was still in Oklahoma, so I asked Lori if she knew of any available places and she was able to find a listing for a two-bedroom apartment that was only five minutes away from her home. There wasn't much information on the listing other than that rent would be $350 a month, excluding water and electricity, but I immediately fell in love with the pictures. Plus, it was the cheapest monthly rent I had ever seen in my life. It seemed like a blessing, so I took it.
But the evening in March 2021 that I moved in was actually the first time I had seen what the inside of my apartment looked like. I met the landlord and signed the lease, but there was nothing mentioned about the community or who my neighbors would be. My first impression of the apartment was really just that it was nice and spacious. I had never had my very own apartment without roommates before, and now I had two bedrooms all to myself.
That first week I was busy finding a job, unpacking my life, and making my new apartment a home. But during that time, I would hear things such as, "wow, it is so great to see a young person living here!" The first full day I was in my apartment, a neighbor even knocked on my door and invited me to dinner at a local BBQ restaurant to "welcome me to the neighborhood." It was such a sweet gesture but there was no mention that it was a retirement community. Once I had met all of my neighbors over that first week, it clicked. I realized they were all over the age of 65, I was the only teenager in sight and that I was in a senior living complex. There is a sign nearby that says "senior living complex"—it actually belongs to a separate senior living complex next door, but when I saw that about a week in, where I was living clicked. The first thing I did was laugh in embarrassment. I had never heard of anything like this happening before.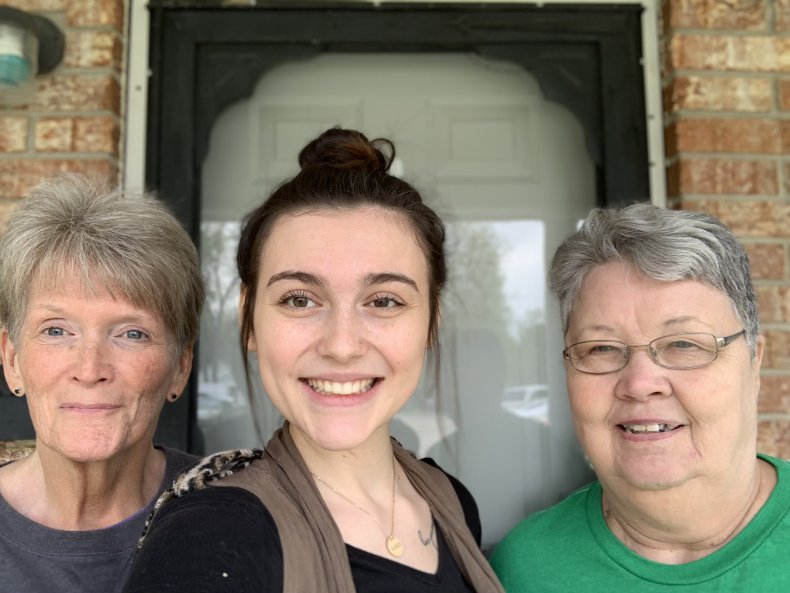 But my neighbors' reactions to me moving in was one of pure excitement and love. They were so excited to see a young person move in and bring light into the community. I told my friends and Lori and her family straight away, and we joked about it for weeks, but it didn't change the fact that I was in love with my new home and my community of wonderful neighbors.
I have made friends with almost all of them now. We talk a lot about their day and their families, and we often catch up on old movies. Lately I have been battling some of them on Facebook word search games, and there are always lots of hugs and snacks. It has been an incredibly positive experience for them and for me.
I am still the "new girl in town" so I haven't had any big parties as I haven't made a lot of friends in the area yet. But I have been on a few dates which have been quite humorous. My date will pick me up, we go out and have fun, and I always end the date by saying, "please drop me off back at the retirement home." It alway creates a good conversation piece and some laughs. And, my neighbors will see cars pull in and always ask me who I am going out with or who I have met in town. They always want the latest scoop on my life and I love sharing it with them.
I do play loud music at times, but to my knowledge, my neighbors can't hear it. The senior living home has a great atmosphere, which has been surprising for me, as a teenager. Plus, I have seen since my move to Piggott that most one to two bedroom apartments will lease for $350 to $500 a month, so I know I have a great deal.
I absolutely love being a light for the neighborhood, connecting with people who hold so much wisdom and living as part of a community full of so much unconditional love. I think you can take experiences like the one I have had in one of two ways. You can sit in regret or accept it and make it the best it can possibly be.
I have no intention of moving out. I have never felt more loved in my entire life. And, I had always prayed for a family that would love and accept me, and I feel that with Lori and her family, I have finally found that.
I would recommend that other retirement homes in bigger cities open up a few apartments for younger people to rent. I accidentally, and luckily, got my senior living apartment, but that may have been because I found it in a small town. I think that if bigger cities were able to do something like this it could have a huge impact on both generations.
Older and younger people living in the same close community offers a sense of accountability for the younger generation and one of youthfulness and excitement for those who are older. If there were more opportunities for these two worlds to collide like they have for me, it could be truly beautiful.
Madison Kohout lives in Piggott, Arkansas. You can follow her on TikTok @itsme.madiiii.
All views expressed in this article are the author's own.
Edited from an interview with Jenny Haward.