A lot of people suddenly know who I am. Let's face it, I tend to stick out in a crowd anyway. In recent months, I had begun to have a feeling that something like this could happen, I just never anticipated how far my story would reach.
I am a writer and artist living in the mountains of Colorado, but most people probably now know me as the guy with all of the tattoos, including on my face, that testified before the Congressional Select Committee to Investigate the January 6 Attack on the United States Capitol in a jean jacket and band T-shirt.
I was asked to testify because I was an employee of Stewart Rhodes and the Oath Keepers between 2015 and early 2017. My official titles for this far-right extremist group were associate editor for the website and the national media director. It was my job to find and write news stories for the group, create propaganda videos, and manage media relations with the press, which included setting up interviews for Stewart.
I broke away from the group as it continued to become more and more radicalized, turning from publicly touting specifically non-racist claims to openly courting rising stars in the then-new alt-right movement, including the likes of Richard Spencer.
This radicalization was not something I was comfortable with, and I finally resigned after I walked into a conversation in a public grocery store amongst some key members and associates of the group. They were openly discussing their views that the Holocaust was a hoax. I had come to a point where I could not continue to work for the organization, even with the financial hardship that decision would entail for my family and me.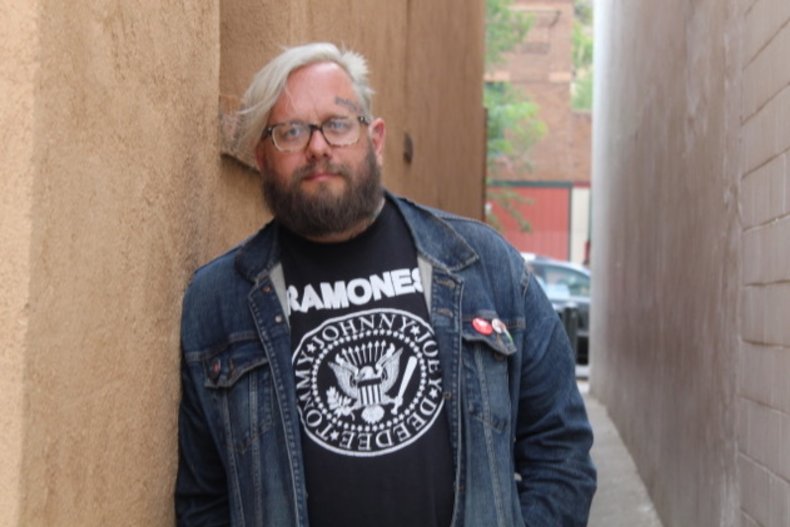 In the years since, I tried my best to remain somewhat anonymous, and I was largely successful at it. Wanting to give back to my local community, I became a first responder as a member of the Can-Am Search and Rescue team in Eureka, Montana. I then became a licensed emergency medical technician(EMT), worked for the local volunteer ambulance service and was also contracted by the United States Forest Service as a fire line qualified EMT.
Upon returning to Colorado, I also began writing legitimate journalism for the local newspaper of record in the small mountain town I call home, as well as for various regional outlets.
I had initially connected with the Oath Keepers with the hopes of someday writing my own breakout novel, much like my literary hero Hunter S. Thompson once did in documenting his year spent with the Hell's Angels in his book of the same name.
I had always held in the back of my mind that I would one day write that book.
Then, after writing several fiction titles, and as a result of my local reporting, I met the woman who would later become my literary agent.
During my anonymous years, I worked with a few prominent journalists working in the extremist realm. This was always done strictly off the record, until September 2021, when my agent had a frank discussion with me about the reality of selling my book to a major publisher. "You have got to get your name out there," she said to me during a phone call.
So, the next time a reporter made contact, this time for The Washington Post, I decided to allow her to attribute quotes using my name in an article published on September 17, 2021. I had no idea the avalanche of attention it would unleash.
I was soon approached by ABC News, which was working on a documentary about the January 6 attack on the U.S. Capitol: Homegrown: From Standoff to Rebellion. This led to a couple of appearances on Nightline, and even a clip of the documentary being shown on Good Morning America.
These events took place around the first anniversary of the January 6 attack, and it's clear to me that the investigators for the Select Committee were on their game. Because, around 6am on the morning of January 7, 2022, I had a voicemail waiting for me from one of the lead investigators, saying they were very interested in speaking with me.
It's not like they offer classes at the local community college on navigating a congressional investigation. And, let's face it; I don't exactly have the best track record when it comes to life decisions. But thank the gods I had the foresight to reach out to someone I would have years ago never had imagined contacting—a former Acting U.S. Assistant Attorney General for National Security.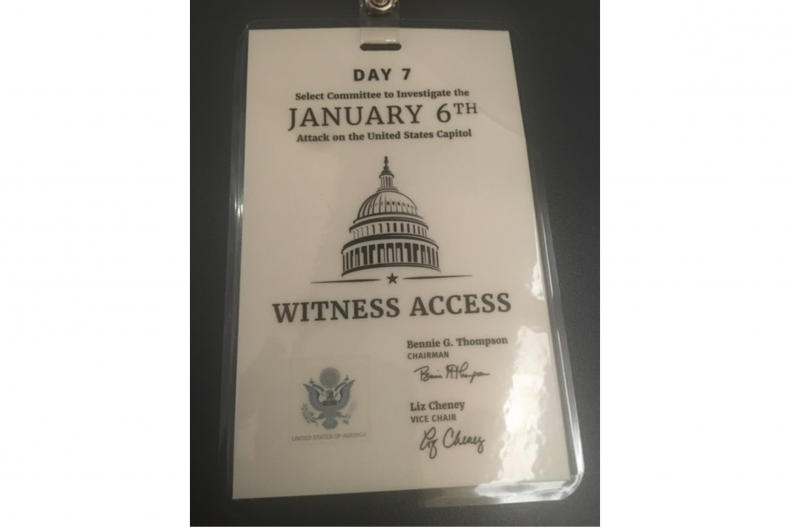 Mary McCord was also featured in the documentary and had actually attempted to reach out to me at the same time. After a couple of missed connections, we were able to connect—thanks to a friend of mine, Mike—and it was exactly the help I needed. She was able to explain the processes and even help me find the rock star legal team, Akin Gump Strauss Hauer & Feld LLP, that helped to prepare me for my testimony.
In total, I was asked to partake in four interviews. The first was informal and off-the-record done through a Zoom-like app. This was before I had secured legal representation and involved a lot of fear and uncertainty. The following two were sworn testimony. I flew into Washington, D.C. for the second taped interview. My attorneys held my hand, metaphorically speaking, and helped me navigate all of it. I don't know what I would have done without them.
In the days leading up to my live televised testimony, my cousin and oldest friend in the world outside of my immediate family had taken the train from northern New Jersey to D.C. to be there for me and provide moral support.
The day before, we visited the National Holocaust Museum. Looking back now, I can see how that experience lent strength to my words. It was the smells of the leather shoes and the train cars that hit me hard, but the part that most affected my resolve to warn the world about the dangers of extremism was the looks of the Hitler Youth and members of the SS. There in the historic black and white photographs were casual joking smiles; faces that I felt I had seen before. In their expressions and stances, I recognized those I would see at Oath Keeper rallies and standoffs. It made me recall the casual jokes I used to hear, the jokes that became increasingly brazen in conversation. The casualness and levity of radicalizing extremists. To me, it looked exactly the same.
The morning of July 12 was like something out of a dream, and not necessarily a good one; my emotions ran hot and cold, quickly shifting between an empowering feeling that I may be making a difference to the world my daughters and granddaughter will inherit and what felt like the beginnings of a panic attack. Strangers were already beginning to recognize me, and my tattoos, from the opening segment of Rachel Maddow's show the night before, in which I had featured.
My legal team, along with my cousin and I, were driven to the hearing in one of those big shiny black SUVs with drivers that most people are familiar with from TV shows. This trip included several security stops, including having our vehicle searched for explosives by a K9 team. We were ushered into a secure underground parking lot where we were met by the United States Capitol Police and given our credentials. From that moment until we left the hearing, I was escorted at all times by three armed Capitol Police officers. Including a somewhat interesting moment when I realized I suddenly had to use the bathroom before being brought before the committee.
During that bathroom break, there was an unguarded moment that stands out as one of the most important of that day to me. The three armed officers escorted me to a bathroom down the hall from the small green room where the witnesses were all kept before being brought into the hearing chamber.
As two of the officers took up posts outside the door, the third made sure the bathroom was clear of threats. Once he was sure I was safe, he turned and spoke to me in a hushed voice, "Thank you for what you are doing." I am pretty sure I teared up right then. I turned and shook his hand and thanked him for protecting my life with his, and answered as best I could; "No, thank you. You were the ones that paid the real cost of what had happened that day, and your thank you means so much more to me than any I might receive from the committee members."
I can best describe how I felt at the beginning of my testimony as like deer in the headlights of an oncoming semi-trailer. But after the cameras quieted and flashes stopped, I just focused on having a conversation with the committee members. I can talk to anyone, and that is what I tried to do. I tried to tell my own truth to the world.
I am most proud, perhaps, of being able to show others who may be caught up in the craziness of extremism that there is an exit ramp leading back to a normal life.
Since my testimony, my life has become a whirlwind of media appearances. Indeed, I can't seem to go anywhere without being recognized. This was scary at first as I wasn't sure who was approaching me and what their intentions might be.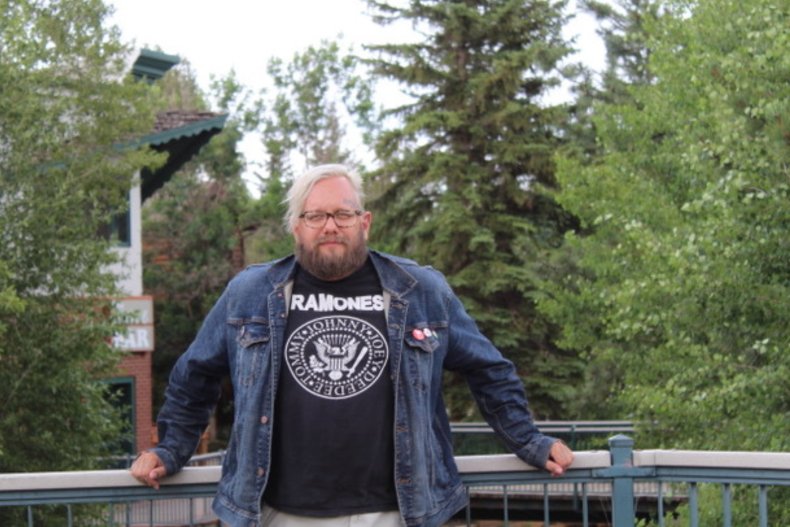 But almost all of the interactions I have had since have been overwhelmingly positive. Most people just want to thank me for my words and shake my hand. There have been a few drinks bought for me as well, for which I am grateful. At this point, I am not sure about the social media conversation around my testimony. I have shut down my Facebook and Instagram accounts for a bit until this all blows over, and I haven't looked too deeply into what people have been posting on Twitter.
It took me a long time and effort to return to who I was before my time with the Oath Keepers, and it took a lot of critical thinking and soul searching. It also took quite a while to think that the story of my experiences might have some beneficial effects.
Still, the more I do speaking engagements with organizations working to combat domestic extremism, such as Georgetown Law's ICAP and the International Center for the Study of Violent Extremism, the more I believe that maybe I can use my story to help people understand what is happening and maybe even move forward in better ways.
Mainly, I hope to show there are ways to step back from the edge and reclaim your life.
Jason Van Tatenhove is an author, journalist, and professional artist living with his family in the high mountains of Colorado. Van Tatenhove was a staff writer for the Estes Park Trail-Gazette before launching his regional news outlet, coloradoswitchblade.com. His first narrative non-fiction novel will be published by Sky Horse in February.
All views expressed in this article are the author's own.