'My Husband And I Have Nowhere in the World We Can Safely Live Together'
My name is Lital, I am an Israeli health professional and a traveling artist specialising in traditional crafts using natural materials. I met my husband, Vinas, in 2018 at a "Peace In The Middle East" themed camping event in a beautiful valley in the mountains of south Turkey.
When I first saw Vinas, he was standing alone in a field, barefoot, picking and peeling wild artichokes. In that moment, when we first looked at each other, I knew that I loved him—it felt like my longing heart had reached home. From that moment we spent all our time together, getting to know each other and creating our own path together.
Vinas was born in Iran, a country that is in conflict with the state of Israel. He had been living outside of Iran for several years and had been through a journey that is similar to my own. He left Iran after studying computer engineering and music, and traveled through different countries, mostly by foot, learning beautiful and necessary survival skills along the way.
At the beginning of our relationship, in love and away from our countries, we didn't know about the difficulties that were ahead of us. Since I am Israeli and Vinas is Iranian, we cannot live together in Israel or in Iran. Neither of us can live in the country of the other, even after marriage.
This has meant that we have had to travel to, and stay in, countries that we could both enter with Israeli and Iranian passports, and only stay for the time allowed with a tourist visa. Our challenges began in Turkey, where I didn't feel comfortable being open about my Israeli nationality. Vinas and I spent an amazing time together camping on stunning beaches of the Mediterranean, the Aegean and the Black Seas, but we were also harassed for being a Muslim and non-Muslim couple and for being unmarried at the time.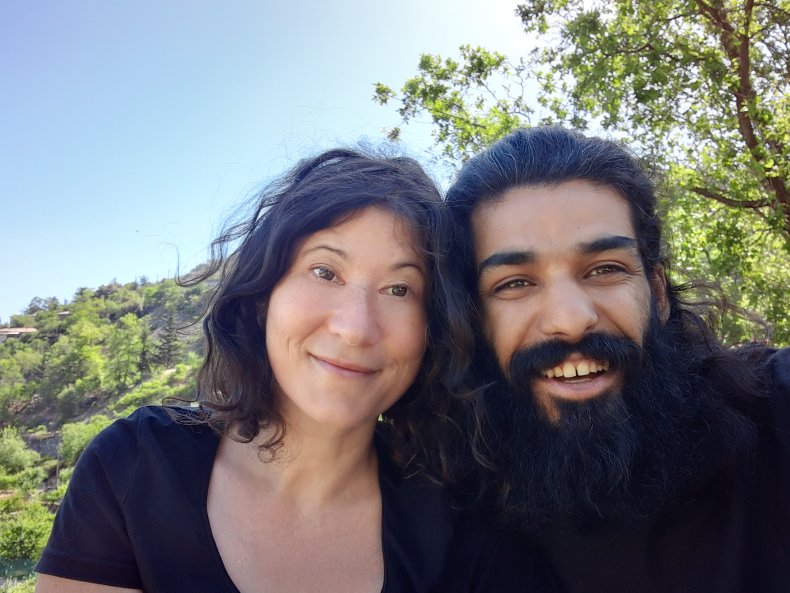 We spent time moving between Georgia, Armenia and Turkey on short tourist visas but it was not easy, and constantly worrying about being granted entry was frightening. There were times when Vinas was held and questioned at borders, simply for being of Iranian nationality, and when he was only granted a 30-day visa to stay in the Turkish Republic of Northern Cyprus in 2019, we realized we would not be able to return to Turkey as we had planned—we needed to stay out of the country for three months between tourist visas.
We spent two weeks in north Cyprus and looked for UN representatives to explain that we aren't able to live together in our own countries, but we couldn't find any, as all the UN offices are in south Cyprus. Feeling we had no other option, we travelled to the border of the Republic of Cyprus and asked for asylum.
We applied for asylum in January 2019 and that application is still pending. We have found ourselves facing very difficult daily realities—we are not permitted to work in regular jobs, we are unemployed and we are not supported by the country's welfare system.
In other countries we used to sell our handmade items on the street, but as asylum seekers that's forbidden. Because we could not generate financial income, we were homeless for almost one year.
We had a broken tent that we pitched in hidden spots in the park in the capital city of Nicosia. Our bedding often got wet, we had to carry our belongings with us all the time and always stick together. We experienced extreme weather conditions and situations where we felt very unsafe.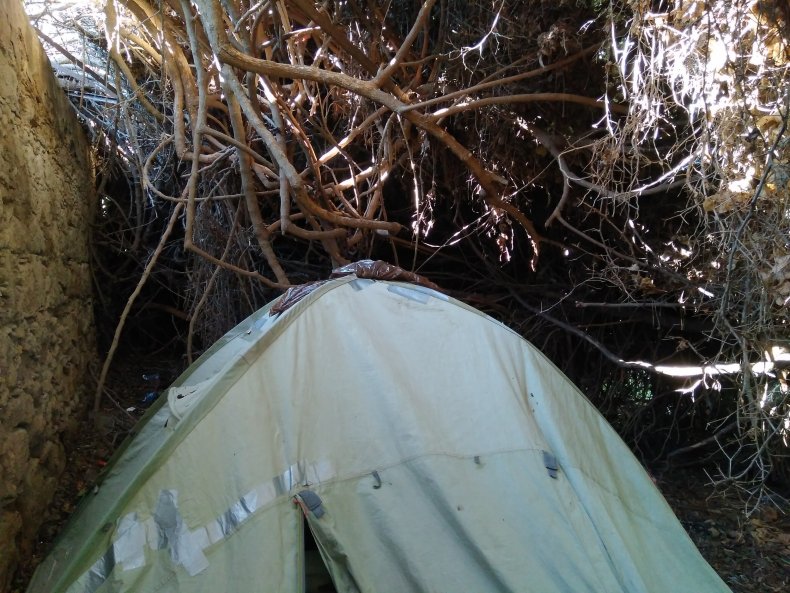 When money ran out we survived by receiving food donations and collecting vegetables that were left out on the floor of a market at the end of the day. We walked for more than a mile to this market, twice a week, carrying our belongings and the fruit and veggies that we found back to where we slept in the park. We never knew if our tent would be there when we got back.
We volunteered weekly in a food saving project, taking fruit and vegetables donations from the market and distributing them to those in need, mostly other asylum seekers, and this was our main food source.
We spent our days trying to get food, to find accommodation and jobs and to change our circumstances. We spoke to the asylum service, the UNHCR, the local NGOs and churches, but our situation did not change.
We had to move our tent several times and once, when we stayed by a river, it suddenly flooded on us. We had to put our lives first and ended up losing most of our belongings. In the last spot we camped we had to share the space with another homeless man, which was scary for me, but we had no other place to go.
When the police arrived to clear us out from that camping spot, I was crying and trying to explain that I didn't want to be homeless. The police contacted various organizations on our behalf, and we were sent to a room in a remote village in the mountains. We are still in that village, but we don't know how long we will be able to stay here.
We are not receiving financial support, we aren't able to get to the food market and NGOs based in the city, and we aren't receiving any food coupons. We now rely on food donations from humanitarian organizations, on foraging, and on the help of our neighbors who are also asylum seekers and are living on a tight budget.
We got married in 2019 and my family visited Cyprus. My mother liked Vinas because he is kind and has a good heart. My parents support our relationship and our struggle breaks their hearts, I wish I could go and visit them in Israel. Vinas' family is supportive, but for their safety we don't contact them.
Processing our asylum request in Cyprus could take years, so we cannot create a settled home and start a family because our future is uncertain. We are hoping to get political refugee status, but in the meantime, our lives are on hold. As asylum seekers we are unable to leave the country, and we don't want to do anything to risk deportation.
Our hope is to have a country that will accept us, allow us to settle down and start our family life. To find that country, a place we can call home, we need help. We are in extremely uncertain circumstances, with no resources, and we seem to have ran out of choices. We hope that by sharing our story we will be able to reach people that can and want to help us.
We are positive people, decent and hard-working. We volunteer regularly and give back to the community in any way we can. We would like to start a simple life together in a country that accepts who we are. We want to have the basic freedoms that every human being deserves in the world.
Lital Ben Haim is an Israeli citizen who is struggling for her life with Vinas, her partner from Iran. They have started a fundraiser for their cause and named it "Support Stateless Family." Support them at gogetfunding.com/support-stateless-family
All views expressed in this piece are the writer's own.