Why 'I Am Legend 2' With Will Smith Will Follow Alternate Ending
Will Smith's 2007 hit I Am Legend is set to return but not in the way that fans know. Warner Bros. has announced a new-look deal with Akiva Goldsman.
On Wednesday, the filmmaker confirmed that he and his production company Weed Road had secured a multi-year first-look deal which will see him work on several projects for Warner Bros.
Goldsman has shared details of two such projects, and per Deadline, said in a statement: "We're starting with two projects that are fun and very much Warners; the sequel to I Am Legend, with Will and Michael B. Jordan, and the sequel to Constantine with Keanu Reeves that Francis Lawrence is going to direct.
"So I'm coming out of the gate fast. We're doing it with JJ Abrams, and Francis and Keanu and I have been pretty deep in the story breaking stage."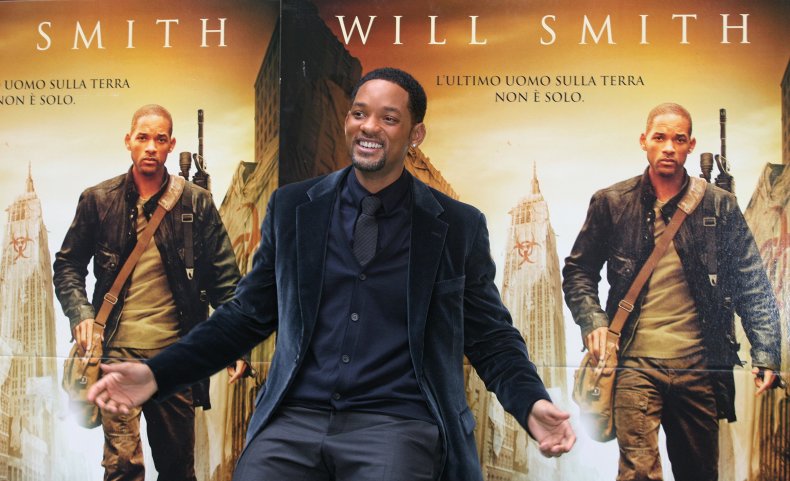 Here is everything that fans need to know about the I Am Legend sequel.
Why 'I Am Legend 2' With Will Smith Will Follow Alternate Ending
Goldsman confirmed that the sequel to I Am Legend is set to begin "a few decades later than the first" film. Though he announced Jordan's casting, the director did not share details of the actor's role.
The filmmaker also revealed that the sequel will follow the original film's alternate ending, which was featured in its two-disc special edition DVD. This ending stuck more closely to author Richard Matheson's source material whose book forms the basis of the movie. The alternate ending saw Smith's Robert Neville realize how his fighting against the Darkseekers had made them view him as a monster.
Goldsman revealed an unlikely—or perhaps not so unlikely—source of inspiration for the sequel in his statement: HBO's The Last of Us.
"I'm obsessed with The Last of Us, where we see the world just post-apocalypse but also after a 20-30-year lapse," he said.
"You see how the Earth reclaims the world, and there's something beautiful in the question of, as man steps away from being the primary tenant, what happens? That will be especially visual in New York. I don't know if they'll climb up to the empire state building, but the possibilities are endless.
"We trace back to the original Matheson book, and the alternate ending as opposed to the released ending in the original film. What Matheson was talking about was that man's time on the planet as the dominant species had come to an end. That's a really interesting thing we're going to get to explore. There will be a little more fidelity to the original text."
In Matheson's book, Neville learns of how there were many humans who became vampires whilst they were still alive, and they had started to rebuild society together. Only those infected after death became violent creatures.
Neville realizes that during his journey to finding a cure, he has killed the families of several living vampires and is hated for it; he has also become a legend to the new race of infected in the same way that vampires were to humans in years past.