I Am the Lorax I Speak for the Trees: Monterey Cypress Said to Have Inspired Dr Seuss Book Falls
A decades-old tree in California that is believed to have inspired the children's book The Lorax has toppled.
The Monterey Cypress in Ellen Browning Scripps Park, San Diego, fell on Thursday, Fox 5 reported. The majority of the tree was removed from the park on Friday. Workers are expected to take away the rest this week.
Tim Graham, a spokesman for the City of San Diego's Parks and Recreation Department, Graham told CNN there is "no definitive cause on why it fell" and the authorities hope to plant a replacement tree nearby.
He told Fox 5: "The plan is to salvage the large trunk section in hopes of repurposing it."
Graham said the tree is thought to be aged between 80 to 100 years old. Unique to the coast of California, Montereys are found on the Pacific Coast and are considered a rarity.
Locals of the seaside community say the towering Cypress which sat in Scripps Park was the inspiration for the Truffula trees in the 1971 book The Lorax. Author Theodor Seuss Geisel, better known as Dr. Seuss, could see the tree from the observation tower where he lived.
The plant was lovingly known as the Lorax Tree, according to the La Jolla website.
The beloved children's story tells of a businessman called the Once-ler who harvests a forest of Truffula Trees to make garments called thneeds. Amid the environmental devastation, the orange Lorax speaks in defense of the trees. Some see the story as a warning against abusing the environment, and as a critique of capitalism.
"I am the Lorax, I speak for the trees. I speak for the trees for the trees have no tongues," the moustachioed character says in the books.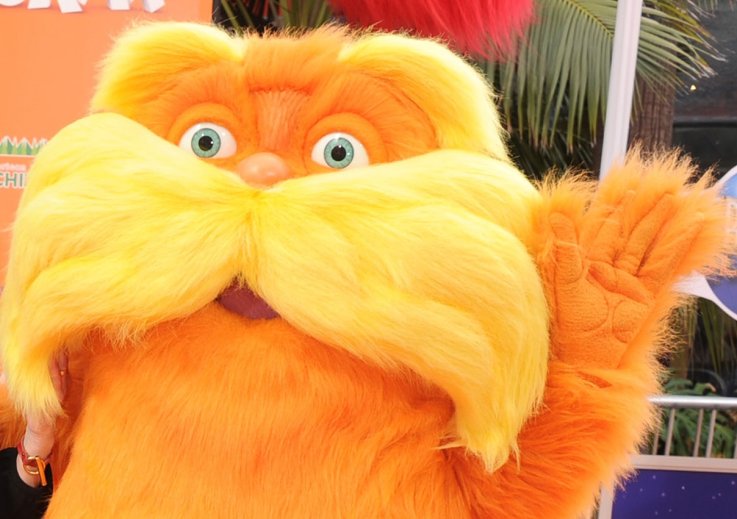 The main character pictured at The Lorax's Los Angeles premiere at Universal Studios Hollywood on February 19, 2012 in Universal City, California.
Getty/Gregg DeGuire/FilmMagic
In 2012, the book was made into a 3D animated movie starring Zac Efron and Taylor Swift.
Dr. Seuss and his first wife visited San Diego in the late 1920s, and bought the mountaintop observation tower in 1948.
The writer lived in La Jolla until 1991, when he died in his home of oral cancer. He was 87. In total, he wrote more than 60 books under four different names. He also wrote feature films, TV specials, political cartoons and advertisements.
In 1984, he received a Pulitzer citation for "for his contribution over nearly half a century to the education and enjoyment of America's children and their parents."
San Diego's official website says it's "hard to say" for sure whether the tree inspired The Lorax, quoting the book: "It's not about what it is, it's about what it can become."