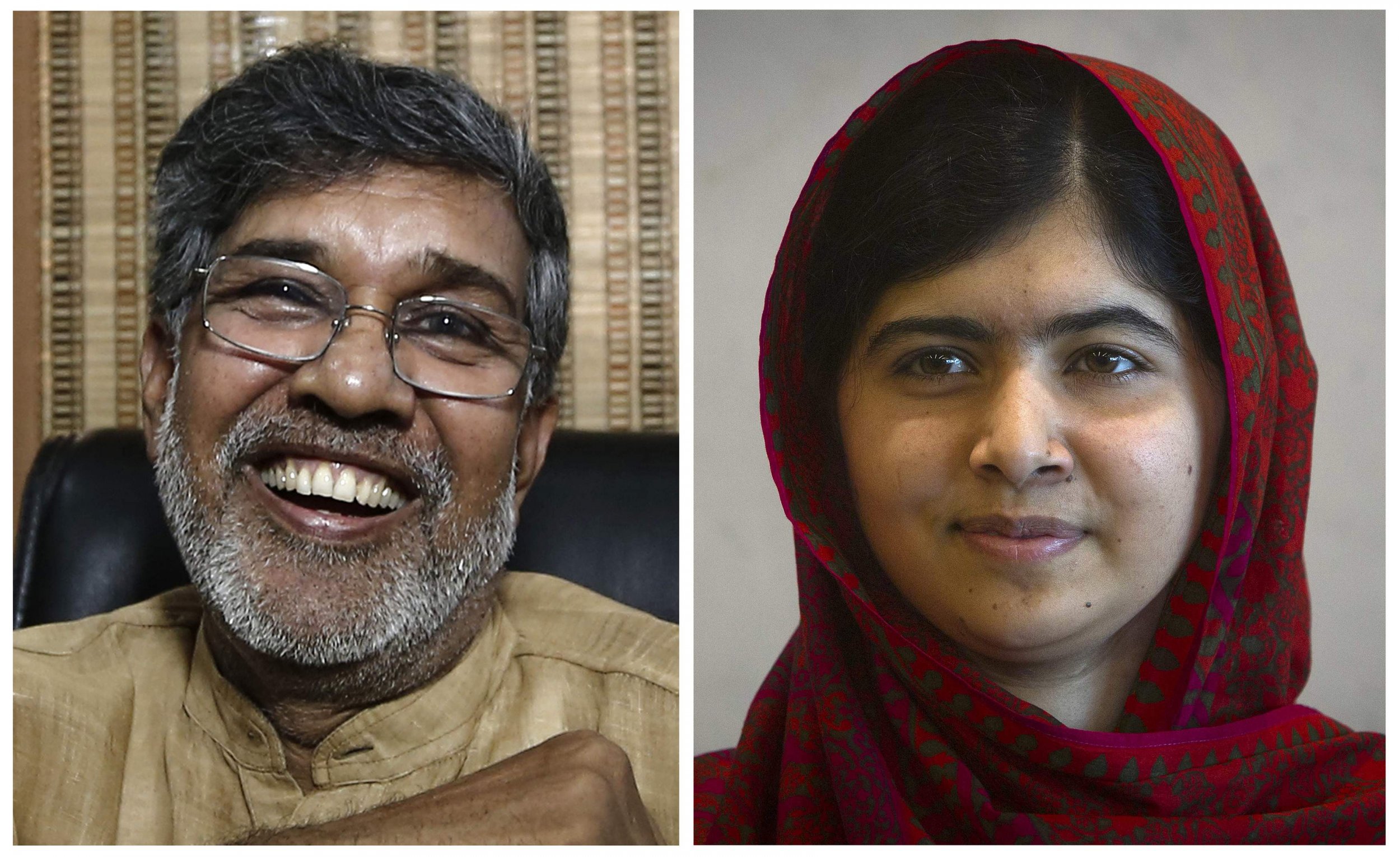 Malala Yousafzai and Kailash Satyarthi have been awarded the Nobel Peace Prize, the Norwegian Nobel Committee announced Friday in Oslo, Norway.
The committee honored them "for their struggle against the suppression of children and young people and for the right of all children to education," according to a Friday press release from the committee.
"It is a prerequisite for peaceful global development that the rights of children and young people be respected," the committee said. "In conflict-ridden areas in particular, the violation of children leads to the continuation of violence from generation to generation."
Kailash Satyarthi, 60, from India, gave up a career in engineering and founded Bachpan Bachao Andolan, the Save the Childhood Movement, in 1980, according to The Guardian and the Associated Press, and has been fighting for years to end child labor and slavery. He has helped rescue, educate, and rehabilitate tens of thousands of child slaves.
"Showing great personal courage, Kailash Satyarthi, maintaining Gandhi's tradition, has headed various forms of protests and demonstrations, all peaceful, focusing on the grave exploitation of children for financial gain," the committee said. He has also helped develop international conventions on children's rights.
"This is a very happy moment for every Indian," Satyarthi told the Indian news channel NDTV after learning of the award, according to The New York Times. "If with my humble efforts the voice of tens of millions of children in the world who are living in servitude is being heard, congratulations to all."
At just 17, Yousafzai is by far the youngest of the Nobel Peace Prize laureates, whose average age at the time of the award is 62, according to the Nobel Prize website. She is only the 16th woman to be honored in this category.
"Despite her youth," the committee said, Yousafzai "has shown by example that children and young people, too, can contribute to improving their own situations. This she has done under the most dangerous circumstances. Through her heroic struggle she has become a leading spokesperson for girls' rights to education."
When she was only 11, Yousafzai spoke out against the Taliban fighters that took control of her town in Pakistan's Swat valley, insisting on girls' rights to education, according to the New York Times and the Washington Post. A Taliban gunman shot her in the head and neck in October 2012 in retribution for her "obscenity," a word Taliban spokesman, Ehsanullah Ehsan, used to describe her mission to secure education rights, according to the New York Times. After undergoing extensive treatment and recovering in England, Yousafzai continued to be a champion for education and the rights of girls and women, according to the Peace Research Institute Oslo (PRIO).
She published her autobiography I Am Malala: The Girl Who Stood Up for Education and Was Shot by the Taliban in 2013, and an edition for young readers in August of this year. Yousafzai received the EU's Sakharov human rights prize in November 2013 and was a favorite to win the Nobel Peace Prize last year.
"(The Nobel will) boost the courage of Malala and enhance her capability to work for the cause of girls' education," Ziauddin Yousufzai, Malala's father, told the AP, while his daughter was at school Friday.
As tension between India and Pakistan rises, "the Nobel Committee regards it as an important point for a Hindu and a Muslim, an Indian and a Pakistani, to join in a common struggle for education and against extremism," according to the press release. Yousafzai and Satyarthi will split the $1.1 million award.
Yousafzai and Satyarthi were two of 278 nominations for this year's prize, according to GlobalPost, but the committee's policy is to keep the full list under wraps for 50 years.
Other nominations for this year's prize, according to the Peace Research Institute Oslo (PRIO), included: Denis Mukwege, a gynecologist in the Democratic Republic of Congo who founded a center for treating women who have survived rape or sexual violence; Novaya Gazeta, an independent Russian newspaper "known for its investigative reporting and for taking a critical stance on the Kremlin," according to the Washington Post; and Japanese people who conserve Article 9, which says that Japan will "forever renounce war as a sovereign right of the nation and the threat or use of force as means of settling international disputes." Edward Snowden and Pope Francis were also rumored favorites this year.
Friday's announcement was not met with the kind of controversy that has accompanied some Nobel Peace Prizes. Most recently, the Norwegian Nobel Committee's choice of U.S. President Barack Obama in 2009 prompted some praise, a great deal of criticism, and confusion even from Obama supporters, who thought it was premature less than one year into his first term. Other contentious awards have gone to Henry Kissinger, then Secretary of State, in 1973, while the U.S. was embroiled in Vietnam, and Palestinian leader Yasser Arafat in 1994 after the Oslo Accord, according to the LA Times.
Since the Obama controversy in 2009, the prize--which can be awarded to an individual, a group, or an organization--has gone to:
Liu Xiaobo in 2010 "for his long and non-violent struggle for fundamental human rights in China."
Ellen Johnson Sirleaf, Leymah Gbowee and Tawakkol Karman in 2011 "for their non-violent struggle for the safety of women and for women's rights to full participation in peace-building work."
The European Union (EU) in 2012 "for over six decades contributed to the advancement of peace and reconciliation, democracy and human rights in Europe."
The Organisation for the Prohibition of Chemical Weapons (OPCW) in 2013 "for its extensive efforts to eliminate chemical weapons."