'I Am Not Okay With This' Netflix Release Date, Cast, Trailer, Plot
Many viewers of the Netflix series The End of the F***ing World praised the show for its unique tone and feel, and now the team who brought that world to life are ready to release a show that offers a new approach on the superhero origin story.
I Am Not Okay With This, created by the producers of Stranger Things and the director of The End of the F***ing World (and based on a comic by the author of the latter), sees a cast of young talent led by It and Sharp Objects star Sophia Lillis in a plot that sees her develop superpowers ⁠— though the trailer reveals she will also have plenty of regular high school drama to deal with too.
When is I Am Not Okay With This out on Netflix?
The Netflix release date for I Am Not Okay With This is scheduled to be Wednesday, February 26, when all seven of the 20-30 minute episodes of the show will be released at once. As with the majority of Netflix shows, the release time for the episodes will be one minute past midnight PT (3:01 a.m. ET).
Viewers who want a taste of the series can search I Am Not Okay With This on Netflix, which will bring up both a teaser trailer and the main promo for the series.
Who is in the cast of I Am Not Okay With This?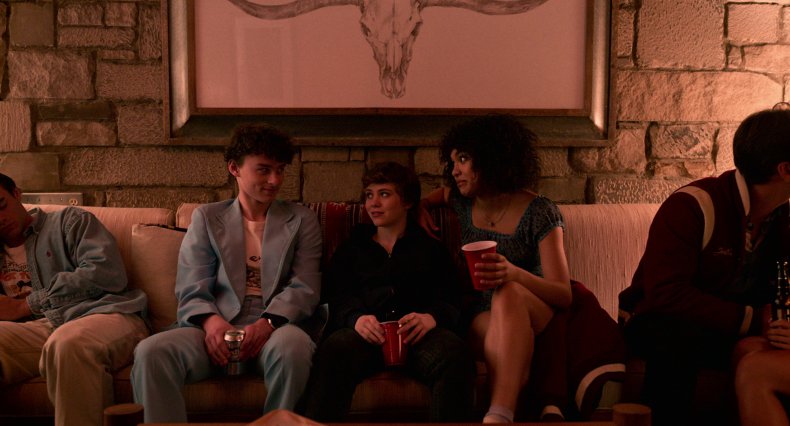 Leading the stars will be Sophia Lillis, best known for playing Beverly Marsh in the two It films and the younger version of Amy Adams' character in HBO's Sharp Objects. In I Am Not Okay With This, she plays Sydney, who she described to Vogue Australia as: "A high schooler trying to overcome the usual hurdles, juggling problems at school and at home. Then, she figures out that she has super powers which reveal themselves when she gets emotional or angry. She's pretty angsty so it's really not a good mix."
Joining her in the cast will be Lillis' fellow It alumni Wyatt Oleff, who played Stanley in the Stephen King horror movie. In the Netflix series, he plays Sydney's best friend, also called Stanley. Speaking to Boys by Girls, he said of his character: "This 'so uncool that he's cool' kind of guy. He does not care what anyone else thinks about him, so he'll wear whatever he wants; he'll say whatever he wants; he'll do whatever he wants."
Sydney's other close friend Dina will be played by newcomer Sofia Bryant, while Sydney's mother Maggie is Kathleen Rose Perkins, last seen in Fresh Off the Boat. Other supporting roles are played by young actors like Aidan Wojtak-Hissong, Zachary S. Williams and Jessica Jones.
What will happen in I Am Not Okay With This?
The official Netflix synopsis for the series reads: "I Am Not Okay With This is an irreverent origin story that follows a teenage girl who's navigating the trials and tribulations of high school, all while dealing with the complexities of her family, her budding sexuality, and mysterious superpowers just beginning to awaken deep within her. From director/EP of The End of the F***ing World Jonathan Entwistle and the producers of Stranger Things comes a new series based on the Charles Forsman [who also created the End of F***ing World comics] graphic novel."
Speaking about the novel's relationship with the original graphic novel in a Syfy interview, showrunner Jonathan Entwistle said: A lot of the greatest lines from The End of the F**king World came straight from the book...Whilst this book [I Am Not Okay With This] is very different in many ways, a lot of the deadpan humor that comes through it definitely stems from him and his kind of attitude ... this '80s horror movie obsession that he has is definitely woven into this indie movie of a story."
I Am Not Okay With This is released on Wednesday, February 25 on Netflix.