'I Am Undocumented, But My Child Is A U.S. Citizen. Why Is The Government Excluding Her From Coronavirus Relief?'
When I first found out in March that my family and many other immigrant families would not be able to benefit from the U.S. government's $2.2 trillion coronavirus relief package, I was worried, upset and surprised.
I was especially surprised because my daughter, who is now 9-years-old, was born here in the United States. My daughter has rights, just like other people who were born here have rights, because she is an American.
As an American citizen, my daughter should also receive relief money in the Coronavirus Aid, Relief and Economic Security (CARES) Act, which was meant to give taxpayers relief of as much as $1,200 each, as well as $500 for each of their children under the age of 17.
Despite my being a taxpayer, however, and despite my daughter being a U.S. citizen, our family has been denied relief because I am undocumented and do not have a social security number, which is required to receive support.
As a result, the government, which is helping countless U.S. children across the country during the pandemic, will not help children like mine.
This is not right. That is why my family decided to join a lawsuit suing the U.S. government for refusing to give financial support to U.S.-born children because their parents are undocumented.
We are asking that the government acknowledge our children as U.S. citizens and give them the respect and relief that they deserve, particularly at a time when families are struggling.
Before the coronavirus pandemic, I was working two jobs, including full-time work with a catering company and part-time work at a pizzeria. I worked hard, juggling two jobs and I paid my taxes.
Now, we are in the middle of a pandemic and I have lost my job at the catering company as a result of the coronavirus outbreak. I need resources in order to feed my family and to pay rent.
I need help because I don't have any food to offer my daughter.
While I've always been trying to save and have brothers who are helping support me as much as they can, it's not enough. Things are tight. Things are tight in terms of money and in terms of food, and being denied government stimulus money when my daughter is a U.S. citizen makes me feel that our family is being discriminated against.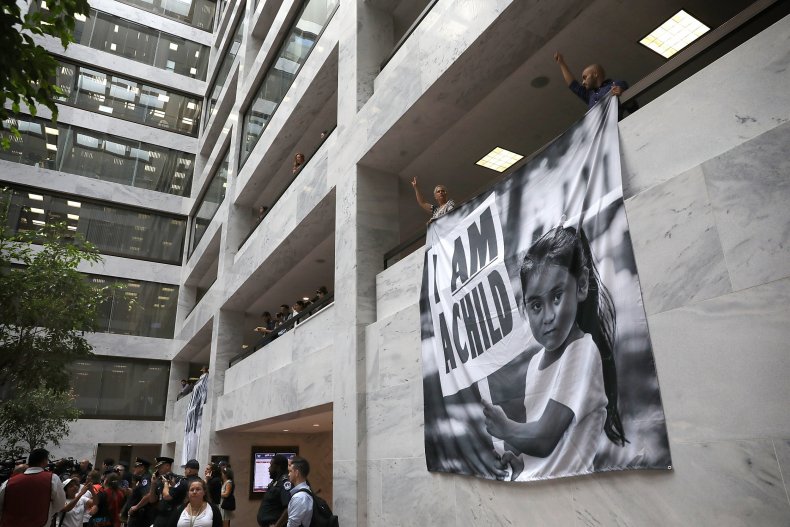 When I first came to the U.S. from Peru in 2001, I came in hopes of finding better opportunities to build a life here. The reality is, in my country, there's a lot of poverty. I knew that if I stayed, life would be a struggle there.
Here, in the U.S., everyone talks about how this is the country of dreams. In the wake of this pandemic, however, our dreams are being pushed aside and all I can feel is disappointment.
Since the pandemic started, I've had to struggle with my daughter telling me: "Mommy, I want to eat something" and asking, "when is the quarantine going to finish?"
As a parent, I am meant to be the voice for my daughter because she is very little. And as a U.S. citizen, she has rights. I'm her mom—I must be her voice and I must fight for her rights. That's why I'm here.
All that my family wants is to receive a little bit of humanity and a little bit of respect for the children who are born here.
Like countless other families across the country, we ask for solidarity in a time of crisis. Nothing more than that.
Plaintiff 2 is one of several parents suing the U.S. government over the CARES Act's exclusion of undocumented families with U.S.-born children.
The views expressed in this article are the writer's own. This piece was published anonymously at the request of the author.
As told to Chantal Da Silva in an interview translated to English from Spanish. Translated by Jossie Flor Sapunar.