'I've Eaten Chick-Fil-A for 135 Days Straight'
I live in Nazareth, Pennsylvania which is about 1hr and 30 minutes each way between New York City and Philadelphia. I'm married with a one-year-old daughter, and my wife and I have lived here our entire lives.
We had a couple of vacations cancelled because of the COVID-19 pandemic and there were no concerts or sporting events to go to. Then, one day in July I looked down and realized I'd been to Chick-fil-A for 12 days in a row. I remember thinking that there had to be a record.
I looked it up online and the unofficial record was by a guy in California who had been to Chick-fil-A for 114 days consecutively not including Sundays when they are closed. I thought I could probably do that. It was a long way away, but I felt it would give me something to look forward to.
I called my wife and she just said, "you're crazy, but do what you want to do if it's going to make you happy." I started on July 13 and here I am now in December still going strong.
It's been easy, it's 10 minutes from my house and I go to the drive thru every day—the inside is closed because of the pandemic. By August or September the staff started to get to know me and know my order.
I usually run over and grab breakfast or dinner; for breakfast I'll order a chicken biscuit and for dinner I'll just order a chicken sandwich. I'm actually a very picky eater, which is why I always order the same thing. Every now and then I'll mix it up a bit and get chicken nuggets, but I'd say 90 percent of the time it's been the exact same orders.
The drive thru staff know me by my voice now. They're really great and my local restaurant has really great people that work there. They remind me of the company I work at, with just really, really nice people. So, I enjoy going there and I like to see them every day.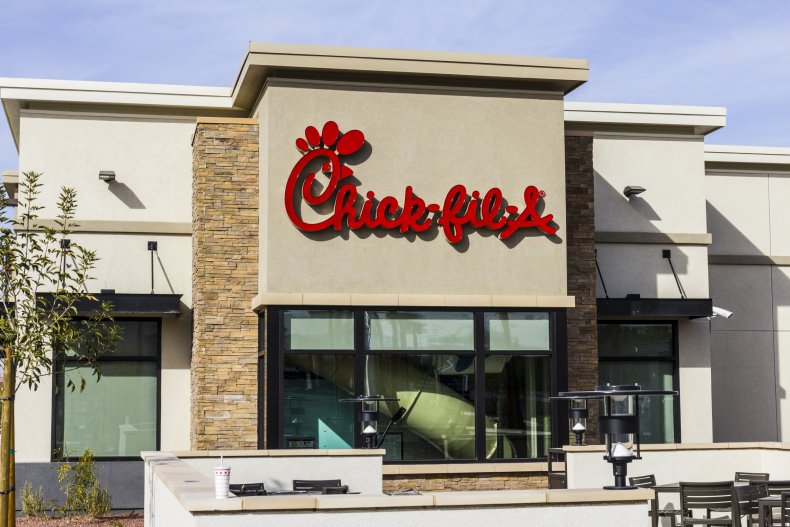 Early on, in the middle of August, I had done 30 days in a row and I pulled up to the window and talked to the girl who was working there. I said: "Hey, today I've been here 30 days in a row" And she really seriously said: "I've been here more than that!" because she works there. I admit it did deflate me a little bit, but I just kept going.
They are closed Sundays and they were also closed on Thanksgiving so up to and including December 17 I've eaten there 135 consecutive days that they are open. Normally on a Sunday we just have a couple of nice meals here with the family at home, but I love chicken so I usually eat chicken on Sunday too—a nice piece of grilled or baked chicken. I eat chicken a lot, obviously, but I still eat in moderation. I eat Chick-fil-A every day but I'm not eating fried food for every meal of every day. I go there once a day. It's not that healthy but I'm not pounding my body with fried food three or four meals a day. I eat my chicken for breakfast, a little snack for lunch and something like grilled chicken for dinner. Just normal stuff. I eat a lot of grilled chicken, I like pasta in moderation and I love fruit.
I see some of the comments from people but I'm not worried about that. There's enough going on in the world, I was just doing this as something for myself to help get me through. It's been a rough year for everyone and there was nothing to look forward to. I've spent around $7 a day, so it's not cheap but I don't drink coffee or anything. If I was getting a coffee every morning I would be spending maybe $4 to $5. I probably spend around $40 a week, but if I couldn't afford it I wouldn't be doing it.
I had a general check up in June so I knew what my blood work was and everything was fine. I'm planning to have another check up in a few months and compare. I haven't talked to the doctor about what I'm doing but I feel fine. I exercise and I have recently lost some weight and it's all about moderation. I'm not eating eight pieces of fried chicken a day. I'm generally a fairly healthy person and I feel fine. I'm a big guy and I've always been a big guy.
I see from the outside it may not look like the healthiest thing to do and it probably isn't, but I don't smoke and I don't drink. This is my thing right now.
I was joking the other day that around day 100 I was eating my chicken and I was hooked on apples and I was eating way too many apples every day. The combination of fried chicken and way too many apples didn't work for me.
Since I started this, I've had friends I've worked with in the past and people from all over the U.S. from Atlanta and Nashville reach out saying they've seen me on the news. It's crazy, I was just doing this for fun and for something to look forward to and it's kind of blown up to this. But I'm going to keep it going. Originally I was going to go until the end of the year, but everything is still locked down. All the restaurants are closed again here in Nazareth, so I'm going to keep going for as long as I can.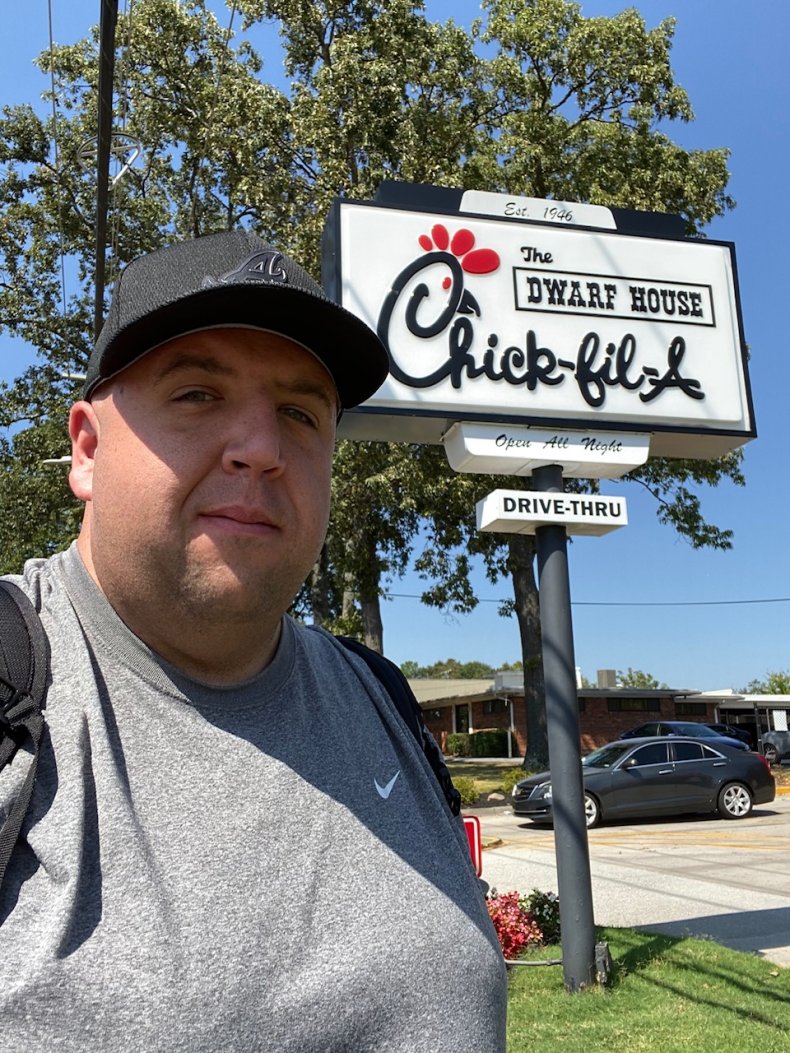 My wife is used to it by now. She's been on board but it's only really inconvenienced her a handful of times. We were on vacation in Atlantic City, New Jersey and the closest Chick-fil-A was probably 25 minutes away so that was a bit of an inconvenience. And there were probably a few nights when I got home from work late, at around 7.30pm and wasn't hungry but I had to go. Those nights I ended up getting home at around 8.30pm because it was so busy and I had to wait. But she just rolls her eyes and says, "whatever you want to do." I'm not harming her and she's been a great sport with it.
I haven't heard from Chick-fil-A and as far as I know they don't want to be a part of it, but our local restaurant does know about what I'm doing. I'm going to keep going though, it's not about that. It's something to look forward to and it gets me through. I really struggled this year; I'm an extrovert and I like people and going to do things, I like seeing my friends and family, and I struggled quite a bit with being locked down—like the rest of the world.
I get up, work, come home, look after the baby and eat some chicken. That's what my life has been for the past five or six months. So really starting this and getting into it has given me a sense of accomplishment. Even just the journey, because I don't know when the end will be; whether today or in a month.
If things go back to normal and I can book a vacation to look forward to, this might be it, but if things are going to be like this for a while and this one ends I might try something else. A buddy of mine from work and I were joking because he eats peanut butter and jelly sandwiches every day, so I said that we should try the peanut butter and jelly sandwich record.
We were joking, but who knows. I think this is going to be it, but I never thought I'd be doing this.
Matt Stoudt is an operations manager and lives in Nazareth, Pennsylvania with his wife and one-year-old baby. He has broken the known, unofficial record for eating Chick-fil-A by eating it for more than 135 days straight.
All views expressed in this article are the author's own.
As told to Jenny Haward.