My family have always been keen home bakers and cooks, so as I grew up, everyone around me would be making things in the kitchen. I joined in from as early as I can remember. There are photos of me when I was very small, making an apple pie. I'm standing on a chair trying to get to the pastry.
Each year at Christmas we would make a gingerbread house as a family tradition and I had gingerbread houses instead of cakes for my fifth and sixteenth birthdays, but my favourite thing to bake back then was a family recipe for chocolate biscuits (the British word for cookie). Sometimes I'd even whip up a batch at parties and I still bake them now for friends. I also used to love baking cakes for people's birthdays. Instead of a gift I would arrive with a homemade cake.
A friend of mine has a wonderful fancy dress party for her birthday each year and in 2010 it was circus themed. As I was struggling to think of a good design to fit the theme, I happened to visit my parents. I was looking through my mom's recipe books and found the templates for our Christmas gingerbread house. It occured to me that I could just adjust the templates and make something circus themed. So, I constructed a circus big top from gingerbread. The top had panels completely covered in candy, but each was decorated in a different color. I spent hours on it but I had a great time making it. When I gave it to my friend at the party, it received a really great response. I then thought that perhaps gingerbread building was something I should do a little more of.
I had to leave my job for health reasons the same year and while I was recovering I had a few months where I didn't have to work, so I decided to start selling gingerbread creations. I found a kitchen in a church in East London where the rent was low, and started out selling biscuits and smaller gingerbread pieces. It took years to build my business up, but through luck and perseverance my gingerbread creations became bigger and bigger over time. I began to realize that making larger gingerbread buildings really is my main passion.
My first really large commission was to recreate, in gingerbread, Castle Howard in England for a Christmas installation at the castle in 2016. I had made medium-sized buildings up until that point, such as replicas of London town houses but nothing as large as a castle.
Nowadays if a building is well-known, I can zoom in on it on Google Earth in 3D and use that to work out the scale. But in 2016, I wasn't able to get the 3D detail I needed, so I worked from lots of photos of the castle.
Three months passed between the commission and installation, which was a lot of studying photographs, understanding dimensions and discussing the overall size. It was a huge piece installed on a base that had a model train running through the surrounding "landscape."
I have to make templates for each cookie component of a large building and I sometimes make a 3D model from cardboard, dismantle it and use it as a template to cut the gingerbread from. It's sometimes tricky to work out the angles on domes, for example, so as someone who doesn't have any architectural or design training, it's easier for me to make it by hand from cardboard.
The model for Castle Howard was made from hundreds and hundreds of pieces of gingerbread because there was so much detail. The whole structure was 4m x 3m, and even though it wasn't very tall, there were seven buildings including the main castle, an obelisk, the mausoleum and also, the Temple of the Four Winds, which actually features in Bridgerton. When I was watching the sex scene between Daphne Bridgerton and the Duke of Hastings at the temple building, I realized I had made the structure from gingerbread!
On the day I arrived at the castle to install the replica, there were many moments taking the pieces up the castle stairs where it could have all gone horribly wrong, but in the end it was an incredible experience. I wasn't that well known for my gingerbread work at that point, so the best part was having friends of my family messaging my parents to tell them they had visited Castle Howard and seen my gingerbread replica there.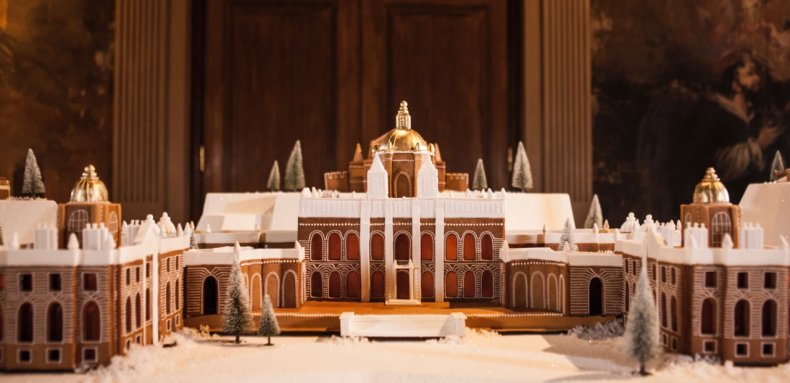 Since then, I have baked replicas of a number of famous buildings including the Palace of Versailles, Lancaster House—a mansion in London—as well as part of Somerset House and The Waldorf Hilton hotel in London. One of my favorite to make was Dennis Severs' house in East London. It's a beautiful house with ten rooms that each depict a certain time period from the 18th and 19th and early 20th centuries. Another fun project was making a replica of the house from The Brady Bunch for a TV network based in California.
Making a replica of the Palace of Versailles, probably one of the most spectacular pieces I've worked on, came about after I reached out to an event organizer at the British Museum offering to work with them on a gingerbread replica of the museum. Instead, they asked me to make a replica of the Palace of Versailles, out of vanilla biscuit, for their summer party. It had to be big enough to feed 750 people. Obviously, I said yes.
I used Google Earth and photos to make an entire cardboard model of the palace and its gardens before I started baking. It was extremely detailed because vanilla biscuit doesn't last as long as gingerbread, so I had to do all the baking two days prior to the party. I knew I didn't have much room for trial and error. I also made the Palace's ornamental gardens using green tea biscuit, so they had a completely natural green color. That was really fun. Overall it took myself and an assistant a week of studying the building and two long days of baking, decorating and building. That all happened in July during a heatwave, so it was quite intense being in the kitchen with the ovens on. But we pulled it off.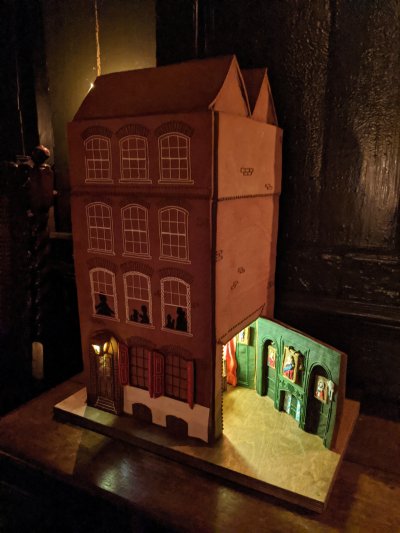 I always use the same recipe whether the gingerbread creation is going to be eaten or not, it's one that I've gradually adapted over the years. I'm pretty sure that I put in three or four times the amount of spices than the original recipe, partly because even if the building isn't going to be eaten I still want people to be able to smell it. My recipe (which is also delicious!) helps people get the full effect.
Over time, I have seen a move from 100 percent of my gingerbread creations being eaten to around 50 percent. In many places the gingerbread is on display for days or weeks, so for health and safety reasons it can't then be eaten.
I didn't really think at the beginning that gingerbread building would become a successful business. I made up the job of gingerbread architect and decided to do it! And, it didn't work for a while, so it feels great now that it has taken off. I had other part time jobs alongside my gingerbread business for a long while when it wasn't working and I don't think there's any shame in that. It means you can keep being creative.
There's a long list of buildings I'd still love to recreate in gingerbread. In the U.K. I'd love to make the British Museum and Blenheim Palace, which is England's only non-royal palace. The Chrysler building in New York is certainly on my list and I'd love to make the Metropolitan Museum of Art; arches and little statues are always enjoyable to craft. I also think the pastel, art deco buildings of Miami would be extremely fun to recreate.
There is a great tradition of gingerbread building already in the U.S. I've seen incredible gingerbread versions of the White House and the Rockefeller Center. But I love creating gingerbread buildings that I haven't seen made before, so more unusual buildings tend to appeal to me.
I get a lot of job satisfaction from knowing that something didn't exist, I get to make it and then it exists in the world. It's really simple, but that's what brings me joy.
Working in food is so connected to people. Very rarely do people not love food of some sort! It's really lovely to be able to create something that people get to eat and be excited about. A big part of my job is persuading people that they can still get excited in a childlike way. I think people forget they can have fun with food.
Emily Garland is the founder and owner of Maid of Gingerbread. She also runs The Biscuit Academy, helping aspiring bakers learn the craft of baking biscuits. You can follow her on Instagram @gingerbreadmaid
All views expressed in this article are the author's own.
As told to Jenny Haward.