I was always a "grammy's girl" when I was little. My grandmother was an amazing baker and cook and she would have me help her when she was baking pies and cookies. She even bought me my own little rolling pin, whisk and apron. At high school, if there were ever big parties or events, my friends would ask me to bake for them, because they would see the treats I'd bring to school. I've always loved sharing and bringing sweets for people to sample when I'm trying out my recipes.
I started my baking business in 2014, it was mainly cookies and small cakes at first but I knew immediately where my heart was. I've always been very interested in animals and fish; I'm an avid angler and hunter and I love all the colours and how unique each creature is.
I knew I had this passion to create realistic looking cake animals, but you need that certain special customer to order them. One day in 2017 a friend of mine who was getting married asked if I could make a cake shaped like a Mahi-Mahi fish for her wedding. I thought it would be awesome, and a challenge. So that was my first big cake that looked like a fish or an animal. Once I had made that one cake, I was hooked! Pictures of it were published in the local papers here in Texas but, looking back, I don't think it was that good! There are things you wish you could go back in time and fix. But once people saw the Mahi-Mahi cake, it began to grow. Now, I have two or three orders every weekend for these realistic fish or animal cakes.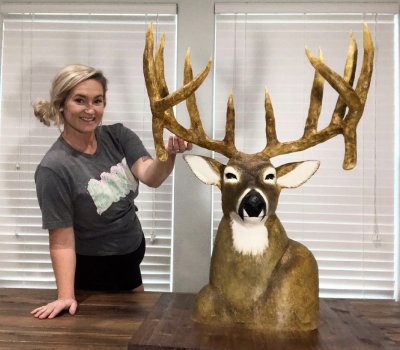 I've made realistic cake versions of Blue Marlin, Saltfish, Snapper, Redfish, Trout, Flounder and I have an upcoming Roosterfish. I've also made a lot of deer cakes—everyone loves the White-tailed deer—and I've made rattlesnakes and different ducks. I do love doing animals as they're bigger.
I don't use fondant, I bake with butter cream and now I work with modeling chocolate as well. I don't like the way fondant tastes and I don't want my cakes to be known for looking pretty but tasting like play dough. So, I found recipes on Pinterest for modeling chocolate and put a few together to make my own.
When I get an order for a realistic fish or animal cake, I draw it out life size and then I'll sketch the internal structure so I can see what it will look like and how the cake will hold up. My husband is a welder and he has taught me how to weld. If the structure requires support, say the antlers of a deer, I weld out the metal frame and then cover it in aluminum foil and cake safe covering before adding the modeling chocolate on top. With a deer cake, for example, everything is completely made of cake, up to the top of its head, then I have the metal frame structure for its antlers that is then covered with modeling chocolate. Everything is edible, it's just the internal structure is a metal frame. That's why these realistic cakes are expensive, because there's a lot of work involved.
In 2020, I made a life-size white-tailed deer cake, not just the shoulder mount. That cake weighed more than 300lbs, it was humongous. I'm also baking a full size Axis deer for a wedding in December 2022. The customer has rented a special vehicle for this cake because the antlers are so big that the cake won't fit in my delivery vehicle. That's my biggest animal cake commission to date.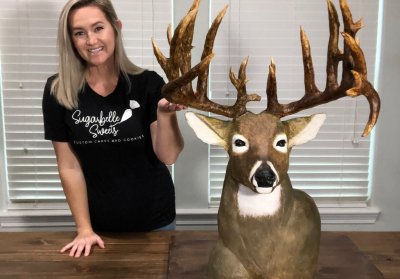 Since I started regularly making these sculpted animal and fish cakes in 2020, I've made 60 or 70 in total. Shoulder mounts, which would be from the shoulder up of an animal upwards are $1,500-$1,700 and the full body sized animals start at $3,000. The cakes of different fish range from $650-$1,200
If I have a cake due for a wedding on a Saturday, I'll start baking the cake on Wednesday—the cake batter is made from a recipe that's my own—and then freeze it overnight so I can carve it, and I'll prepare the modeling chocolate so it's ready to work with. I'll be prepping Wednesday and Thursday and then on Friday I'll be assembling it and decorating it. I'm doing all of that without much sleep, but I enjoy what I do.
Because of the price you'd think these cakes would be bought for weddings and bigger events, and I do have a whole list of weddings for 2021, but I recently had a customer pay for a shoulder mount deer cake for a nine year old boy. It was $1,700 and they also paid for me to deliver it. That was kind of a last minute order but once I heard it was for a little boy, I had to do it.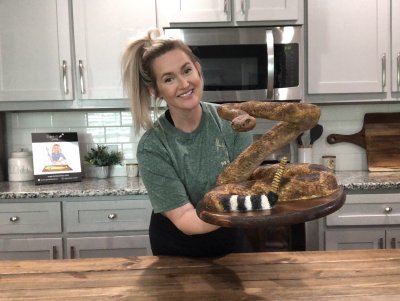 I have turned down requests for sculpted cakes that are scary. I'm a wimp so if people ask me to do sculpted faces of a scary character—I have to say no. When I made a rattlesnake cake recently I walked in the kitchen at 6.30am in the morning. I'd forgotten it was there and I had to do a double take—it scared me.
There are so many animals I'd like to make. I have a sketch pad and if I have a cake in mind I'll sketch it in there for a rainy day. I'd love to make a bobcat or a big cat of any kind; a leopard or mountain lion would be really cool.
At the moment I deliver my cakes myself so I travel all over Texas and also out of state if it takes me less than 24 hours to get there, that's because I'm a cottage baker and I want my cakes to arrive exactly as they are supposed to look, but I can see it getting bigger in the future. I would love a larger kitchen and maybe a double oven. Right now, I just work out of my little bitty oven and use my deep freezers. Even just having my own space in and having some employees would be nice.
The most common reaction I hear from every single customer is that the cakes are so realistic and then that the cake is too pretty to eat; they don't want to cut into it. I will tell them they spent all this money on it, they have to eat it! But hearing that people enjoyed my cakes really warms my heart.
Dusty Sinclair is the founder and owner of Sugarbelle Sweets. You can follow her on Instagram @sugarbelle.sweets.
All views expressed in this article are the author's own.
As told to Jenny Haward.