'I Became Friends With The Man Who Robbed Me'
In March 2019, my husband Terry had taken me away to see family in Scunthorpe, England. When we returned to our home near Birmingham, I noticed a bag that normally sits on the stairs that had been knocked onto the floor. I remember asking Terry how he thought that might have happened. He just looked at me and said: "We've been robbed."
I couldn't believe it, but when I went into the living room, I saw that the drawers of our coffee table had been emptied out and discovered our grandson's XBox had been taken, along with other electrical items and £500. When we went upstairs to our bedroom, all our drawers had been emptied onto the bed. While looking through our belongings, the robber had knocked something on top of Terry's keys, which was fortunate. Terry has been head caretaker at a local secondary school for the past nine years. If the robber had found the keys to the school, he could have had a field day there.
There was no one in the house by the time we got home, but I phoned the police straight away and they sent over a forensics officer to look for fingerprints. With the amount of prints they picked up around the house, it was obvious that this was not a professional thief.
I believe the man who robbed us was caught on CCTV going across a field nearby and then back across the field with the items he'd stolen. Around a week later, he was arrested.
After he was charged, PC John Haynes from West Midlands Police explained the Crime Free Community Desistance Program (C3) to us. It is a rehabilitation program from England's West Midlands Police where non-violent repeat burglary offenders can have jail time deferred while they take part, as long as they agree to certain terms. They are electronically tagged for four months and have to meet certain goals: Restorative Justice conferences and training or work, as well as addiction support and drug testing. Victims have to agree, and I thought that they should by all means give Neil—the name he prefers to use publicly—the chance to do this.
I believe that once you are offered help, you should take it and if you don't, then you get everything you deserve. But if a person accepts help and sticks with what they need to do, they're making an effort to turn their lives around. Fair play to them.
My daughter Anne-Marie and I then went to our local probation office in Birmingham where we actually met Neil. This was part of a Restorative Justice conference where criminals meet their victims to apologize, so Neil was there with his caseworker Police Constable (PC) John Haynes. Apparently, we were the talk of the whole building because the meeting was so calm. I have to give credit to Neil, he didn't know how I was going to react to him, but it went really well. Terry had blamed himself for the robbery because he had left our upstairs bathroom window open, but Neil told me that because of his drug problem, he was so desperate for money that he would have found any way in. He said that Terry shouldn't blame himself at all.
My friendship with Neil developed when I saw he was sticking with the program. PC Haynes was keeping Terry and I updated on how he was doing and I could see that he would try his hand at anything. During that time I spoke to Neil on the phone and he asked to take me out for a meal that he would pay for, he has also suggested meeting up for a coffee with my daughter and with PC Haynes, and since then we've just chatted and texted as the time has gone along.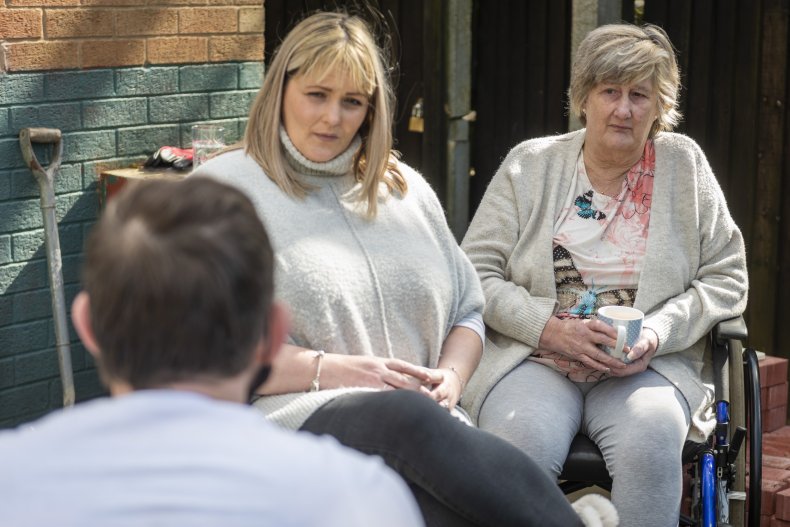 The first Christmas after the robbery, in 2019, Neil sent me some Christmas presents, and then for Christmas 2020, he brought me a really pretty necklace and I bought him a pair of slippers, two t-shirts and a jumper. I definitely consider him a friend. It is unusual but we're definitely mates. I call us the "famous five" now: PC Haynes, Neil, my daughter Anne-Marie, Terry and I!
The day I met Neil at the probation offices, he said that if Terry or I ever needed any help with anything, we should let him know. At that point we weren't doing too badly health-wise, but we moved to our current home in 2020 because Terry is terminally ill and I'm riddled with arthritis. We have a lovely garden at the front and the back of the house, but the bushes at the front and the sides were totally out of hand and there was work we couldn't manage. So, Neil and PC Haynes came over in early March to see what needed doing in our garden, and then Neil came over several times in March and April to help us with our garden. I was so excited when I first saw Neil again at our house, I wanted to give him a hug. I even surprised him with an Easter egg this year.
He has moved one of the bushes, cut the others right back, trimmed trees back, put paving slabs right around the garden to help Terry out and he's planted a load of flowers that we bought. Now, the garden looks really nice. Neil works like a trojan, he really does.
I think any offenders who are offered an opportunity to take part in the C3 program, or something like it, should do it. It's either that or spend time in prison. And, it's important to think about how much it costs to keep a single person in prison.
I'd also definitely encourage other victims of crime to give the program a chance. Even if Neil wasn't coming to do our garden it would still be nice to meet up for coffee, see how he's doing and how the program is going.
We recently did another interview and the story was posted to Facebook. There were a lot of negative and sarcastic comments, but one of the positive comments really stuck out to me: someone wrote that a leopard can't change their spots but a human can change. To me, that is very true. You don't know what someone who has committed a crime has been through; you don't know what their life is like and whether they can change.
We have made two very good friends through this program: Neil and PC Haynes. It makes me happy to see that Neil is doing so well.
Anne Linton and her husband Terry Willis live in Tyseley, England.
All views expressed in this article are the author's own.
As told to Jenny Haward.