'I Broke My Neck And Back—My Life Changed For The Better'
In my mid-twenties, I worked in the graphics industry. I never went to college, I just got a job straight out of high school doing sign writing and design for a company in Scotland, which I really enjoyed. I was always creative and good at drawing, so it was definitely the path I wanted to go down.
Growing up I did a lot of off-road biking and from my late teens onwards, I started racing in downhill mountain biking. A lot of my friends were into it as well, so we were out most weekends either racing or practicing.
In 2011, I signed up for a six-hour endurance race at the Fort William Downhill World Cup track on Aonach Mor, a mountain in the Scottish Highlands. The aim of the competition was to do as many laps as you could in the allotted time.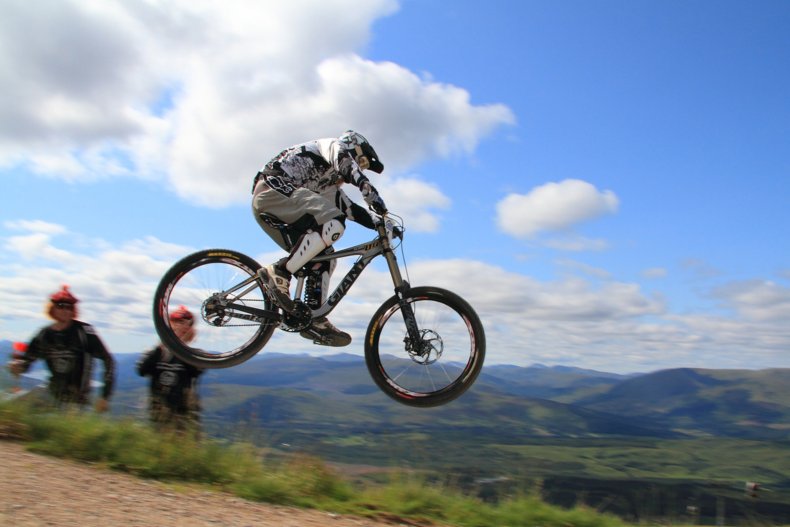 The track is considered tricky and demanding, but because I had been training for the last twelve months and had taken part the previous year, I wasn't too worried about my safety. I was nervous, but I was really looking forward to it and hoped I would earn a top ten result.
An unexpected accident
Two weeks before the race, I had a crash. I was riding on a section of track which was really rocky on a wet, rainy day. We were doing our last lap and I was halfway down the mountain when the front wheel of my bike washed out—which means it lost traction—onto a rock, slipped off and caused me to flip over the handlebars. I then hit what had stopped me—this four or five foot rock—and took the impact with the top of my head.
As it happened, I remember thinking: "Tuck and brace yourself for impact." I've crashed plenty of times over the years, so I would normally kind of know how to handle the collision, but when an immovable object gets in between you and the ground, it changes the plan.
I knew the accident was bad immediately. The pain was horrible, it was this crushed feeling in between my shoulder blades. It was something I had never felt before.
I remember being on my hands and knees on the track, but I could move my fingers and toes, so I didn't initially think I had hurt my back. I got to my feet and my friends helped me push the bike to the next fire road, a passage to the bottom of the mountain which is more easily accessible than the rest of its surroundings. I hopped on my bike and allowed myself to ride free fall down.
My dad was also there practicing for the race at the time, so he drove me to the hospital, which was around a mile away. When we arrived, the nurses said I should have been airlifted, but I just never knew that at the time. Because I could still move, I just thought I would get myself to the hospital.
Discovering my neck and back were broken
I had an X-ray and found out I had a compression fracture on my C7 and T1 vertebrae, the former is located at the base of the neck and latter the top of the thoracic spine; the upper and middle of the back. I was given morphine to take the pain away and stayed in overnight. I never had to get surgery, but had to wear a brace for two months and was told to reduce my physical movement. Doctors recommended I stayed off the bike for at least six months.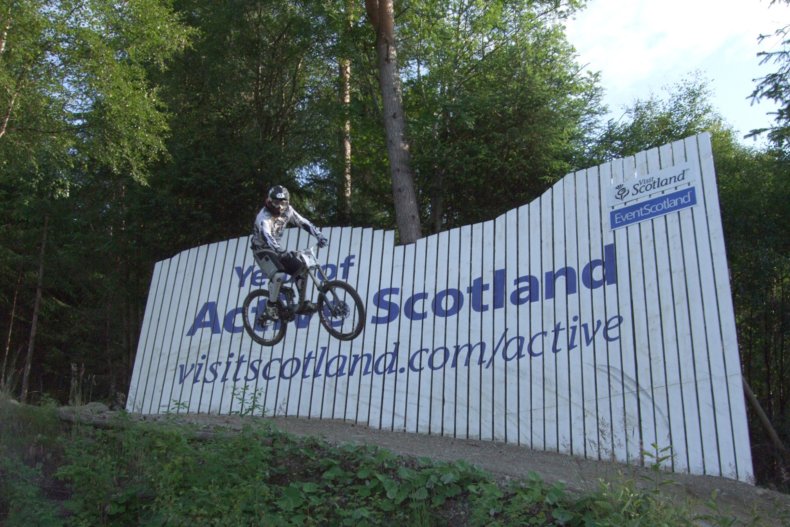 I was lucky that the line of work I was in meant I didn't have to lift anything, I could just sit at a computer screen, so I went back to my job after about a week. It was painful, I couldn't move my head from side to side. I struggled to do everyday things like driving. Putting my shoes on was hard, because I had to bend over and the muscles tightened right up. I still get pain now because of the injury.
After leaving the hospital I took things easy for a while, but two weeks later I ended up racing in the event I had originally trained for. My dad was also taking part and the plan had been to go with him for support. But I ended up bringing my bike and when I got there I thought: "I'll do one lap, see how I feel. If I feel sore I will quit."
I had taken a few painkillers and taped up my back, I guess adrenaline kicked in and I felt alright. I just got into a racing frame of mind; it's a rush. I had been training for so long and just thought it would be okay. My dad was not keen to let me race, but he couldn't stop me. I ended up finishing in 18th place out of 133 contestants. I was happy with that.
A life changing road to recovery
Once I finished that race, common sense kicked in and told me to rest, so I took four or five months off mountain biking. During that process, I went to a sports injury therapist, who also worked on massage techniques and acupuncture, because the muscles in my back kept tightening up.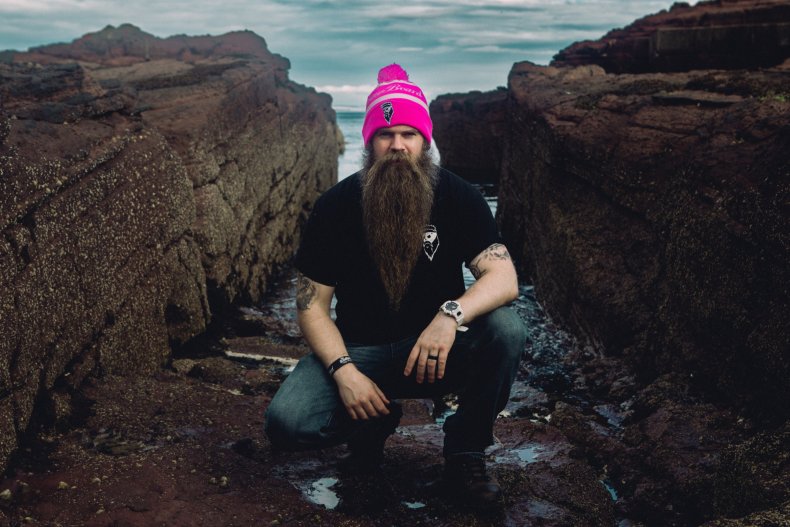 Throughout the process, I was constantly asking him about muscles and how they are affected by certain things, so eventually he said: "If you want to learn, I can teach you." I was keen to learn and consume as much as I could, so I signed up for his course to learn acupuncture and acupressure, which included making our own natural massage oils.
After passing the course in 2012, I started making hair oils for my girlfriend, just as an experiment. I had a beard at the time and thought: "If it conditions her hair it must work for the beard as well." I started using the oil, but found the recipe needed to be tweaked because beard hair is coarser and thicker than head hair. Through trial and error I got the recipe right to a place where I was happy with it.
I started giving this recipe for beard oil to my family and friends, especially those who raced mountain bikes, because it helped with the irritation from helmet straps. They all seemed to really like it.
I have a friend who created websites who said he would help me build a site for my beard oil, so I decided to try and sell my product. I got all the safety assessments for the oils and sorted out all the legal requirements. I started promoting the product on Facebook and three weeks later our first order came in.
It snowballed from there and by the end of 2017 I was able to quit my job as a graphic designer. Now, the company turns over around £150,000 ($169,595) per year and I feel very proud that I've created this. It's still a one man company, it's my full-time job and feels amazing that it all started from an accident.
My health after the recovery process has been fine. I have always been fit and fairly strong, so my body healed fairly fast. I still get niggles now, whether that is from racing I'm not sure, but I think a lot of it is just part of the injury. I do strength training now and it feels okay.
The business has allowed me to do some amazing things. For example, we sponsor a few athletes including two professional British motorcycle racers Lee Johnston and Jamie Coward, who ended up as characters in a video game wearing our brand's logo.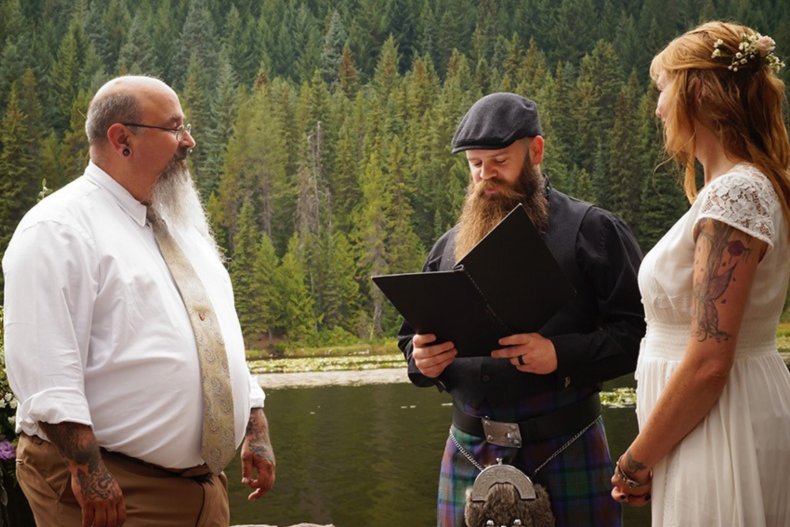 There was even a couple from Portland who even wanted me to officiate their wedding. The company hosts an annual beard and moustache competition in Glasgow, where they got engaged on stage. A few months later, the groom contacted me and asked whether I'd like to get ordained and travel to the U.S. to marry them. I went through the entire process and flew to Oregon to officiate the ceremony. It was amazing.
You always hear people saying life is short, and while I didn't find my accident morbid in any way, it did make me realize that circumstances can change really quickly. I had been mountain biking for years before this and one slip of the front wheel caused me to break my back.
Now, any opportunities which come up, if they suit me, I grab them. When people ask me to do things, I think: "I'll never get to do that again." It's changed my perspective on things for sure.
John Jackson, from East Lothian in Scotland, is the founder of beard conditioner company Braw Beard. You can follow them on Instagram at @brawbeardoils or Twitter at @BrawBeardOil.
All views expressed in this article are the author's own.
As told to Monica Greep.