I am a video game developer and I've been making video games for about 10 years, although I lost my job in February because of the COVID-19 pandemic. I got into tiny houses because I've always really liked the idea of efficient living, and that a smaller space promoted a focusing of my interests—I can only store a small amount of hobbies.
In 2018 I had a relationship breakdown and I wasn't in a great place generally. At the same time, I realized there wasn't a reasonable way for me to have the space I wanted to live in and have it be the quality I wanted it to be. So I decided to build a tiny house.
It became a really good energy focus when I wasn't feeling so great about where I was in my life, and I also reasoned that building my own house would give me the skills to understand how it could be done, fix any problems and build again in the future.
My best friend's father is a retired carpenter, so I wrote him a letter and told him that I had an idea; I wanted to learn from him and build a tiny house in his backyard. I explained I would build it over the course of a year, live out of his storage closet and then when I was done building the house and learning from him, I would drive the tiny house away. He agreed straight away.
I bought a basic plan for a tiny home and modified it for my needs. My friend's dad taught me carpentry and building skills and so I was able to build my tiny house myself, install the electrics, the roof and the windows. It has been fully inspected and I have a lot of paperwork to show I did my due diligence.
My tiny home is 128 square feet, though if you include the upper floor it jumps to around 180 square feet—but it's only around a meter tall up there. I now live on the east coast of the U.S. and I'm residing on a private property—most tiny houses tend to reside on private land.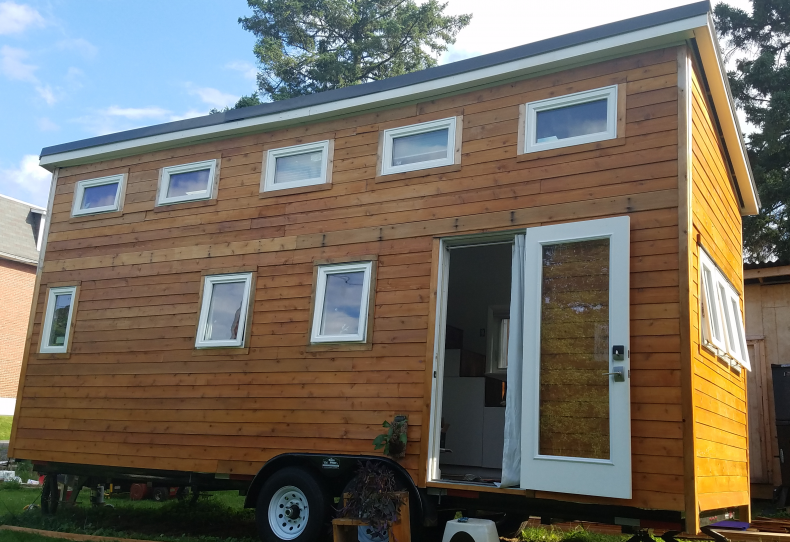 The tiny house itself consists of a living space, kitchen and bathroom downstairs and two "loft" spaces, one for storage and one of which is a bedroom. I have a set of stairs that go up to the bedroom space, where I have a queen size bed, a little bookshelf and where I keep an iPad to use as my "TV."
All my cabinets push open and I included a lot of custom tweaks—including pull out drawers where I can keep items like my iron and painting supplies.
My main living space includes a nook that I can work from, a kitchen unit on one side with a really tiny toaster oven and a combined washer dryer. At the back of my house is the bathroom with a composting toilet, so the house doesn't produce any sewage—which is a mobility thing. Not every place you may travel to with your tiny house will have a septic or a sewer.
My counter top moves down to create more space if I want it to and there are other little quirks that open up floor space—like my shoe rack which is hooked to the wall.
I have four snakes in my tiny home and they are towards the back in their own cabinet and my 15-year-old dog Lulu also lives with me. Lulu can't get up the stairs, so when she wants to go to bed now she stands at the bottom step and stares at it until I scoop her up and carry her up to bed. When we come down in the morning, she hops in my lap and I scoop her up and bring her down. She loves it here, and has all the outside space, too.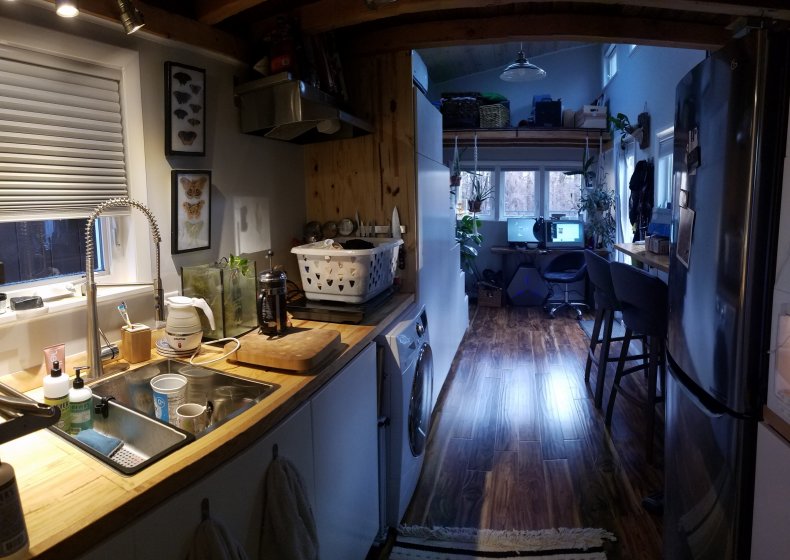 Although I don't get claustrophobic at all—perhaps because I have two skylights and 16 windows in total—I probably do more outside now than I ever thought I was going to do.
There are horses on the property I can ride here every day, I have two beehives from the wild that I keep in the woods, and I have ten chickens that live outside. I also have a garden that I think actually has a larger square footage than my house. It produces veggies constantly, so I haven't been to the grocery store in four or five weeks. And I have a lot of eggs right now! So summertime is a bit like a fairy tale.
Winter is often a little harder because how I get access to water is a big issue. On the east coast we get very solid freezing and temperatures drop very low, the hose that leads water to my tiny house has to be insulated and also has to be heated. If I lose power I have to be aware of it and dismantle everything so the hose doesn't freeze and burst on the outside of my house. It's only happened once where it was very bad—I had to go out at 2am in the snow and fix it.
I think everyone is feeling the difficulties during this pandemic in some way, but the COVID-19 pandemic did become a bit of an issue for me because I'm a huge extrovert. Because the space is small the idea is that you leave to get some of your experiences. It became tough because there's really been no place for me to go, and I used to have a lot of visitors and yard parties here.
I'm a very big lawn games person and I would host big Renaissance Fair costume parties. Though I have someone I'm dating right now and we see each other now the rules have relaxed, they are the only person who has been in my tiny house since February.
Funnily enough, my tiny house has actually helped me through COVID-19. Having cheaper housing totally saved me after I lost my job. If I had to pay regular rent and bills, I would have nothing.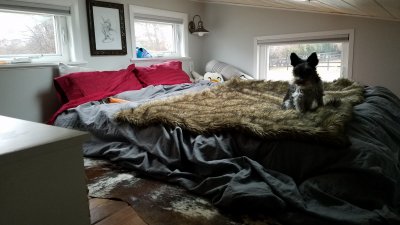 My initial build, including the trailer bed that I had built by a welder, all the materials and appliances came to $32,000. And now I probably pay around $350 to $400 of costs each month; I pay a land rent and a small electric fee of around $40 to 50 a month. Then every year I have to pay to update the registration on my license plate.
People are always impressed when they see my tiny house—perhaps because it's just not that common to find someone who has built their own house, and lives in it.
But when I was dating and I'd go out to bars and explain to people that I live in a tiny house, it was often difficult. There appeared to be a stigma around me living somewhere small—people saw it as a sign of poverty. And then when they'd see my home, they would realize it's a tiny house like they have seen on TV.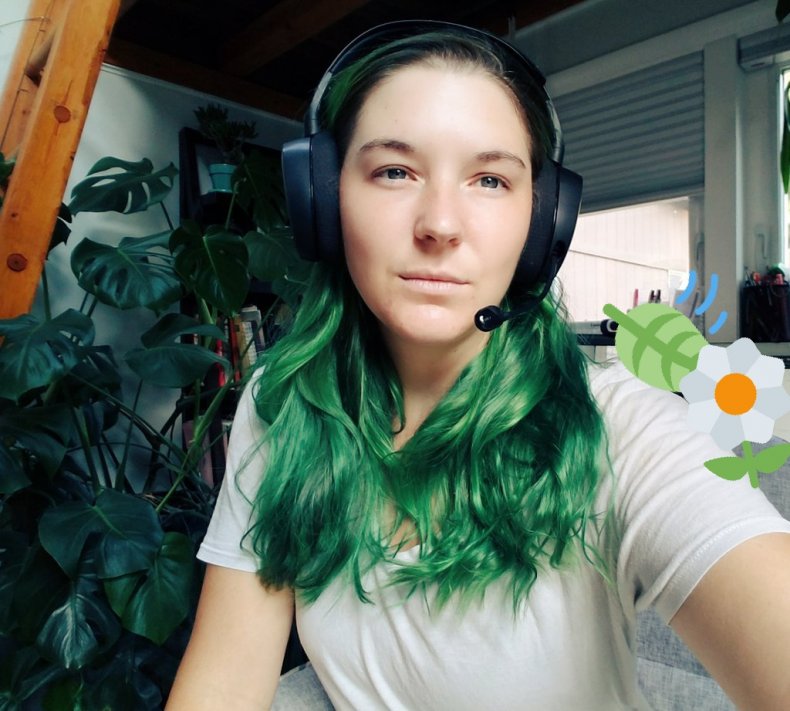 Seeing people make an assumption that my choice to live in a tiny house is somehow interlinked with poverty showed me how people can view a home not as a place for living, but as a symbol of wealth. I can't view my tiny house as a symbol of wealth because it's too small. How could it be a symbol of wealth, unless I made it from solid gold?
I think the people who do have tiny houses tend to be the good kind of unusual people, and the strongest link between us all is having an intense love of nature.
A big feature of tiny houses is often—though not always—that they're very environmentally friendly and give you an opportunity to be very close to your exterior space. I love that tiny house owners tend to all enjoy the outdoors and natural world.
My tiny house gives me flashbacks to how things are when you were a kid—when you'd build a space for yourself in the closet, and you'd have all your books. It was your own little hideaway, and my tiny home kind of feels like that.
Taylor Fischer graduated from the Maryland Institute College of art in 2010 with a bachelors in Fine Art in Illustration, while focusing on Art Pre-History. Taylor's preferred pronouns are they/them.They have more than 10 years of experience working in software development and tabletop gaming as an illustrator, art director, and concept artist. Taylor also enjoys raising farm animals, horseback riding, training horses, building, and lives in their own tiny house on wheels.
All views expressed in his piece are the writer's own.
As told to Jenny Haward.