Until I was 8 years old, I lived in La Romana, a small town with 2,500 inhabitants in the Spanish province of Alicante. But in 2009 my family decided to renovate an old country house nearby. They intended for it to be used on weekends, but the place was so quiet and beautiful that we decided to live there.
Other children came to visit us in the countryside on weekends, but the rest of the time I was alone. I never had anything like a PlayStation or a Wii. In fact, until 2013 I didn't know about the internet. Instead I loved to play outside and build cabins with used materials that I found on our land.
I have always had a great relationship with my parents, my family is a team, and I was never a troublesome teenager, but I would get angry for silly reasons and then defend my position to the end. One particular day in March 2015, when I was 14, my parents wanted me to change my clothes to go into town to see my friends, but I was comfortable in my track suit so I refused. I also knew that my friends and I were going to get dirty and I'd probably tear my clothes, but my mom kept insisting I get changed.
She told me: "until you change, you're not going out." So, I opted not to go out.
Angry and frustrated at not being able to leave the house, I took a hoe and went to the end of the garden. Under the shade of an olive tree, I struck the ground until I had dug a small hole. As I saw that first little hole emerge, my anger subsided. I actually began to feel happy.
From that day on I began to spend every afternoon at that same spot to continue digging. My parents just thought of it as a hole in the bottom of the field. I think they were a little surprised that I was digging for no apparent reason, but they never said anything negative, so I continued, showing them my progress as I went.
As the hole deepened, I began to imagine how I could take advantage of the space, and in 2017 I decided that I wanted to dig and build my own cave. I imagined creating huge rooms and arched ceilings, but my ideas changed depending on what layer of soil I was facing that week.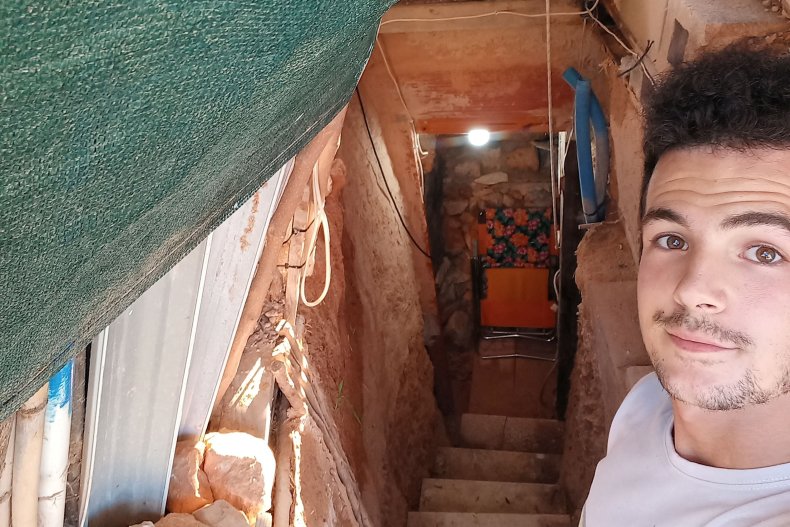 Then, in 2018 I met the guy who is now my best friend and he offered to bring an electric pick breaker and help me create the stairs that lead down to the cave. At that stage the hole was only 1.2 meters deep, but with his help we extended down to 3.3 meters deep.
Aside from the electric pick breaker we used to dig the entrance stairs, the rest of the rooms were made with a pickaxe and shovel. I also made a pulley system to allow me to remove dirt without much effort. The cave is safe thanks to the good clay soil, the constant humidity and the vaulted and arched ceilings I have created.
But I didn't plan out specific rooms or a floor plan. The land itself determined whether I could continue to expand one room or start another. When you enter the cave down the stairs, the first room contains ropes for the pulleys, the heating pipes and a coat rack. I would describe it as the hall.
Then the second room has a seat where I rest while I dig and a large shelf where I have a stereo to keep me entertained. From the center of that room there is a small corridor where an oven is located; this corridor is 3.6m deep and leads to my bedroom. In my bedroom I have a single bed, shelving and seating for three or four friends. But the cave is still not finished, nor do I think it ever will be. I suspect what really hooked me on the project was that it would never really end.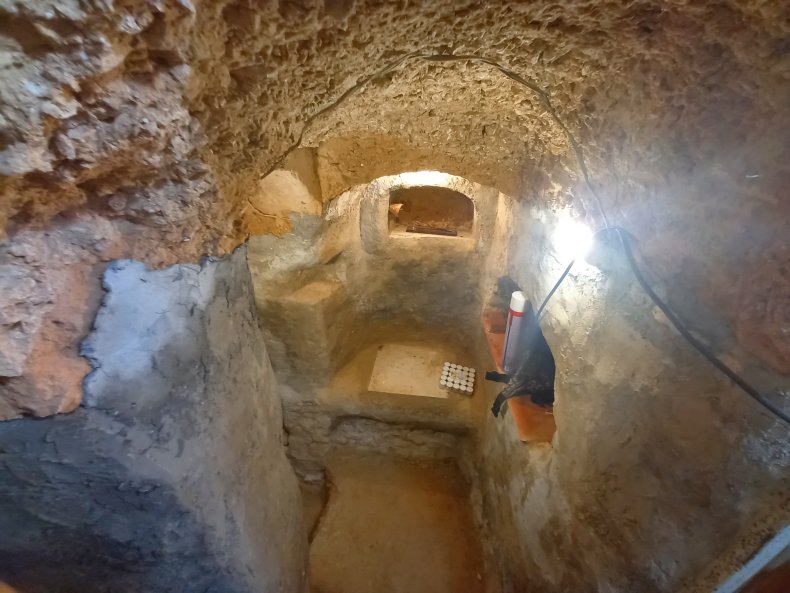 Until I was 18 this was only a hole with stairs, it took four years to become a cave with rooms. But it helped me create routines that have benefitted me a lot over the years. When I am digging, I am both outdoors and taking part in exercise.
In my area, many neighbors have centuries-old caves; so they have given me advice about building it and assured me that it will have a long life! Local authorities also came to see the cave but only in case I had to ask for a building permit, which ultimately I didn't do. But even now, something changes with the cave every week and I still regularly spend time in it.
Now, I'm 20 and I'm still finishing my bedroom in the cave, but after that I do intend to stop working on it for a few years. Although I am fascinated by architecture, I would like to make a living as an actor. I've been acting for eight years and I'm passionate about theater and cinema.
If I had tried to create the cave I have now when I was 14 or 15, I don't think I would have ended up with anything at all. So I'd encourage people not to be over ambitious. Creating a cave requires strength, skill, and a lot of common sense. Ultimately, the land will guide you.
Andrés Cantó lives in Alicante, Spain where his cave is also located. You can follow him on Instagram @andresiko_16 and on Twitter @andresiko_16 .
All views expressed in this article are the author's own.
Edited by Jenny Haward.
Translated from Spanish by Marc Vargas.