'I Cannot Talk': Ukrainian Custodian Left Speechless by Students' Tribute
An elementary school in Georgia covered its halls in sunflowers and signs last week to honor a custodian who is being impacted personally by the unrest in Ukraine.
Lana Gazhenko has worked for Oak Hill Elementary for 21 years, WSB-TV Channel 2 reported, though her home nation is Ukraine.
According to 2019 Census data, there are more than 1 million people living in the United States with Ukrainian ancestry.
Roughly 10 percent of the population is expected to leave Ukraine in coming weeks and months, Newsweek previously reported after Russian President Vladimir Putin launched a full-scale invasion of the country on February 24. So far, according to the International Organization for Migration (IOM), 3 million people have fled the country.
Jennifer McDonald, a third-grade teacher at Oak Hill Elementary told Newsweek she and Gazhenko have both worked at the school since the day the doors first opened. She considers "Mrs. Lana" family.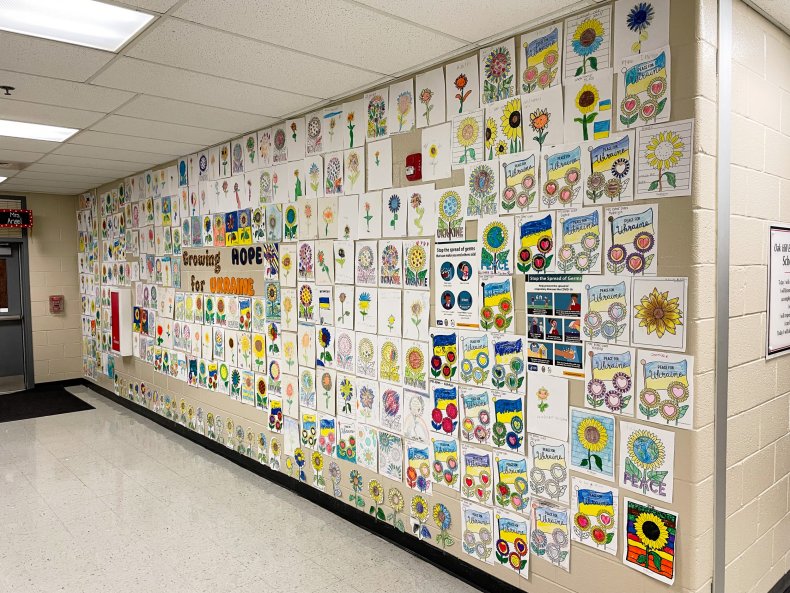 McDonald said her co-teacher Jesse Daniels saw a video of another school that honored a teacher from Ukraine and wanted to do the same for Gazhenko.
"I sent an email to the entire staff, and this is what I expect because this is what we do here at Oak Hill," she said. "Everybody jumped on it."
She said the group chose sunflowers as they are seen as the symbol of hope in Ukraine.
She said though the content of what's really going on in Ukraine might be too heavy for some of the younger students they focused on emphasizing the word "empathy."
"We said we don't actually have people there, but we love Mrs. Lana and Mrs. Lana has people there that she is worried about," McDonald said.
She said the children created all kinds of artwork of sunflowers with many incorporating the blue and yellow from the Ukrainian flag.
A banner was also created by one of the fifth-grade teachers that featured the name of all of Gazhenko's family members who are in Ukraine. McDonald said there are about 30.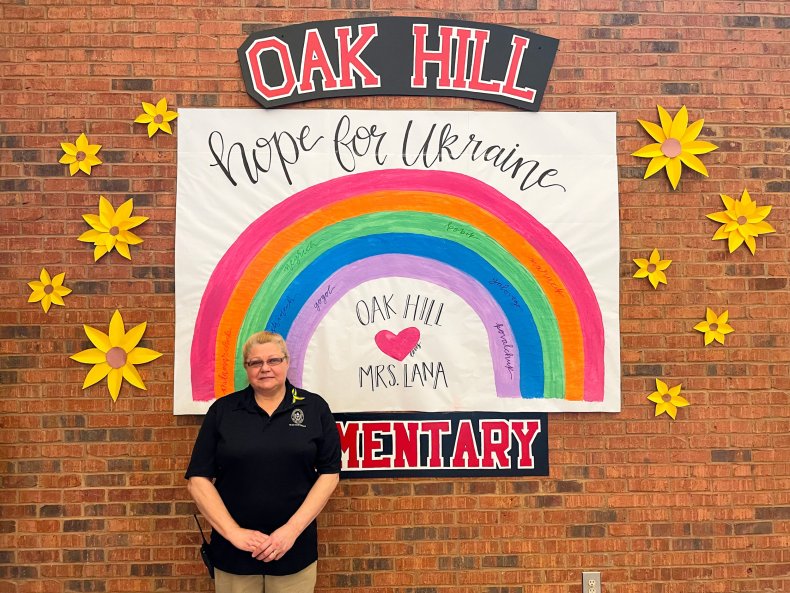 "We have one entire wall filled with just pictures of sunflowers. People went so far as in one hall we had sunflowers made on the walls coming up like a garden. In their custodial room, people put sunflowers around that door," McDonald said. "We just wanted her to see them and, you know, have the hope wherever she looks."
She said while the surprise came together in a short time and was unveiled to Gazhenko on a single day, their support will not stop after that. There are still people continuing to create sunflowers.
"We made sure the students understood that we don't want this to be like we're just thinking about her today," she said. "This is an ongoing process."
McDonald told Newsweek the moment Gazhenko saw the display was touching. She said while she did not say much it was evident "how heartfelt it was."
Gazhenko told WSB-TV Channel 2, "I cannot talk. Just speechless and I start crying."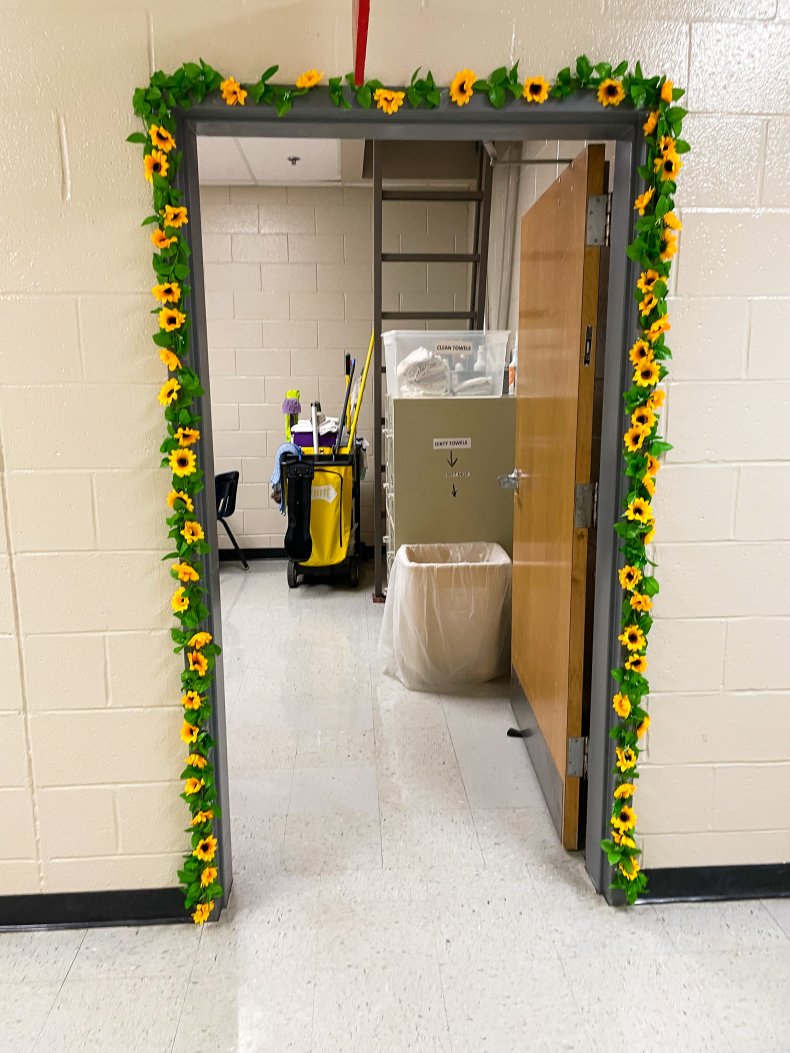 Gashenko told McDonald that she speaks to her family in Ukraine regularly and they are all currently in a refugee camp.
McDonald told Newsweek in a follow-up email that Gashenko said she has been sending money to them through Western Union who has waived all transfer fees to Ukraine.
"She said that school teachers make $125 U.S. dollars a month so the U.S. dollar goes a long way to help," McDonald wrote.
McDonald told Newsweek that the school is going to begin a donation drive to help raise funds to send to those in need.
In a video provided to Newsweek, Gashenko is seen bringing her hand to her chest as soon as she sees the first wall of flowers and saying "thank you."
"This is really...Thank you, thank you," she said.