'I Can't Leave': Americans in Ukraine Face Difficult Choices as Russia Threat Looms
The White House has told Americans in Ukraine to leave the country because of the invasion threat from Russia. But the choice to get on a flight isn't easy, as it means abandoning homes and leaving friends, family and employees behind.
"I can't leave without my wife and stepkids," Randall Collett, an American who's lived in Ukraine for about four years, told Newsweek.
Collett, who lives in Khmelnytskyi, said he feels slightly safer being in the western part of the country, but he's still "very concerned" about the Russian threat. While he would like to leave Ukraine and come back to the United States, it's not an option for the family because his wife's spousal visa hasn't come through after 10 months of waiting.
Russia's buildup of 100,000 troops near its border with Ukraine has heightened speculation that the Kremlin is planning to launch an invasion soon, and Ukraine has said that Russia is trying to destabilize the country. President Joe Biden and other Western leaders have warned Russian President Vladimir Putin against making significant military moves, threatening serious consequences that would spell "disaster" for Russia.
The Kremlin has denied its intention is to launch an assault, but the denial has done little to temper fears that Russia is planning for a war. On Sunday, the State Department ordered family members of Kyiv embassy employees to depart and permitted nonemergency diplomatic employees to leave. Officials also advised Americans in Ukraine to book flights and leave because an evacuation is not currently planned.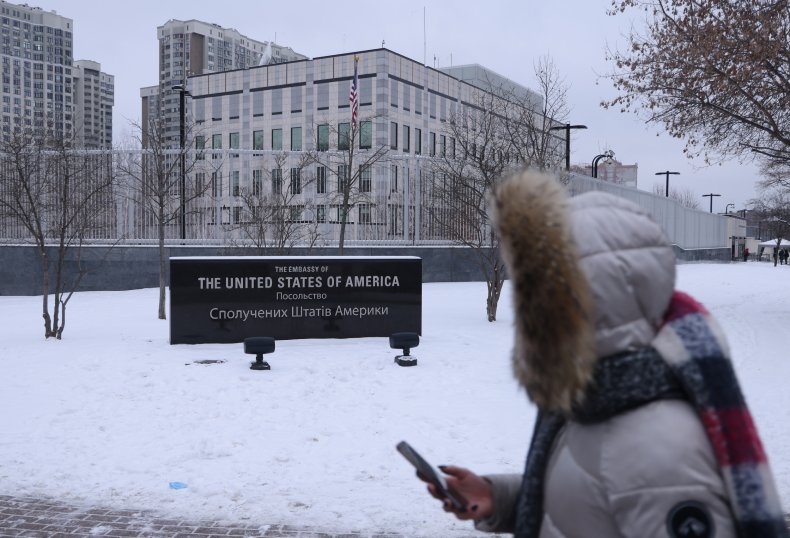 America's urging people to leave has heightened Heath Morrison's already significant concerns because it seems to be another step before a serious war breaks out. A technology executive, he's been based in Kyiv since 2010, and after more than a decade, it's what his family pictures when they think of home.
"It's a difficult choice to leave your home," Morrison said. "It means to remove my son from his school and social network. It means to leave my Ukrainian colleagues and friends, many of whom cannot leave the country so easily. It would be a statement to my staff that I also have no confidence in their personal safety and well-being."
For the time being, Morrison and his family plan to remain in Ukraine, but they're closely monitoring the situation and making plans if a credible threat emerges. The family may end up going to another country in the European Union or just to Lviv, Ukraine's largest city, which is about 330 miles west. It will depend on the threat.
In case the situation deteriorates, Morrison took out a "sizable" amount of cash from the bank because in 2014 that was difficult to do. But he's not seeing the same alarm there was eight years ago when Russia annexed Crimea.
Years later, violence in the eastern part of the country continues, and Corie Jason, who moved to Kyiv three years ago, noted that tension with Russia isn't anything new for Ukrainians.
"There is a war here already in Donbas, so for locals, the general feeling is it's already happening. It's something that's part of this world of ours, so it wasn't so worrisome for them," Jason said.
Her level of worry ebbs and flows, and she's decided to take her cue from people who have lived there far longer than she has. In conversations, she's found some people don't think Russia will make any moves until after the Olympics. Or they think that Putin's just flexing his muscles.
It's the same experience Meghan Neville is having in Ivano-Frankivsk, a city about 340 miles from Kyiv. She moved there less than a year ago because her partner wanted to be closer to his family. While she's concerned about the potential for Russia to increase its attacks on Ukraine, most Ukrainians she knows don't see much difference from 2014 in what they're experiencing.
Ukrainian officials have downplayed the risk of a Russian invasion, and the lack of worry Americans are seeing from Ukrainians is a sharp contrast to U.S. officials telling people to leave immediately. So the Americans Newsweek spoke to said they're struggling a little to know how serious the threat is.
Despite fears for her safety, following the White House's advice to leave Ukraine is easier said than done, Neville said. It's difficult for her partner and his family to imagine leaving their home, and immigrating to a new country presents legal and cultural challenges for them.
"Many people still feel uneasy leaving their non-American families and friends behind in a war zone," Neville said. "We hear a lot of conflicting information from many sources, so I feel many Americans will not take the warning seriously and hesitate to leave until it is too late."