'I Clean Up Crime Scenes For a Living, This Is What I See'
While growing up in Tampa, Florida, I always wanted to work in law enforcement. My father was a police officer and I planned to follow the same path. So, when I left college in 1997, I joined the Kansas City Police Department.
Working in law enforcement was exciting. It was great doing something different everyday. I worked in a city with a high rate of violent crime, so I saw plenty of crime scenes. I had only been out of the police academy for a week or two when I saw my first dead body.
I was with my field training officer and saw a deceased male lying in a hotel bed. He had already been there a while and had bloated due to gasses which had been produced inside his body.
I had come from a pretty sheltered background and I wanted to experience the harsh realities of the job during my police training. So being exposed to a crime scene was exciting.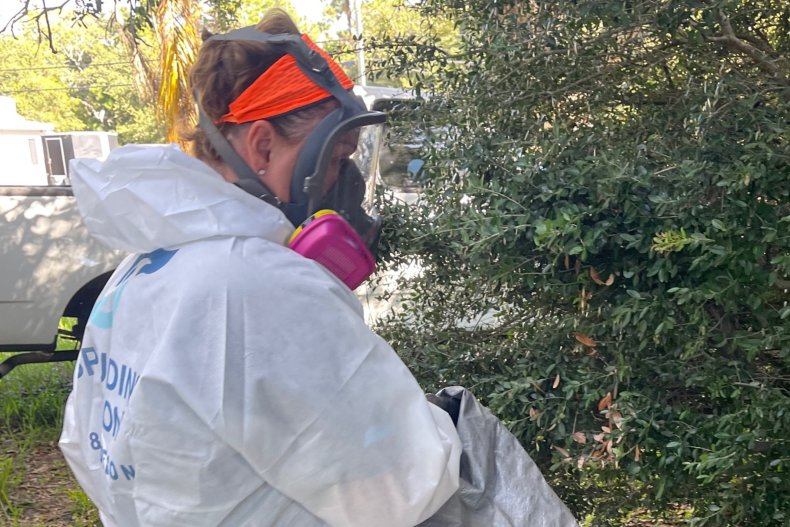 I worked for the department for several years before I had my lightbulb moment. I was visiting the scene of a homicide case when the mother of the deceased asked me when the police would be coming back to clean up the house. I had never been asked that question before.
When I told her that we wouldn't be returning, she asked who would. I had no idea. Considering all the homicides I had investigated throughout my career, I found it shocking I didn't know the answer.
I went on a fact finding mission. I asked various colleagues, including some who worked for the homicide unit and Crime Scene Investigation (CSI): "Who cleans up this stuff?" Nobody I asked had any idea either.
I discovered that it's a common misconception that police take care of cleaning up a crime scene. When a crime takes place on a person's private property, it's usually up to the homeowner to hire someone to clean it up.
After finding that out, I thought: "Wait a minute, I can do this." Obviously I'm not fazed by crime scenes, I'd already been around them so much. I just needed to learn how to do it.
I decided to take a leap of faith and quit my job. After my career in law enforcement, I felt really burned out. I was earning $42,000 a year and I didn't feel like I was going anywhere. For me, it was just a moment of clarity.
So, after undergoing the necessary training, I started my own biohazard cleaning company in 2005. When I first started the business, I was the only employee. I didn't have much start up cash at the time, so all of my marketing was door-to-door.
My first job as a biohazard technician was cleaning the scene of a double homicide on Christmas Day. It was two family members who had fought and shot each other in the kitchen.
There's no way to ease into biohazard cleaning, but this was a big job. It took me around two and a half days to complete the clean-up.
While it was an awful situation, after completing the clean up I felt as though I finally had a purpose. I was actually doing something that hopefully helped these people move on.
I get a great amount of satisfaction after being able to give clients their house back without that visual reminder of the crime. I don't think anybody should have to clear up scenes where their loved ones have died.
Biohazard cleaning is very different from household cleaning. If you think about how a regular cleaner would clean your house, they would likely start working from the corners of the room to the middle. But biohazard cleaners do the opposite. We work from the ceiling to the walls, followed by the floor, so we don't cross contaminate any surfaces.
We use a hospital grade disinfectant, odor removal chemicals and a machine that produces a gas called ozone. We can use an air scrubber, tile chipper, carpet cutters or scrapers for popcorn ceilings or walls.
We often use oscillating tools or saws, because there can be a lot of construction involved while removing drywall, doors, flooring, framing, toilets, vanity units or bathtubs.
During a clean, we must cover every single piece of furniture, clothing or knick knack around the house, it's extremely detail oriented. I would say on average, for a team or two or three people, it would take around eight hours for a standard crime scene.
Around a year ago we had a particularly difficult case. I arrived at the crime scene and when I reached the landing of the stairs I could see blood dripping down the wall. It was like a scene from the movie The Shining. When I saw the scene of the incident, it looked like it had rained blood.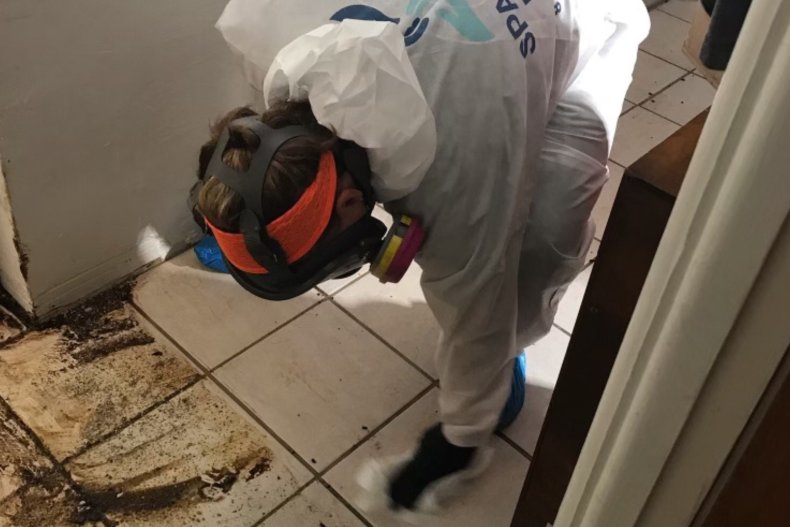 Hoarding cases are the most difficult to clean up. There is usually vast quantities of debris, possessions and trash. Plus you're dealing with somebody who is psychologically incapable of throwing away useless items.
When we go clean up the home of a hoarder it typically takes several days and it is emotionally and physically exhausting. Believe it or not, the majority of my technicians say they would rather clean up the site of a multiple person shooting than the home of a hoarder.
Around half the time the hoarder themselves has called us and asked for our services, but the other 50 percent of the time it's friends or family who are worried about that individual. We find that hoarders are often deeply embarrassed and it's hard for them to trust us.
The worst hoarder scenes to deal with are situations where the individual has died inside their property. Recently my technicians cleared a three-bedroom home where two women had passed away. The women had rescued 25 cats, but many of them had died inside. There was minimal light and very little running water inside the home. It took two weeks and we removed 28 tons of garbage.
Now, my day-to-day life is very different. I'm no longer a technician and mainly work in training and media, helping to run our YouTube and TikTok accounts. We started our social media accounts because we want people to know we exist, we don't want anybody thinking they have to clean up this kind of thing themselves.
The business now has over 50 locations across the U.S. and makes on average $15,000,000 per year. However, typically costs of cleaning are covered by homeowner insurance, so residents are not out of pocket.
I love my job because after 17 years, I still get great satisfaction at the end of a clean-up. I feel I've made a difference and that's so rewarding for me. Helping people move on is such an important job.
Laura Spaulding, 48, from Tampa, Florida, is the founder and owner of biohazard remediation service provider Spaulding Decon
All views expressed in this article are the author's own.
As told to Monica Greep.