I Couldn't Play By The Rules, So I Became an Entrepreneur | Opinion
Sleepless nights, endless thoughts and a never-ending quest to figure out a way to make things better. That is the burden and gift of a true entrepreneur.
My name is Matt Shumer. I'm a rising sophomore at Syracuse University's Martin J. Whitman School of Management, and the founder and CEO of Visos, a startup building the world's most powerful standalone virtual reality headset.
Most kids dream of becoming astronauts, firemen or athletes. Most parents want their children to have a life with security — a steady 9-to-5 job that is guaranteed to pay the bills.
I never wanted any of those things.
As a child, I wasn't sure what path I was meant to take, but I was certain that I wasn't meant to conform to the obligatory standards laid out for me by school, my family and society. I had other ideas ㅡ ones that challenged the rules of the world as everyone else saw them.
Even as a young boy, my mom always asked me why I couldn't "play by the rules". If my family was playing a board game, I had to make a new, better version. If I was helping my mom cook, I'd spend the whole time experimenting with ingredients and adding things that were not in the recipe.
And not only did I see things differently, but once I got an idea in my head, I would become obsessed with seeing it come to fruition. Unfortunately, for those who knew me best, these obsessions were not only mine; I was not happy until I convinced everyone else how the things I was passionate about could benefit them.
And convince them I did.
While it didn't always happen quickly, I was persistent until everyone close to me became educated on the topics I was obsessed with at the moment. And maybe, that was my first inkling that I would become an entrepreneur. I could take an idea, service or product that nobody had really thought much about before and persuade them that this was something they couldn't live without.
I turned 12 during the height of the limited-edition sneaker craze. One day, my best friend showed me the ugliest pair of sneakers I've ever seen ㅡ a purple pair of size 14 Nike's. I asked him why he bought them, as he was a size 9. He told me he just sold them online for twice what he paid for them. That opened my eyes to the world of business and entrepreneurship, and so my obsession began.
By that Friday, I had created my own shoe-selling business. I started by selling on eBay, but quickly outgrew the site, and made my own. Revenue kept climbing, and I expanded my product lines and taught myself to market my products. But, there were a number of issues with stocking the website ㅡ a problem common to other sites as well ㅡ so, I created a software platform to allow for easier inventory procurement. I continued with that for a year and moved on to create a marketplace to facilitate the selling process for independent shoe vendors.
Within a month, I had over 10,000 social media followers and dozens of listings on the site. However, after attempting to re-design the site, we ended up having to shut down, as our designer accidentally disabled the site, and it took him over a month to fix the problem. By the time he fixed it, we had lost our momentum, and more importantly, our loyal users. This was my first taste of failure and I knew it was time to move on to a new venture.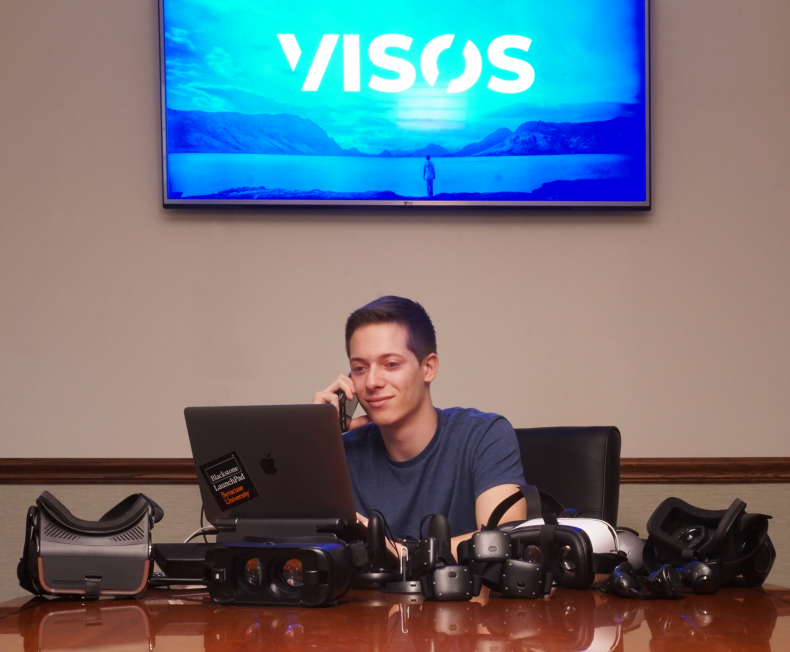 In early 2015, I decided to start a tennis-focused e-commerce website. I pitched my idea to some of the biggest brands in tennis, and they agreed to sell their products on my site. But, in the process, I realized something unfair: the racquets sold for hundreds of dollars, but cost very little to make. These companies were limiting the demographic that could afford to play tennis, excluding millions of people from enjoying the sport. So, I founded FURI, a direct-to-consumer tennis racquet manufacturer focused on creating and selling high-quality products at fair prices. The business model has changed a lot since then, and the current team is about to launch FURI's first products, which is very exciting!
After graduating from high school, I wanted to find an entrepreneurial program that would allow me to obtain a solid business education while working on my next startup idea. I chose Syracuse University's Martin J. Whitman School of Management. Here, I was introduced to the Blackstone LaunchPad powered by Techstars at SU Libraries, a place for startup founders to work on their ventures while at school. With the help of the LaunchPad, I decided to create Visos to push VR forward in the enterprise space.
We've already made significant headway, establishing partnerships with some of the biggest brands in the world, recruiting world-class advisors, and are starting to build out an incredible system that we believe will represent the future of VR, allowing for new, potentially life-saving use-cases that weren't possible before. I am proud to be working with Neuro Rehab VR, a company using VR to deliver innovative treatments to patients with neurological issues, including Alzheimer's, a cause that is close to my heart, as my grandmother passed away from this disease last year. Most recently, Visos was selected as one of only seven startups to join TechStars' second-ever student entrepreneurship-focused cohort, LaunchPad Lift.
My story is just beginning and there are so many more chapters to write. But, in the few short years I have been part of the entrepreneurship community, I have learned a tremendous amount ㅡ the hard way. For anyone who is starting a business, I'd love to offer some advice.
First and foremost, you will always meet resistance, especially as a young person in this field, so just remember "NO" is the precursor to "YES." You just have to be persistent.
Next, surround yourself with people you trust and who balance your shortcomings. Do what you do best and learn to delegate the rest. Nobody can do it all and those who try will always fail.
Lastly, and most importantly ㅡ obsession comes with the territory. It will push you further than anything else in this life. It's what drives you to get up and keep going after a big failure. It's what inspires you to push past the sleepless nights and crazy hours. And it will inspire you to build things and accomplish tasks you never thought possible.
When you believe in something and truly have a love and obsession for what you do, that obsession becomes infectious, the excitement builds and success follows. The greatest thing about being an entrepreneur is being able to use your obsessions to make a difference in this world, something that I continue to learn, each and every day!
Matt Shumer is a rising sophomore at Syracuse University's Martin J. Whitman School of Management. He is also the founder of Visos.