'I Covered My $1.6 Million Mansion In Doodles'
Ever since I was three years old, I have loved doodling and creating characters. I was inspired by the video games and cartoons that I would play at the time, like Crash Bandicoot as well as various other TV shows. I drew my characters in a similar form and slowly began to build a catalog of different cartoon characters.
Following that, I began to doodle. It felt instinctive and came out very naturally when I began to draw. It became the simplest mode of creative expression for me. I enjoyed the process; it brought me joy and satisfaction.
When I was 10 years old, I covered my bedroom at my parents' house with lots of A4 drawings. I soon realized that I wanted my whole house to be covered in doodles because I loved the idea of drawing on furniture. Of course, my drawings back then were different from what they are now, as they were less developed.
At first, my parents told me that I had to cover my whole bedroom with wallpaper before doodling on the walls. But out of curiosity, I began drawing on the bare walls instead, and when my mom saw it, she was intrigued, and continued to let me illustrate on the walls. It was then that my lifelong ambition to buy the house of my dreams and doodle on it began.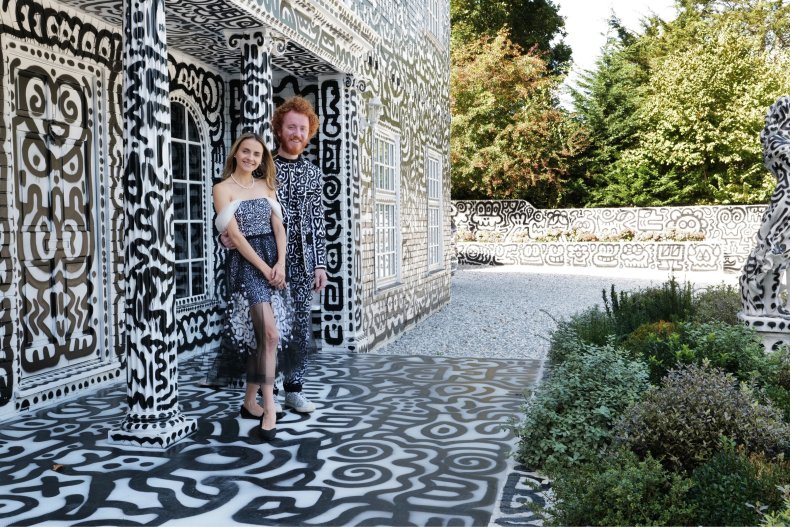 Everything that I did from that point onwards was with the knowledge that I would be saving money to buy the house of my dreams so that I could turn it into one big canvas and draw on it.
I always knew that I wanted to be an artist and throughout the years, I tried out different styles and methods of working because I subconsciously thought that I could not pursue a career in doodling my own unique style. I tried to draw more realistic pictures and illustrations, but I didn't enjoy that way of working as much; I always gravitated back to doodling.
All the projects and work I took part in had gone towards a savings pot so that I could afford my dream house and cover it in art. In December 2014, I began to get more confident in my craft and decided to doodle on all of my clothes, which got me a lot of attention. I began to consistently travel in these clothes and in January 2015, more people began gravitating towards my art by looking at the Instagram page that I had created, and the Facebook page that my friend had created for me.
But everything truly changed for me in May 2017, when I was filmed drawing on the floor in a shop in the U.K. The video got 40 million views all around the world.
Following that, I was asked to paint different walls around the world in countries like Hong Kong, Korea, and Mexico. In August 2019, I also put on a doodle exhibition in Tokyo, Hong Kong, and several other countries. It was amazing for me to be able to travel to the other side of the world and meet people from a completely different place. For them to know about the work that I had created was an amazing and surreal feeling.
I remember in one instance, I traveled to Mexico in March 2019 and was painting a wall on their underground Metro station. People began standing around and watching. When I got into my car to go back to the hotel, many people were knocking on the car windows and giving me their phones and hats for me to draw on them. I love drawing in public spaces. When a crowd forms around me to watch me draw, it motivates me to draw faster and challenge myself even more. Having people personally react to my art also influences me too.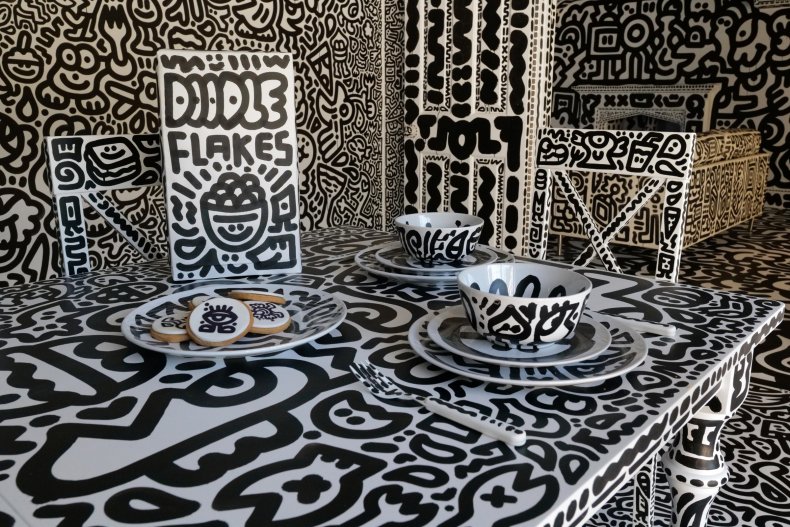 In 2019, I began looking for my dream house and came across a mansion in Tenterden, Kent, roughly costing £1,450,000 million ($1,600,000). The moment I saw it, I knew that it was just what I wanted, so I quickly put a deposit down. I began to sketch and create storyboards of how each room would look with different doodles inside. This process took six to seven months, and towards the end of 2019, I bought the house.
The first day that I moved into the mansion, my partner Alena and I ran into all of the different rooms, dancing and playing music very loudly. It was very fortunate for me to have bought the mansion, as it is five minutes away from my parent's house, and it's in the town that I've grown up in since I was a child.
I didn't start drawing on the mansion until September 2020 because it took about seven months to renovate and turn into a blank white canvas. As soon as I began to draw, I began making a stop-motion film of me, so that people could follow my journey covering the whole mansion in doodles.
I began drawing in the main bedroom. It was sentimental for me because my dream of doodling on a house began when I would draw on the walls of my bedroom in my family home when I was younger. I thought that that would be a nice place to start the time-lapse and the whole project.
I liked how satisfying the cloud room looked once it was complete. Painting the clouds in this room was enjoyable for me, as it pushed me out of my comfort zone. When some of our friends sat on the chair in the cloud room, they said that it was a nice place for them to think, and empty their minds. I was also happy with the overall style of it. The outside of the mansion actually took less time than any of the individual rooms within it, because I drew using bigger gestures, rather than tiny intricate illustrations.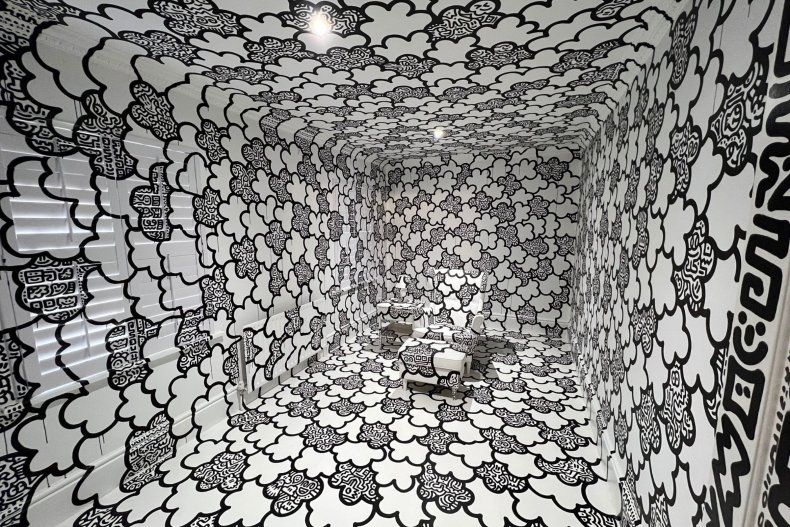 Doodling on the house took two years to finish, and it was officially done towards the end of September 2022. Overall, I used 900 liters of white paint, 401 cans of black spray paint, 286 bottles of black drawing paint for the inside alone, and 2,296 pen nibs.
Once the whole mansion was completed, I felt amazing. I treated myself to a bottle of coke. My partner and I walked our dog around the outside of the house and took time to admire the exterior.
One bit of advice that I'd give to an up-and-coming artist, or anyone who wants to achieve their dreams, is to imagine yourself fulfilling your goals. Constantly surrounding yourself with people that make you happy and encourage you is also key.
When I first told some of the people in my life that my lifelong dream was to doodle all over my dream house, I was told that it was a mad idea; some people didn't agree with it and said that I wouldn't be able to achieve this dream, but I continued to believe in myself. Some of these people have now completely changed their minds, after seeing the final result.
I always think to myself: what's the worst that can happen? To me, there's nothing worse than not trying. In fact, I think that the worst thing that can happen is for me to look back on my life and have regrets. I feel that doing something seemingly bizarre with the risk of failing is better than not trying at all.
Sam Cox, known as Mr. Doodle, is an artist who specializes in doodling intricate art. He fulfilled his lifelong dream of buying a mansion and covering it in doodles. You can find him on Instagram here.
All views expressed in this article are the author's own
As told to Carine Harb.