'I Create Alternative Makeup Looks For Men'
Growing up in Belfast in Northern Ireland in the 80s and 90s I experienced a lot of homophobia. Wearing makeup would never have been an option for me, and though I always thought I was a creative person, I wasn't able to go to university or study art because I don't come from a wealthy family. Even if I had been able to, makeup would never have been an option for me back then.
My twin brother and I left Belfast at 24 and eventually moved to London in 2010; we've always been really close. The older we got, the more we felt there had to be more to life than just working for somebody else. One day, we came up with an idea for starting a business with cereal. We were really excited about it because we'd never been in business before.
We started the Cereal Killer Cafe in London in 2014 and we had a great time for five and a half years. It was just two working class hipsters from Belfast who had opened up a cereal cafe in east London, but everybody went nuts. Some people absolutely despised us. There was a TV interview in 2014 where our prices were challenged. A lot of people agreed with us and a lot of people agreed with the angle of the TV interview. In September that year there was a riot in London and the shop was attacked. That's when it got a bit too much for me because we were receiving death threats, but overall we had fun.
Then, in 2020, COVID-19 came along. We were already working our a**** off and we relied a lot on the tourist trade. It got to the stage where we had to close our shops permanently because of the overheads. My brother decided to keep the business on as a website—he's still selling cereal online—but there was no way it could have supported both of us. We basically lost almost everything.
For most of the summer of 2020 I didn't have a clue what I was going to do. I left Cereal Killer Cafe in June and having been a business owner I had lots of little skills in different areas, but there was nothing where I felt: "I am amazing at this, I can get a job doing it." And, because I was broke I had no opportunity to start a new business.
I remember thinking: I've hit rock bottom here.
The only good thing about hitting rock bottom is that you can start building your life up from scratch again and even invent a new one. That's kind of what I did.
I'd already been doing elaborate makeup and costumes every Halloween for years. I would even start planning my Halloween costume as early as Easter. One year, I decided to dress up as Zoidberg from Futurama so I watched YouTube videos and taught myself how to do prosthetics. On a day to day basis, I would often put a makeup look on and then take it back ten steps before I left the house. Not because I would have faced hate, but I would always have somebody mention it. Even just saying, "Oh my god! Are you wearing eyeliner?"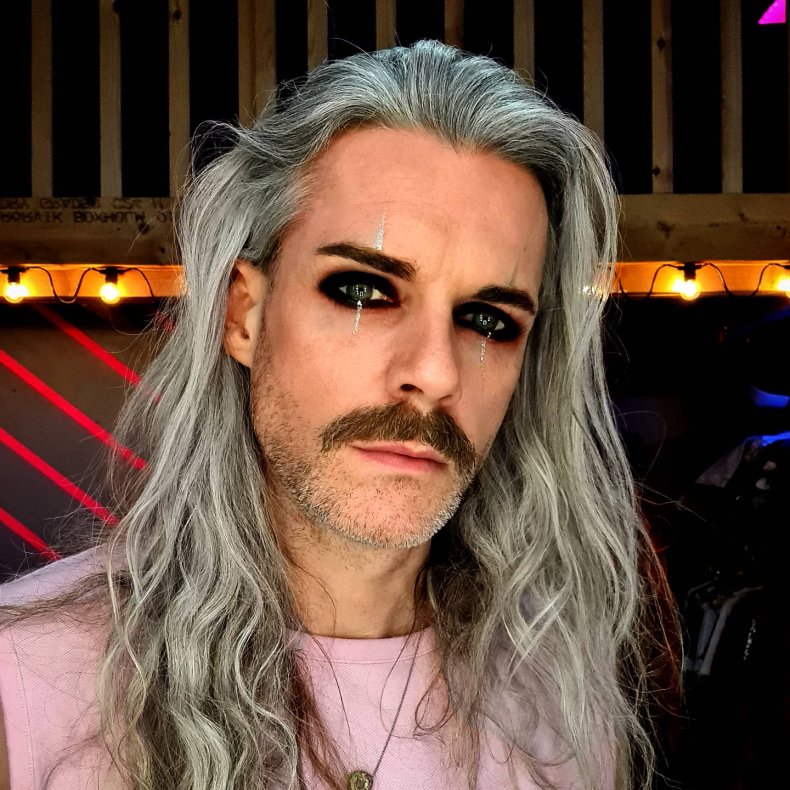 But during the first U.K. lockdown in 2020, I was on my own. It was just myself and my mannequin, Toofer. During that time, nobody's opinion mattered apart from my own. So I started creating more elaborate makeup looks and I felt amazing whenever I looked at myself in the mirror. It made me think: "Why am I not doing it more often? Because I'm worried about what that person in the store is going to think? I'm never going to see that person again."
I went onto YouTube to find more masculine makeup for men, but all I could find was "no make up make up" which is trying to cover, conceal or bronze, or super feminine makeup on a man like you see on James Charles or Jeffree Starr, who I have nothing against. I think what they do is great.
It wasn't that I wanted to make my face more masculine, but I wanted to take the femininity out of it. Something I've questioned is whether makeup itself is feminine? Or whether it's that we have all agreed that it is. If I take a pigment and put it around my eyes it's seen as feminine, but if I take a pigment and put it just above my eye it's more of a tattoo. Essentially both are just putting pigment on our skin. Men have been wearing makeup as far back as the Ancient Egyptians, it's only over recent centuries that it has become less acceptable.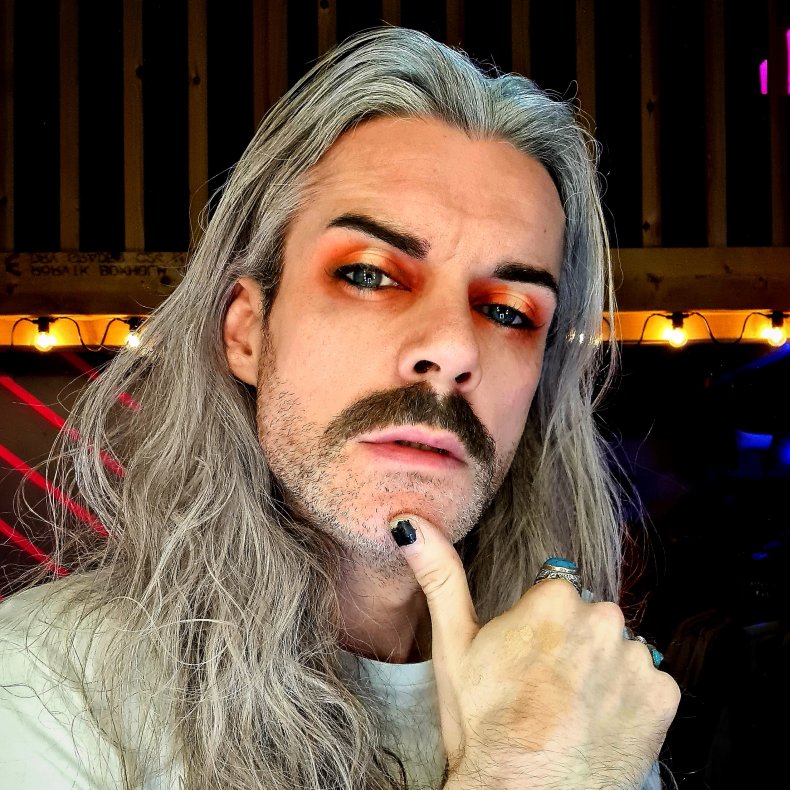 I personally like a grungy image, so I love rockstar style makeup. It took me ages to figure out how to do a graphic eyeliner, and as soon as I did, it was like: "this is why I'm doing this!" But some of my favourite looks have actually been characters. I created The Grinch, SpongeBob SquarePants and Homer Simpson, but I made them look really grungy.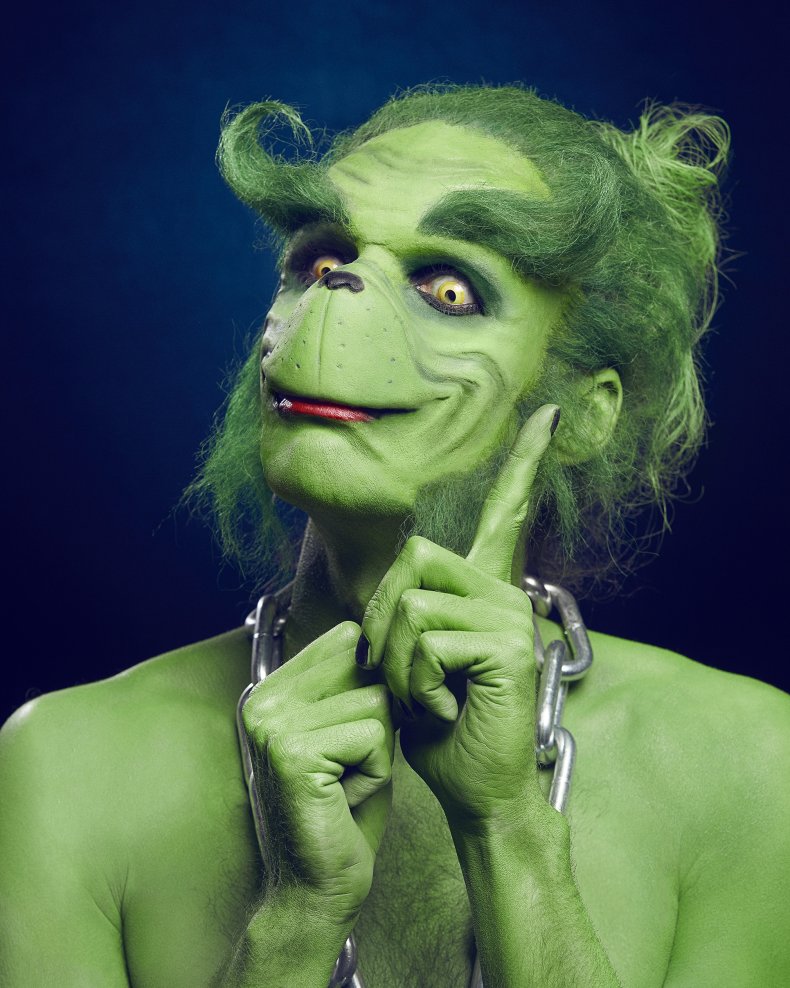 I started a professional makeup qualification in December 2020, and because my style is men's makeup that isn't feminine, I'm still trying to figure myself out. A lot of the makeup online at the moment is all about perfection and I don't think that's what makeup is about, I think it's about expressing your creativity. I never wear foundation because I'm not into flawless skin, I'm into adding a bit of colour and expressing yourself on the outside. I joke that it's just about looking cool as f***.
Although I was doing makeup looks on myself at home, I wouldn't have posted anything on social media before. In September 2020 I started posting make up content and I began to grow a following. Since December 2020 I've had about 500,000 followers on TikTok and 60 percent of my followers are actually from the U.S. I'm surprised that I don't get trolls. I can read my messages and not see any negative comments.
It's just so strange how much things have changed in my lifetime. I could walk down the street holding hands with a man and it doesn't bother people or I could go to the store with my full makeup on with confidence I wouldn't have had 10 or 20 years ago. The world now is a hell of a lot more accepting.
When we look at where we were to where we are now, we've done well, but the fight is definitely not over. Pride Month is just part of the story and the LGBTQIIA+ community still needs more acceptance. Trans people are being treated like gay people were 20 or 30 years ago. I'm qualifying from makeup school in a few weeks, and my hope is that I can inspire younger people who are masculine and still want to wear makeup.
Over the next decade, I think it will become more socially acceptable for guys to wear makeup that is more colourful; even straight guys. So, I want to see where this journey is going to take me. In five or ten years time, who knows where I'm going to be?
Gary "Silver Rox" Keery is a makeup artist living and working in London. You can follow him on TikTok @waddaboutya and on Instagram @silver__rox. Or, find out more at silverrox.co.uk.
All views expressed in this article are the author's own.
As told to Jenny Haward.