'I Delivered Aid To Ukrainians - The Children Were Silent'
Working for a refugee charity, I am used to dealing with people who are having to flee their homes, but I was really shocked, as everyone was, at the Russia-Ukraine war; at the sheer numbers and the speed at which 2.5 million Ukrainians have fled their country. That's not over the course of a few years, it's in the past two weeks.
We hadn't worked with Ukraine before the war started. A lot of the refugees that we work with at RefugEase are from the Middle East; Syria, Afghanistan and Iraq. And, they are often in transit; living in places like Turkey and trying to reach Europe or living in camps in Greece and trying to sort their asylum claim. Our thoughts are that if we can make conditions better for people where they are, they aren't going to risk long and dangerous journeys to get somewhere better. But we will help refugees wherever they end up.
So we started adding items for Ukraine to our online aid shop in late February; people can buy items that we will then ensure reach Ukrainians in need. The orders of aid and outpouring of compassion has been amazing. It got to the point where it was a lot for us to communicate with our partner on the ground in Hungary who would normally complete much smaller aid deliveries to places like Serbia. Our director and founder Valentina Osborn and I wanted to go out, help in person and see what other projects were needed.
Many people are driving over to the Ukrainian borders with trucks of aid, but that is expensive and getting increasingly complicated with the paperwork required, so we flew to Hungary on March 7 and stayed with our partner on the ground in his hometown of Szeged in the south, about 300km away from the border. We didn't want to book up local border accommodation that could be otherwise used for Ukrainian families. From there, we were able to then fill up a 3.5 ton van with aid and drive it to Tiszabecs, a village at the Hungarian-Ukranian border.
In Hungary, at each border crossing, there is one main charity who are in charge of aid operations. We gave our aid to them, and they put it in their stores to dish out. As well as food and hygiene products, we have been able to provide medical packs, sleeping bags and pet food.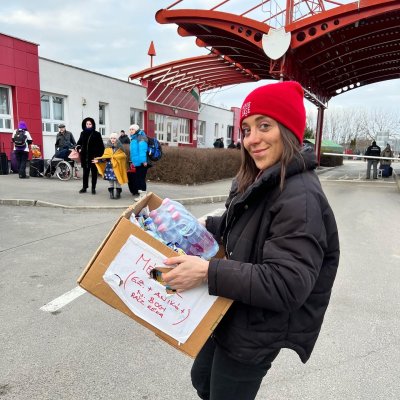 People may not realize that the borders don't close overnight and volunteers are typically working 12 hour shifts, 24/7, because food and hygiene items are needed. We could see they were tired, but their faces lit up when we opened the van, because we also had nappies. If you're traveling, nappies are big and bulky so it's hard to carry many and there are a lot of young babies coming over the border.
I didn't see anyone going back into Ukraine to fight, but we could see people queuing on the Ukrainian side to come to Hungary. Of the people we saw, about 95 percent were women and children of varying ages, though there were some older men as well. Generally people were fairly somber and seemed tired. I wouldn't say people were outwardly despairing, but when you're traveling somewhere it doesn't always sink in until you actually get to your destination. And, when they came through the border, they were immediately put onto buses and driven a few miles down the road to reception centers that have been set up.
The reception centers are mostly in local town halls, schools and churches. People will check in and say where they are going, for example to Germany, and volunteers will try and help them arrange that travel and provide food and hygiene items and advice. But transport is what they told us they really need; people to give lifts away from the border.
We had actually hired a van that had seats in the back too, so that we could drive aid one way and drive people back the other way.
The first day we went to the border, we were driving back with an empty van so we took a four generation family of six Ukrainians to Budapest. There was an older woman of about 90, one of her children and their partner in their 70s, that couples' daughter who was heavily pregnant and her son. They had already been traveling for three days, and were going to stay with family in Bonn, Germany. I assumed that the daughter's husband had to stay behind, but I didn't want to ask.
We didn't get to Budapest until about midnight on March 9 and the station there was pretty busy. Ukrainians are being transported away from the borders pretty efficiently, and some have people they are going to stay with in Europe, but many don't. They then have to make plans for where they're going to go. The main train stations in Budapest were busy with people all through the night, and it was incredibly cold.
We had to leave the family we had helped at the station that night but we made sure that the pregnant mom was settled in the ticket queue before we had to tell her we were leaving. When I told her, she looked at me, hugged me and her eyes welled up with tears. It was a look that was half fear and half gratitude. That really stuck with me. I wish we could have stayed with them, but we had a journey of several hours to get back, it was already 1am and we had been up and working for nearly 24 hours. It must have been frightening to have all your family's passports in your hand, hoping that you will be able to book a train soon. It has been really nice to hear from them that they arrived in Germany.
We were also providing aid to villages in the south of Hungary who have taken in Ukrainian refugees. It's difficult because everyone needs help, but I would almost argue that these people needed more help because the villages themselves are very rural and the people there don't have much.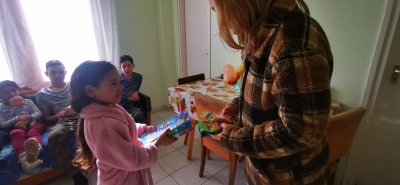 In one village we visited about 30 minutes from the city of Szeged, Ukrainian men had been working on a farm. They had gone back to Ukraine for a holiday and then war had broken out so they hadn't been able to return, but had sent their wives and children across to this village because they knew the people there would look after them.
Everyone had really pulled together in the village; people who don't have very much as it is. They had offered the women and children the houses that the farm workers had lived in, but one house had 20 people in and another had around 15 people, and at least 20 of those were children. The houses were quite worse-for-wear, there was mold on the walls and a lot of people crammed into small bedrooms without much to eat.
In one house, a mother and four children were sharing one bed and the home had only three chairs around a table in the kitchen, so they were constantly cooking and feeding people in turns. All the villagers had donated clothes, but they didn't have much, so we took them food and hygiene parcels. A woman helping in the village who has taken it upon herself to help the families has also been able to get medication for them. Some of the children weren't very well, and we have also been able to get further medication for them now.
Once they have registered as refugees in Hungary, these Ukrainian refugees will have access to free healthcare and education, but that paperwork is taking a while. So for the time being, they can't see a doctor or go to school.
The mood was quite low and it was very, very quiet. The children sat there, but they weren't playing. There were no toys and they often only had the clothes they were wearing. We were very glad to help them and are going to continue to support them by sending food and hygiene parcels every week.
People think of the Ukrainian borders, but actually what we found was that people were being serviced quite well there. It was people in these rural communities helping these families who were really struggling. It is difficult for this village because these families have now contacted other families in Ukraine saying the village is great and really looking after them. So now, more and more families are going there, which is a bit of a strain on the hosting community.
We will go back to Hungary and we have also decided to use some of our donations to buy a van. We have volunteers ready to go out there to help people with transport from the Hungary-Ukraine border. If needed they can take aid from Budapest to the border, then pick up Ukrainians and bring them back to Budapest. We're also helping these villages in the south and people at train stations. But before we return to Hungary, we will probably be going to Moldova. A lot of what we were hearing on the ground in Hungary was that Moldova was where the borders are a little more chaotic.
My main message to people, and what we heard from all the charities on the ground in Hungary, is that while we have lots of donations and volunteers at the moment, we are worried that it's not going to last. This is going to be a problem for weeks, months, or maybe even years to come, sadly. Millions of people are still going to need help even when attention dies down. We just hope this level of support continues, because it will be needed.
Hannah Jacobson is the marketing and campaigns manager at RefugEase. Find out more about their campaigns and how you can help at refugease.com.
All views expressed in this article are the author's own.
As told to Jenny Haward.