'I Designed Michelle Obama's VOTE Necklace'
My family is Jamaican and I grew up in Jamaica before moving to California in 2002. Then, in 2012, I moved to Hawaii on a whim. I worked there as a photographer for the first year, with jewelry as a hobby on the side, and then I slowly worked up to the point where I decided to start a jewelry business.
When I started By Chari in 2012 I had to open a new bank account with just $100. Eventually, I built a little website and was selling to local stores. But as the business started to grow I found I was flying back to Los Angeles a lot to get supplies and materials. So in 2016, I decided it was time to take a deep breath, a big leap and go back to live there.
In one of the first office spaces I had in LA, a PR company down the hall were working with a suiting company who had created affordable business wear for women. Michelle Obama had worn one of their suits and I remember that PR team saying to me, "Chari, imagine if Michelle Obama wore one of your necklaces." It was really always the dream. She was first lady at the time, and she is still now someone that so many of us aspire to be like—a woman with a powerful voice, poise and class.
That same year, 2016, I made a necklace as a birthday gift for one of my really good friends, Rocky Barnes. Rocky posted a picture wearing it online and I started getting more orders. Every sale is important to us, but of course, when someone like Rocky, Kate Hudson or Rosie Huntington-Whiteley posts or mentions my brand it's a form of recognition that makes all our hard work even more meaningful. However, it has always been important to me that if celebrities wear the brand, it happens organically. So it has always been a case of their publicists reaching out to me or a friend of theirs gifting a piece to them.
On July 21 this year, Michelle Obama's stylist Meredith Koop reached out to us online, asking if we would be able to make a "VOTE" necklace for Michelle using our custom original spaced letter necklaces. When I saw the email I just sat at my desk and squealed. Michelle Obama is, and has always been, the person I would most like to sit down and have dinner with.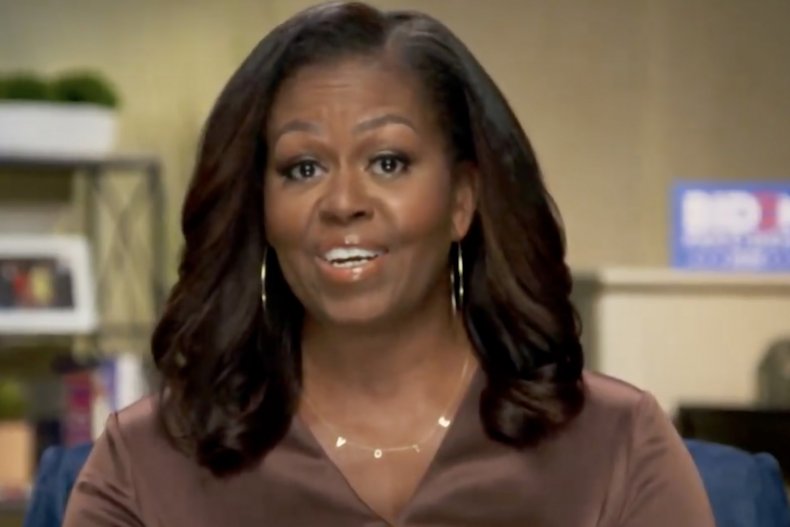 Interestingly, I actually first had the "VOTE" necklace on my site for the 2016 presidential election. Generally, I like to keep politics separate from the brand. But in 2016, I felt that as a female owner of a company, with a massive base of female customers, it was important to make my voice heard about the power of voting.
I'm not sure if Meredith knew that, but when she reached out it was obviously with intention as they knew the piece they wanted. And when Michelle Obama asks you for a necklace, you drop everything you're doing and get her that necklace! So we got the team reorganized for the afternoon and got the piece right out to Meredith.
Shortly after we sent them the "VOTE" necklace, Meredith's team reached out again about our large hoop earrings, and we just did the same thing and sent them out as quickly as we could. But I had no idea when she would wear either piece.
I was always planning to watch the Democratic National Convention (DNC) and I had it playing on my computer in the background while I was working on August 17. When Michelle Obama came on, I stopped to watch it and immediately all these texts, DMs and calls started coming in, because people had seen she was wearing a By Chari necklace.
I actually had to rewind her speech to watch it again properly, because as soon as I saw she was wearing my necklace I was floored and just immediately started sobbing. It was a combination of happy tears, shock and having all my friends and family reach out to me with love at the same time.
It really was such a surreal moment to see my necklace on Michelle Obama. She was also wearing our earrings, so it's a really exciting moment for me to think about. It has been very cool to see the necklace in particular come back again in 2020 and have such a strong, immediate impact.
It has certainly been a life changing, pivotal moment for my business. We received more orders in the four days after Michelle wore the necklace than we received in the whole of the fourth quarter of last year.
As of August 21 we had received more than 4,000 orders for the "VOTE" necklace. My operations manager and I sat down and discussed how we would tackle this surge in orders. She has gotten everyone organized but it's been crazy—our major issue currently is that we keep running out of invoice paper!
We have brought on as many hands as we can, but with COVID-19 we really are having to be so careful. We're taking as many safety precautions as possible; we take people's temperature, we are socially distancing in the office and we have additional air filters.
Girlfriends of mine have also come over several nights this week, staying as late as 11.30pm helping us with orders. They just know how incredibly busy we are and they want to help. We've hired an extra person this past week, and as the business grows we will probably have to make further hires—but we're just going to take it as it comes.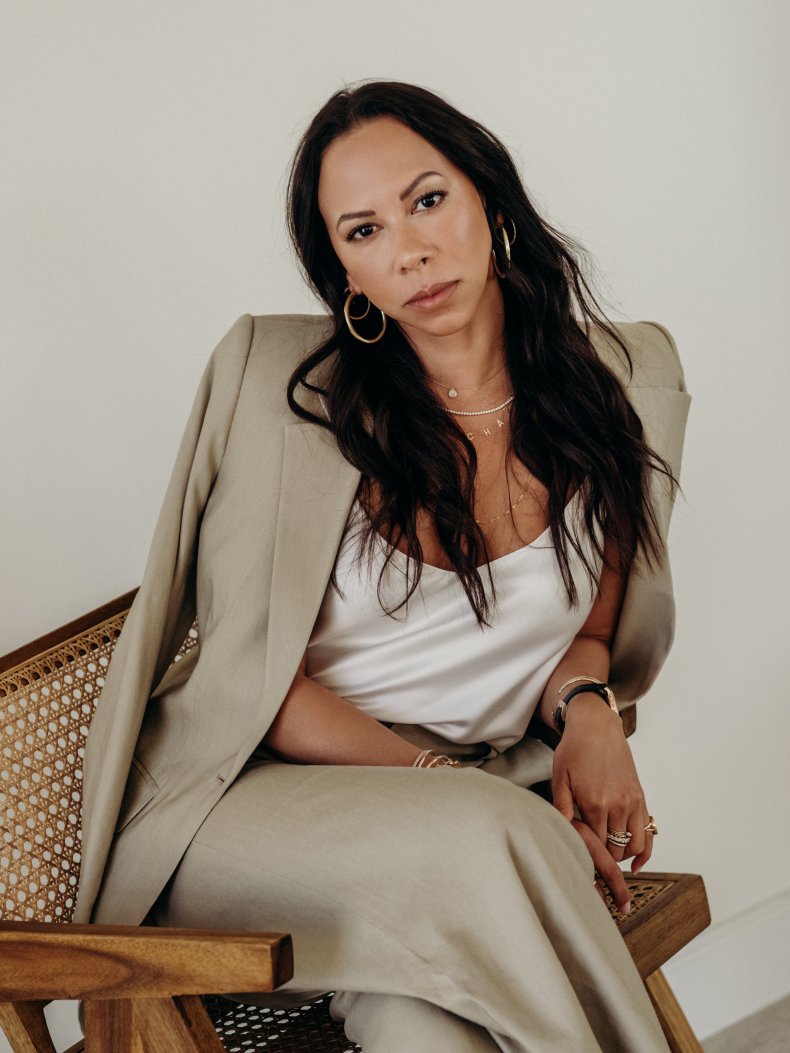 I'd really just like to say thank you to Michelle. It's as simple as that. I'd like to thank her for the opportunity, for the message that she's sharing and for everything she stands for and believes in. And I'm grateful to Meredith Koop as well. I could not have asked for a more incredible person to wear the necklace.
I have so much gratitude, because this is not only going to change my life, it's also going to change the lives of the women who work for me.
If others see how I have built my business up and are thinking of doing the same, I would tell them that you just don't know what might happen until you try. You may try, and fall, but you can always get back up. I always say that it's so important to have consistency, tenacity and to go into things with that naive passion.
I think you need to be aware that you're not going to know everything, and that you are going to have to learn a lot. But, I believe success can happen as long as you stay focused and have that passion for the work in your heart.
Chari Cuthbert is the founder and creative director of jewelry brand By Chari. Chari established her brand in 2016 and all of her jewelry is handmade sustainably in LA. In August 2020, Michelle Obama wore a By Chari "VOTE" necklace and By Chari large hoop earrings at the DNC. Both can be found here.
All views expressed in this piece are the writer's own.
As told to Jenny Haward.