I Didn't 'Out' Murderer Aaron Hernandez Or Kill Him, So Why Are His Fans Threatening to Kill Me?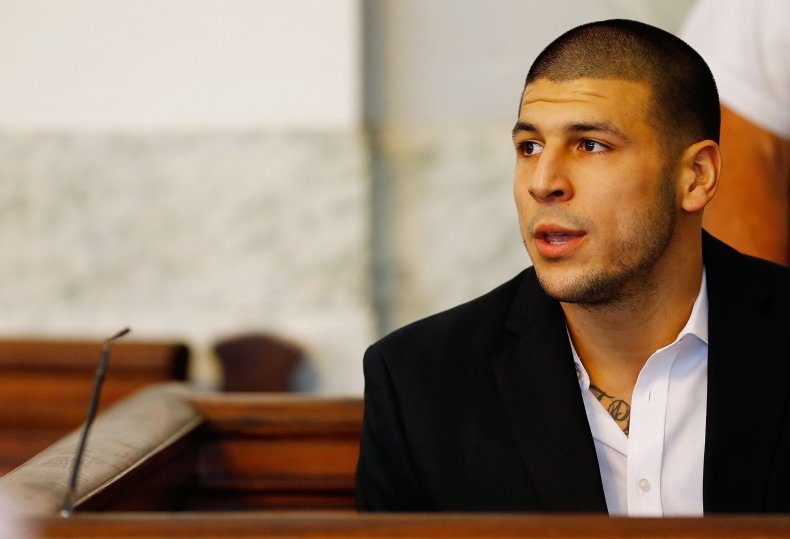 "DIE SLOW CRACKER BITCH."
"HOPE AARON HERNANDEZ HAUNTS YOU IN YOUR MISERABLE DREAMS."
"F--K YOU. YOU'RE UGLY INSIDE AND OUT."
"YOU SHOULD BE RAPED."
"YOUR MOTHER SHOULD KILL HERSELF FOR GIVING BIRTH TO YOU."
"I HOPE YOUR ENTIRE FAMILY DIES IN A HOUSE FIRE."
"SOMEONE IS GOING TO GET YOU OLD DYKE C--T"
"WHITE BITCH. HOPE YOU GET AIDS."
"KILLER. YOU SHOULD DIE INSTEAD OF AARON."
This is a sampling of the "fan mail" you receive when you become a target of an inaccurate narrative and irresponsible journalism. Social media becomes a barrage of unrelenting death threats, personal insults and hate speech. Again.
If you didn't know my role in the Aaron Hernandez story, you might think after reading such notes that I was the one who shot my best friend in the face and left him for dead in a Florida parking lot after a night at a strip joint. Or I that I had been found guilty of shooting my potential future brother-in-law in the back, repeatedly, not far from my own house. I've never been accused of pulling out a gun and squeezing off enough rounds to kill two men in a cold-blooded slaying that came after the victims—strangers—mistakenly spilled a drink on me at a nightclub. Nor have I burst a bouncer's eardrum with a single punch to the side of his head because he asked me to pay my bar tab. Those are crimes that Aaron Hernandez, the one-time multimillionaire NFL superstar who helped my hometown team to a Super Bowl victory, a man who wore a jersey for my beloved New England Patriots, was convicted of or accused of over the years.
Given this history, the fact that Hernandez took his own life in his prison cell in the days after he was (shockingly) found not guilty in connection with one of the two murder investigations, a double murder which law enforcement officials remain convinced he committed, should not have come as a surprise to many.
But here are the facts.
Aaron Hernandez quite literally had brain damage. Experts at the Boston University CTE Center determined after his death that he suffered what they called the most severe case of chronic traumatic encephalopathy ever discovered in a person his age: damage and disease that would have significantly affected his judgment and cognition.
A new Netflix documentary instead insinuates that I am responsible for killing a man who was in fact a convicted killer. I have been accused of "outing him" and thereby causing his death. I have been accused of questionable reporting. And now I am the subject of around-the-clock threats, including some delivered in person at my Boston home.
Again: facts matter. Here are the facts.
I was a freelance reporter for ABC News based in Boston in June 2013 when the bullet-riddled body of Odin Lloyd, a semi-pro football player who was dating the sister of the NFL star's fiancée, was discovered in an industrial park near Aaron Hernandez's million-dollar mansion in North Attleboro, Massachusetts.
Lloyd, the night before he was shot dead, had been out with Hernandez and may have made a derogatory remark about him being a "schmoocher," which Aaron apparently took as a slur. That was a Friday night. On Saturday, Hernandez called in muscle from the old neighborhood, Ernest Wallace and Carlos Ortiz, and picked Lloyd up at his Dorchester home. Lloyd was worried enough about his friend's demeanor that he texted his sister to make sure she knew who he was out with, writing: "NFL."
The next morning Lloyd and Hernandez were supposed to have Father's Day brunch with their girlfriends, sisters Shaneah and Shayanna Jenkins. But a dog walker found Lloyd's bullet-riddled body face down in the dirt in an industrial park not far from the Hernandez home that Sunday afternoon. He had been shot five times in the chest and back.
Monday morning, I got a text from a law enforcement source that read: "NE Pat suspect in murder." Shocked, I wrote back "WHO??!!!" The response came with a typo: "87." Of course, 87 was Rob "Gronk" Gronkowski, who, I immediately thought, was much too lovable to commit murder. The source corrected the text immediately with an "81." Aaron Hernandez.
At the time I was deeply entrenched in my investigation into the still unanswered questions swirling around the Boston Marathon bombing for both ABC News and my book Maximum Harm, the Tsarnaev Brothers, the FBI and the Road to the Marathon Bombing. But I called my bosses at ABC News and we were the first network to break the story that Hernandez was a suspect. I wrote more than a dozen stories, many with exclusive details from inside the investigation. All were available on my website www.michelemcphee.com; none mentioned the motive police were exploring, that Lloyd had discovered that Hernandez had a complicated sex life and the NFL star wanted to silence him.
As I texted with my police sources over the next few days, Hernandez texted his brother Jonathan, who recounted the exchange Sports Illustrated: "I just want you to know," Aaron wrote, according to Jonathan Hernandez, "because you're my brother and I love you: He was found, and they're trying to investigate, and my name is being thrown around....D, I swear on everything..." It wasn't him; Aaron wrote. A Massachusetts jury didn't agree and found him guilty of Lloyd's murder in 2016. The only unanswered question was why.
That question was a mystery—unless you were corresponding with law enforcement sources close to the investigation into Hernandez after Lloyd's murder. I was. Warrants were executed for the NFL star's home, his cell phone, and multiple vehicles rented in his name. As evidence against Hernandez was mounting, a possible motive emerged.
Detectives were eyeing one of Hernandez's childhood friends, a former high school classmate who stayed close to the rising football star during his college career and after he was drafted to the NFL. Not because he had anything to do with the brutal murder of Odin Lloyd, but in the days after Hernandez admitted to his brother he was a suspect in the killing, the Patriots player also moved a great deal of money into that guy's bank account. The law enforcement sources came to believe the relationship had been an intimate one, and that Hernandez's sex life could very well be the motive for Lloyd's murder.
To this day no alternative explanation has been given to explain why he would shoot his friend, a man who was dating his girlfriend's sister at the time, in the back.
Still, I never reported it in print. Not once.
On Marathon Monday 2015 my book was published. I went on a sports radio show to promote it. Some crass comments about Hernandez's sexuality were made. I giggled on-air. That very short clip was offered up in the documentary as evidence that I "outed" the sports celebrity and he killed himself two days later. I have been labeled a homophobe, an absurd accusation given my long and public record of fighting for LGBT rights. Before I left Boston, I used the bully pulpit of my former four-hour, drive-time Boston radio show to fight for our country's gay veterans who were being excluded from marching in the annual St. Patrick's Day Parade in South Boston. They marched that year.
Taken out of context, my giggling on a sports radio show about Hernandez's sexuality does indeed sound coarse and insensitive, even to me. But remember: Aaron was very much alive then, and very much a convicted killer.
My oft-discussed appearance on the sports radio show came on Marathon Monday in Boston on the second anniversary of the terrible day that Dzhokhar and Tamerlan Tsarnaev detonated two pressure-cooker bombs at the finish line of the iconic race, killing a little boy and two young women, blasts that sent 260 people to the hospital injured and permanently disfigured. Days later the brothers executed a police officer and sparked a firefight in Watertown that nearly killed another cop. I was on the show to promote my reporting on the Marathon, not to talk about a case I had only peripherally covered since the day I stood alongside a scrum of reporters watching as Hernandez was dragged out of his mansion with the white t-shirt draped over his muscled frame.
By then, his sexuality was well known in law enforcement circles, by his defense team and even his fiancée. I assumed other reporters—especially sports dedicated journalists—had heard about the possible motive. I was wrong.
In that Patriot's Day 2015 sports radio show appearance, what you don't hear is my ardent reinforcement of the fact that his sexuality was relevant only as it pertained to the homicide investigation. Nor do you hear the name of the man at the center of the police investigation because that man was not accused of murder. Hernandez was.
I did not ever identify that man because he was not accused of murder. That would have been "outing."
When you cover a beat, as I have with courts and cops, you have trusted sources. Those sources believe that Hernandez was trying to protect his secret. Could I have been more sensitive? Or course. But my thoughts were tangled in the losses my beloved city suffered in the very spot where we were broadcasting that morning: the finish line of the Boston Marathon. The fate of a very wealthy athlete was far from my mind.
Days later, sometime before 3 a.m. on April 19, 2017, Aaron scribbled out three notes: one to his fiancée, the mother of his little girl; one to that daughter; and a third to a man who claimed he was Hernandez's prison boyfriend. He placed them next to a Bible in his solitary cell in a Massachusetts prison. The Bible was opened to the New Testament, John 3:16, "For God so loved the world that he gave his one and only son, that whosoever believes in him would not perish but have eternal life," and the verse was scrawled on his forehead with red ink. He made marks on his hands and feet like a crucifixion.
Then the 27-year-old serving a life sentence without the possibility of parole jammed his cell door to prevent guards from coming in, and took his own life.
The finger-pointing at me began almost immediately. Department of Correction sources, who were genuinely concerned for my safety, warned me. "Keep your head on a swivel," said one text from a correction official that worked in the prison where Hernandez had reputedly joined a gang before he died. "The Bloods are blaming you for Aaron."
It wouldn't be the first time I was the subject of a threat. I've been a crime reporter for two decades. A Charlestown drug dealer who killed a law enforcement officer sent me a letter saying he was going to send people to my Boston home to rape me after I wrote about him.
Long before that, a crew of mobsters in the Boston underworld threatened me after I wrote a story about a Mafia massacre at a 99 Restaurant in the late 90s. To be honest, the mob threat did me a favor. My fear of them delivering on their promise if I ever wrote another word about their family prompted me to publish one last piece about their frenzied violence before I moved to Brooklyn and took a job as a crime reporter at the New York Daily News—covering the mob, among other things.
Believe me, I pissed off plenty of people in that city too, dirty politicians and Russian gangsters, and even a sitting Manhattan judge who wrote herself threatening letters in order to get an NYPD security detail.
On September 11, I lost friends when the planes hit the World Trade Center towers. I broke stories about 9/11 illnesses found in first responders and began investigating al Qaeda, coverage that put me in the sights of plenty of Islamic radicals.
So I am certainly no stranger to keeping my head on a swivel.
But the Aaron Hernandez threats were different. They exhausted me. Physically. Mentally. I wasn't just fighting the gangbangers. My own colleagues in the media piled on with endless criticism rather than report out the story, or even attempt to develop sources during two separate trials for Hernandez murder charges. Even the notoriously-ugly NYC tabloid wars were less ruthless than the coverage I got in the Boston media.
A year later, as I continued to investigate the Boston Marathon attacks in my home city, the Hernandez controversy was reignited by a documentary produced, in part, by a member of his defense team, Jose Baez. With it, hate-filled vitriol overtook my life. And now a second documentary has falsely accused me of "outing" the NFL star. And the attacks have begun all over again.
Strangely enough, Jose Baez is now publicly blasting the slap-dash reporting in the Netflix documentary. To be abundantly clear, I have never profited off of Hernandez's suicide. Not one dime.
Context matters. And as a long-time investigative journalist, I think context is largely lost in the unrelenting editorializing that is often disguised as reporting. Yes, Hernandez's sexual orientation and the homophobia that continues to exist, especially in professional sports, was very much a factor in this case, but those sentiments didn't come from me then or now. Sadly, it seems our culture and his career made Aaron Hernandez afraid to embrace his own complex sexuality. His own attorney, openly gay as it happens, said in the Oxygen documentary that Hernandez was deeply conflicted. "This man clearly was gay," George Leontire says, adding that his client, "Acknowledged it. Acknowledged the immense pain that it caused him."
Whether or not that pain caused him to kill himself, we will never know.
Baez believes the CTE Hernandez suffered, discovered by experts after his brain was donated to Boston University, could have prompted the suicide. Another New England Patriot superstar, Junior Seau, shot himself in the chest when he was 43 and was entered into the Hall of Fame in 2015, the same year Hernandez was found guilty of Lloyd's murder. Later studies determined Seau also suffered from chronic CTE, a brain trauma that is known to cause depression, rage and dementia. Others say Hernandez was motivated by the money that his fiancé and young daughter could potentially receive from his NFL contract because of a Massachusetts legal principle known as "abatement ab initio" which holds that a judge must vacate the conviction of a defendant whose appeals had not yet been heard at the time of his death. In his suicide letter to his fiancé Shayanna Jenkins, Hernandez told her she was now "rich."
Do I regret that Aaron Hernandez killed himself? Of course. I wouldn't wish death on any human being. That being said: I didn't kill Aaron Hernandez.
You might think I had something to do with the motivation behind his suicide. We would disagree. Unlike Aaron Hernandez, I never killed anyone, and yet the hate-filled threats that continue to be directed at me in the defense of an actual murderer makes one wonder about our society.
We shouldn't be asking why Hernandez killed himself. That's his business and he took the answer to his early grave. We should ask instead why he killed Odin Lloyd. I know that Odin's mother, along with his girlfriend, who, remember, is Hernandez's fiancée's sister, and all the people who loved him, deserve that answer just as ardently as people are willing to blame me for Aaron's choice to kill himself.
The fourth death, at least, law enforcement officials believe, he is responsible for.