'I Discovered My Best Friend Is My Biological Sister'
I was born in the Dominican Republic in December 1989 and adopted in March the following year. My parents flew to the Dominican Republic, adopted me and flew back to Connecticut where I've lived for most of my life. I have a younger sister who was also adopted from the Dominican Republic and we had a great upbringing. I had a great education and graduated college; I have no complaints whatsoever about my childhood.
When I was at college, my former babysitter was married to the manager of a local bar in New Haven—The Russian Lady—and she suggested I work for him. What college kid doesn't want to earn easy money on the weekend? So I started working there in 2011.
But it wasn't until 18 months later, in 2013, that Cassandra "Cassie" Madison was hired.
One day, we were both in the restaurant area of The Russian Lady and I noticed that Cassie had the Dominican Republic's flag tattooed on her arm. I have that same tattoo on my back so I decided to ask her if she was from the Dominican Republic. I remember that she sped past me and said: "Yeah, but I'm adopted."
I told her I was also adopted from the Dominican Republic and we asked some of our co-workers if we looked alike—they agreed that we did. Our eyes, nose and foreheads look alike, our voices are similar and we both talk with our hands and are loud. Our employers had to split us up at work eventually because we were a little too much when we were together.
We quickly became best friends and hung out every weekend; going shopping or to brunch. By summer of 2013 we decided there was a possibility we could be related and so we pulled out our adoption paperwork, but the details did not match up. Cassie was born in 1988 and I was born in 1989, but our paperwork said we were born in different cities, our biological last names were different and our biological mothers' names were not the same.
So we just left it at that. We knew it was a one in a million shot. What are the odds that two adopted girls working in a bar in Connecticut would be biological sisters?
Cassie then met her now husband and moved to Virginia in 2015. We stayed in touch on social media, but we weren't as close as we had been because she had moved. Then, fast forward a few years and our lives just exploded.
Cassie had taken a 23andMe DNA test in 2018 to find out more about her ethnic background. She then discovered she had a first cousin in Connecticut who had also taken a 23andMe DNA test. That cousin asked his own mom about Cassie, gave her Cassie's information and they were quickly able to connect Cassie with her biological father.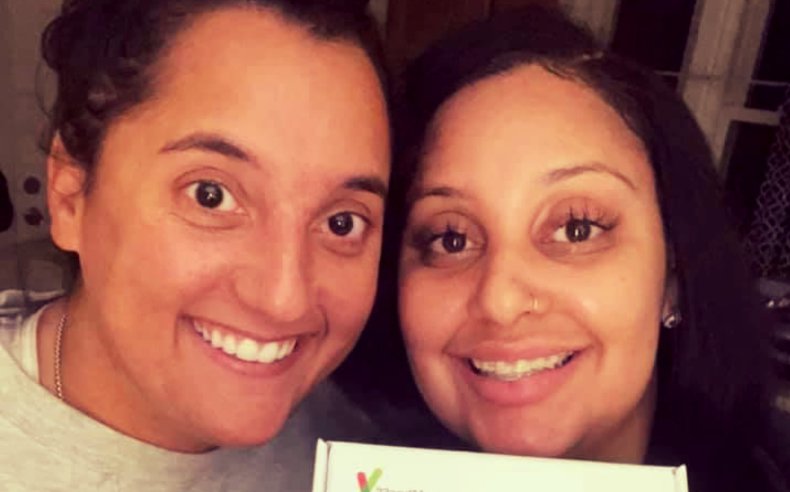 Before long, in 2019, she had flown to the Dominican Republic to meet her biological family, who live just outside Santiago De Los Caballeros. It was amazing and she was overwhelmed with happiness. I was also so excited for her because finding her biological family had always been her dream.
After that, the story started to get a little crazy. My childhood best friend, Molly Sapadin, was adopted by her family on the same day as me and through the same adoption agency in the Dominican Republic. Molly had also been researching her biological family and her adoption paperwork showed that she and Cassie had the same last names and their mother's name was the same. Molly then took two DNA tests including a 23andMe test and discovered she was actually Cassie's third cousin. Molly's paperwork indicated that she could be Cassie's sister, yet she was actually her third cousin. It made me wonder what was going on and whether there was a chance that mine and Molly's adoption paperwork had been mixed up somehow. But, I have a great family and so taking a DNA test to find my biological family is not something I had ever really wanted to do.
Then, over Christmas 2020, Cassie decided to ask her biological father if he and her biological mother had given up any other children. He told her that they had given up another baby girl who was born after Cassie.
I fit that description, so Cassie then decided she had to travel to Connecticut and bring me a DNA test. On New Year's Day 2021, at 5am, Cassie drove eight hours to Connecticut with a 23andMe test for me to take. At that point I still wasn't certain it was the right thing to do, because if it turned out we weren't sisters, I felt like it would be a huge let down. But Cassie helped me set everything up on my phone and even took the test to the post office.
It usually takes a few months to get results but you're able to track the progress of the test on an app. So, Cassie was calling and texting me every day asking for updates, and then on January 28, 2021, she texted me at 7am asking if I'd heard anything. There was no new information then, but at 11.45am I got an alert to say my results were ready. I was extremely nervous, but when I looked at the results for DNA relatives, Cassandra Madison was listed as my sister.
Cassie is crier, so she bawled her eyes out when I told her. She couldn't believe it. It really was a one in a million chance. I also called Molly and told her that I'm Cassie's sister. It was so overwhelming for all of us, but the agency that Molly and I were adopted through has now closed, so we don't really know what happened.
Cassie and I next saw each other over Valentine's Day weekend in New York. It had been a month since she initially brought me the test, but there was no weirdness about being sisters because we've been friends for so long. The only real difference is that we now talk every day.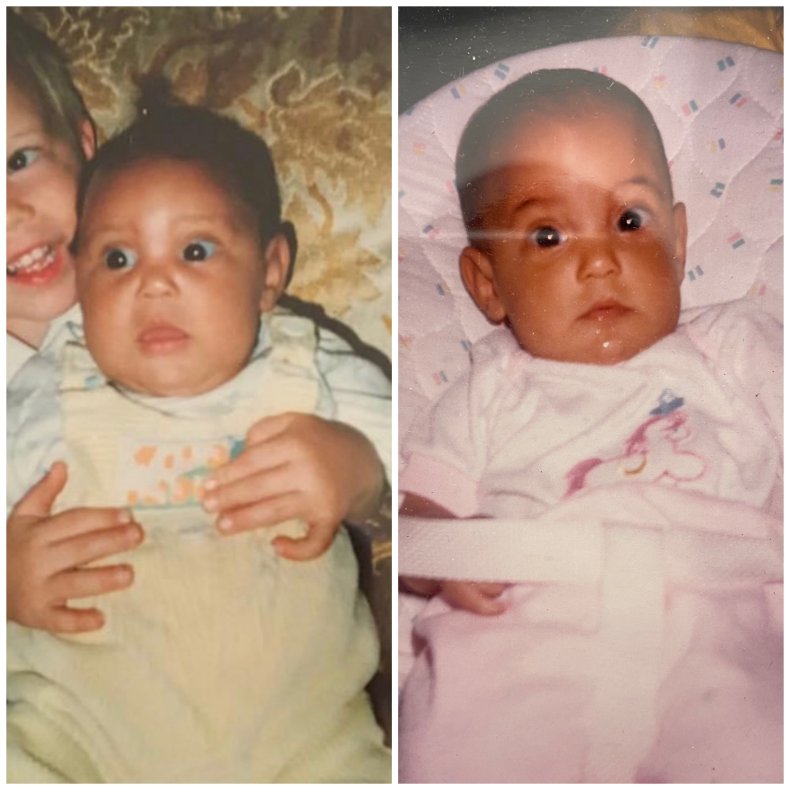 My parents have been great, they're not pushing me in any way and are just being so supportive. I do want to go down and meet my biological family, but with the pandemic, who knows when that will happen. I also want to get my COVID-19 vaccination before I leave the U.S.
Sadly, we have discovered that our biological mother passed away in 2015, aged 46, from a heart attack. But our biological father is over the moon to have connected with us.
Cassie did ask him why we were given up for adoption and it turns out that our eldest biological brother was very sick at the time and so he needed a huge amount of attention and medical help. Our biological parents couldn't afford to take care of Cassie and so she was put up for adoption. When I was born 17 months later they were not able to support me either. I can't criticize them, they wanted to give two kids a better life and I've had a great life so I want to thank them for doing that.
Finding out Cassie is my sister has changed a lot, but one of the most touching aspects has been the adopted people who are reaching out to me and saying that our story has given them hope that they too can find their own biological family.
This story has shown that information about your biological family could be out there, but I think it's important for people to know that not every story has this kind of ending; the end of our story could be the final scenes of a movie.
At the same time, I was somebody who didn't want to take a DNA test, I wasn't interested in discovering where I came from. Perhaps if I had heard a story like this, it might have given me some hope too.
Julia Tinetti lives and works in Connecticut. Her sister Cassandra Madison lives and works in Virginia with her husband.
All views expressed in this article are the author's own.
As told to Jenny Haward.