I Don't Know How to Tell My Kids About Uvalde | Opinion
Throughout my adult life, I have been a firm supporter of an individual's right to bear arms. As a student of Black history, some of my heroes were Robert F. Williams of North Carolina and the Deacons for Defense in Louisiana, gun toting Black men who vowed to use everything at their disposal to protect their communities and families. Both led well regulated militias necessary to the security of a free state in the modern era.
I still advocate for the rights of an individual to hunt, shoot for sport, and even to have a weapon to feel more secure in their home. But like most of my fellow Americans, I fall in the category of someone tired of the carnage. I'm one of many who wants common sense gun reforms that could keep deadly weapons out of the hands of people who may be motivated to harm massive amounts of people.
Less than two weeks ago, I grappled with whether to tell my elementary school aged children about the mass shooting in Buffalo, where a man citing the Great Replacement Theory went to a grocery school and targeted people who looked like my kids. I didn't want them to hear about this tragedy on the playground, but I ultimately decided against explaining what happened because I didn't want them to feel unsafe.
Now, just one week later, we have at least 19 people—18 of them children—killed in an elementary school, a place where my kids spend the majority of their waking hours. And I am struggling once again to decide whether I should speak to them directly about it.
But while I make that decision, I've come to the conclusion that my biggest responsibility as a father and a citizen is to advocate for things that will make all children safer.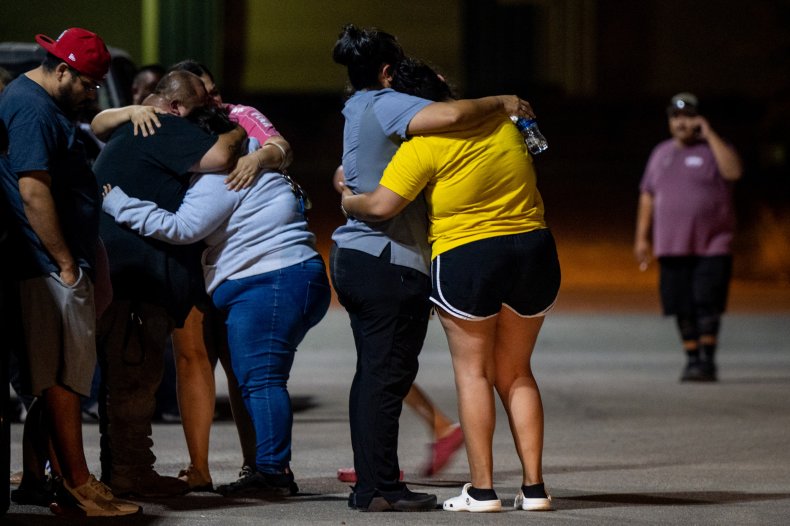 The shooter in Uvalde, Texas shot his grandmother before heading to the school, similar to the shooter in Newtown, Connecticut, who killed his mother before going on his rampage. If legislation like the Federal Extreme Risk Protection Order Act were in place, perhaps family members of eventual shooters could have called law enforcement and convinced a judge to temporarily take their weapons away.
The bill, sponsored by Rep. Salud Carbajal (D-CA) and Sen. Diane Feinstein (D-CA), is exactly the kind of common sense reform we need. It authorizes federal court orders that prohibit a person from purchasing or receiving a firearm if a family member or member of law enforcement sees in them a risk to themselves or others.
Not only could this legislation protect our nation from another tragic event where we have to bury school age children, it could prevent suicides, protect veterans, and keep women safer in domestic abuse situations.
Yet Republicans have so far refused to support red flag laws. After another mass shooting in El Paso, during which 22 people were murdered by another adherent to the Great Replacement Theory, Texas Governor Greg Abbott promised to focus on legislation to address mental health rather than to curb the access to firearms. "Bottom line is mental health is a large contributor to any type of violence or shooting violence, and the state of Texas this past session passed a lot of legislation and provided funding for the state to better address that challenge," he said at the time.
It was a convenient way of avoiding a discussion about the shooter's far right political ethos and anti-immigrant sentiment, one that has become commonplace on the right. A study of mass shooters led by Columbia University researcher Gary Brucato and published in Psychological Medicine found that only 8 percent had serious mental illness. Mass shooters are much more likely to have legal histories and abuse substances.
Chris Rock once joked that we don't need gun control, we need bullet control. While some liberals and progressives will point to the fact that many mass shootings are done with AR15 rifles, conservatives are actually correct that the problem isn't the type of gun that is used. The primary issue is the capacity of the magazine.
Research shows that high capacity magazines are involved in 55 percent of mass shootings. In addition, an average of five times as many people get shot during mass shootings in which a high capacity magazine is used. A shooter having to reload under stress can give people time to hide, run and evacuate, and law enforcement time to react.
The Constitution gives us the right to bear arms, but not the right to possess any size clip you desire. Back when the Constitution was written, people fired one-round muskets. The revolver wasn't invented for another four decades.
Most Americans want sensible reforms like expanded background checks. We want to be able to go to the grocery store or Walmart and to drop our children off at their schools and feel confident that they are safe. The leadership in Washington knows that these reforms will make us safer and be minor inconveniences at the very most to law abiding gun owners. If only they would act.
The only thing in DC that speaks louder than money is votes. I suggest we vote like our children's lives depend on it. Because they do.
Dr. Jason Nichols is an award winning senior lecturer in the African American Studies Department at the University of Maryland College Park and was the longtime editor-in-chief of Words Beats & Life: The Global Journal of Hip-Hop Culture, the first peer-reviewed journal of Hip-hop Studies. His work has been featured in publications such as The Guardian, Al Jazeera, Foxnews.com, NBCNews.com and The Hill, and he cohosts the "Vince and Jason Save the Nation" podcast.
The views in this article are the writer's own.