Florida Massacre Survivor Tells Trump: 'I Don't Want Your Condolences,' Demands Gun Control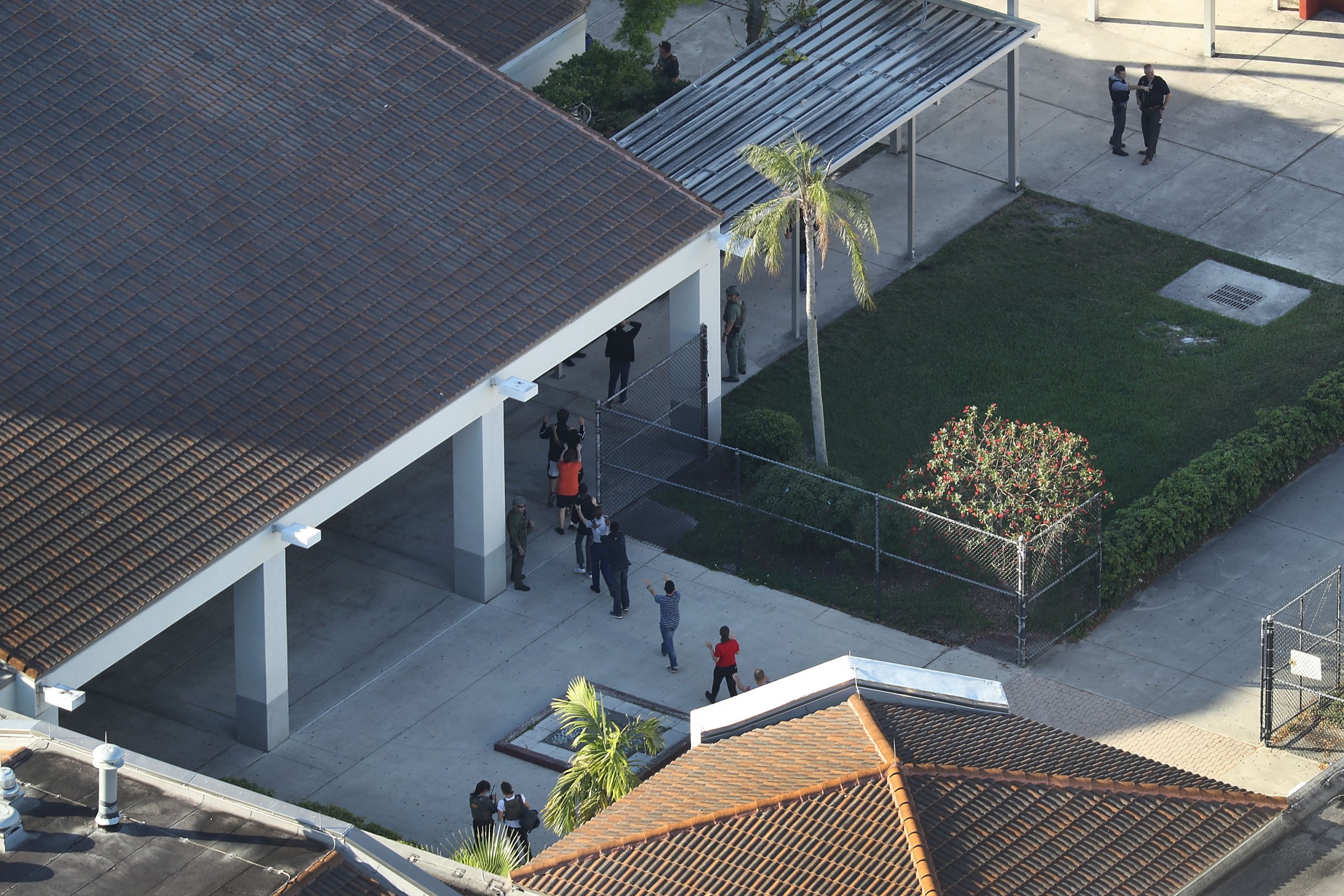 A survivor of Wednesday's Florida massacre hit out at President Donald Trump after the U.S. leader offered his "prayers and condolences" to families of the victims of the high school shooting that left at least 17 adults and children dead.
"I don't want your condolences, you fucking piece of shit," a student named Sarah wrote on Twitter. "My friends and teachers were shot. Multiple of my fellow classmates are dead."
The Marjory Stoneman Douglas High School student wrote the message in response to Trump's statement offering his "prayers and condolences to the families of the victims of the terrible Florida shooting. No child, teacher or anyone else should ever feel unsafe in an American school."
The student called on the president to "do something" and take action on gun control, rather than simply offering prayers. "Do something instead of sending prayers. Prayers won't fix this. But control will prevent it from happening again," she wrote.
Authorities say a former student, who has since been identified as 19-year-old Nikolas Cruz, tore through the high school in Parkdale, Florida, firing at students and teachers in his path.
The student had reportedly been expelled for disciplinary reasons that are still unclear. He is due to appear in court on Thursday.
The attack, one of the 10 deadliest mass shootings in modern U.S. history, has reignited a long-standing debate over gun control. Florida has some of the least-restrictive gun laws in the country.
The state does not require a license to purchase a gun, nor does it require firearms registration. Background checks are also not required for most gun purchases.
It is legal to own semi-automatic assault rifles, though a background check is required. Florida also does not place restrictions on magazine capacity.
Broward County Sheriff Scott Israel said Cruz had at least one AR-15 assault rifle and "countless magazines" in his arsenal during the attack.
Other classmates identified the gunman as a "troubled kid." One student, who did not wish to be named, told TV station WSVN-7 that Cruz had told peers he had guns at home and talked about using them.
"He's always had a certain amount of issues going on. He shot guns because he felt it gave him, I guess, an exhilarating feeling," the student said.
The Giffords Law Center to Prevent Gun Violence, which was named after former Representative Gabby Giffords, who was shot in a 2011 attack that left her with a severe brain injury, points out that Florida does have a mandatory three-day waiting period for gun purchases. But those who possess a permit to carry a concealed gun are not subject to that waiting period.
Melissa Falkowski, a teacher at Marjory Stoneman Douglas High School, told CNN's Anderson Cooper she felt the government had "failed" students. "We could not have been more prepared for this situation, which is what makes it so frustrating," she said.
"We did everything that we were supposed to do. Broward County Schools has prepared us for this situation, and still to have so many casualties, at least for me, it's very emotional.... Because I feel like today our government, our country has failed us and failed our kids and didn't keep us safe."
Senator Chris Murphy, a Democrat from Connecticut, took to the Senate floor on Wednesday to tell his colleagues that it is lawmakers who bear responsibility for mass atrocities like the Florida shooting.
"Let me just note once again for colleagues...this happens nowhere else other than the United States of America, this epidemic of mass slaughter, this scourge of school shooting after school shooting," Murphy said.
Related: Senator tells colleagues 'we are responsible' for mass atrocity after Florida school shooting
"It only happens here, not because of coincidence, not because of bad luck, but as a consequence of our inaction," he said. "We are responsible for a level of mass atrocity that happens in this country with zero parallel anywhere else," Murphy said later.
Florida Senator Marco Rubio, a Republican, warned that people should not "jump to conclusions" and assume "that there was some law that we could have passed that would have prevented" Wednesday's shooting.
He said that "people still don't know how" the shooting occurred or how Cruz got his hands on the weapon he used to kill nearly 20 people.
"I think it's important to know all of that before you jump to conclusions that there was some law that we could have passed that would have prevented it. And there may be, but shouldn't we at least know the facts?" Rubio asked on Fox News.
He insisted that it was not fair for his Senate colleagues to use the incident as an opportunity to call for increased gun control in the immediate wake of the massacre.