I Drafted Eric Swalwell's Leading Gun Control Plan. It's Vital Another Candidate Fights for It Now | Opinion
The number of Americans killed by guns since Dr. Martin Luther King Jr.'s assassination is greater than the number of service members who have died in all the wars this country has ever fought. Before today ends, around a hundred people in this country will die from a gunshot. The shocking acts of white nationalist terrorism like we saw in El Paso, Texas, and the mass murder in Dayton, Ohio, compound America's gun violence and gun death epidemic.
No other nation suffers from similar rates of gun violence and death. For decades, politicians have lacked the will to take on the NRA, which spends heavily to elect leaders with extreme views on guns. That started to change with the Sandy Hook massacre then the mass shooting in Parkland.
The shooting at Marjory Stoneman Douglas High School in Parkland, Florida, was gut-wrenching for me. I watched it play out live on Twitter, as students tweeted from their hiding places at the school. At the time, I worked for Congressman Donald M. Payne Jr., a fierce advocate for gun violence prevention. I remember sitting at my desk, following events as they unfolded in Parkland. I still remember a student's fear as she live-tweeted while hunkered down, praying that she would not die. That tweet is now gone, but I will never forget what I replied to her from Payne's account—a message from both him and me—"You are loved. Be strong." That was all we could do in that moment, and the gravity of the situation weighed heavily on both of us.
For the next year and a half, I worked with Payne and his team to force Republicans in Congress to reckon with the effects of their inaction on gun violence. Payne and I started the trend of proudly sharing legislators' F grades from the NRA. We passed the CLASS Act, which would create a council in the U.S. Department of Homeland Security to help ensure schools are safe from gun violence. We rallied more than five dozen bipartisan members of Congress around a bill that would create a national funding stream for local governments to conduct gun buyback programs in their communities. And the House of Representatives overwhelmingly passed a bill to implement universal background checks on firearm purchases.
Despite momentum in the House, it quickly became clear that Senate Republicans would continue sacrificing human lives at the altar of the NRA. Change would have to come from the top, and that would start with nominating a Democratic presidential candidate whose vision for the future includes sweeping changes to gun laws. That's when I got a call from Swalwell for America. Congressman Eric Swalwell was running for president and needed a national policy director to draft the gun violence prevention platform that would be at the center of his campaign.
From the day he launched his campaign in Dublin, California, Swalwell had put gun violence prevention at the center of his campaign. Swalwell cared about many issues—from student loan debt to health care to climate chaos—but as a new father, ending gun violence was the one that energized him the most. Everyone on the campaign shared his passion.
He gave me one instruction: Get this right.
On an accelerated timeline, we dug into the root causes of gun violence in the United States. Almost immediately, we realized that a platform would not be enough. Lurching from crisis to crisis was distracting Americans from the root causes of gun violence. Easy access to cheap weapons, lax laws protecting victims, divestment from minority communities, a dearth of public health research into gun violence, laws that shield gun makers and myriad other policy choices are responsible for the high rates of gun violence in the United States.
In the short bursts that characterize 24-hour news and crowded debates, Swalwell's plan to ban and buy back semiautomatic assault-style weapons got the most traction. It was easy to distill and lent itself to good soundbites. But banning and buying back semiautomatic assault-style weapons was only the tip of the iceberg. Although it is imperative that the United States get the approximately 15 million assault weapons in circulation off our streets—a policy that every Democratic presidential candidate should commit to—Swalwell's plan to end gun violence went further.
In the white paper we titled A National Framework to End Gun Violence, Swalwell and I created a model that all Democrats can rally around: ban and buy back semiautomatic assault weapons, invest in hope for our neighborhoods, tackle America's suicide epidemic, protect victims of gun violence, mitigate and prevent mass shootings, secure all sales of firearms and ammunition, invest in gun violence research and community-centered health care, and regulate manufacturers. I think we got it right.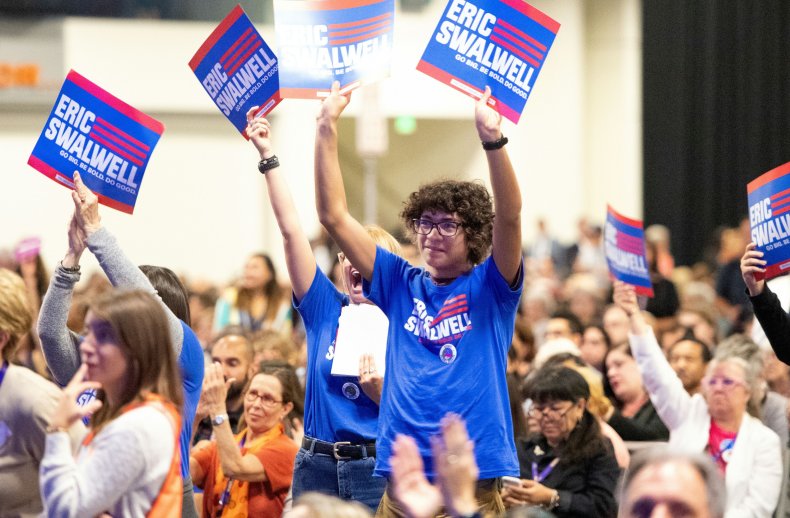 In the wake of mass murder in El Paso and Dayton, candidates like Senator Bernie Sanders and former Vice President Joe Biden endorsed pieces of Swalwell's proposal. But Swalwell and I wrote a plan, not a menu. The United States needs a fundamental shift in the way we think about gun violence—and the actions we take to end gun violence. Nothing less will do.
Congressman Eric Swalwell is the generational leader on gun violence we needed in the Democratic primary. Back in the House, he will continue to transform the politics of gun violence prevention. On the presidential stage, every Democratic candidate should take a close look at his's plan and follow suit. The time for sweeping platitudes and half measures is over. The fact of the matter is that the United States has a gun problem, and we are not going to end it with simple ideas.
Who will pick up the torch against gun violence?
R. Kyle Alagood is a lawyer. He previously served as national policy director for Swalwell for America, communications director to Representative Donald M. Payne Jr. and research associate at the Brennan Center for Justice.
The views expressed in this article are the writer's own.