What Is Your Dream? How Hundreds of Refugees' Hopes Ended up on a London Wall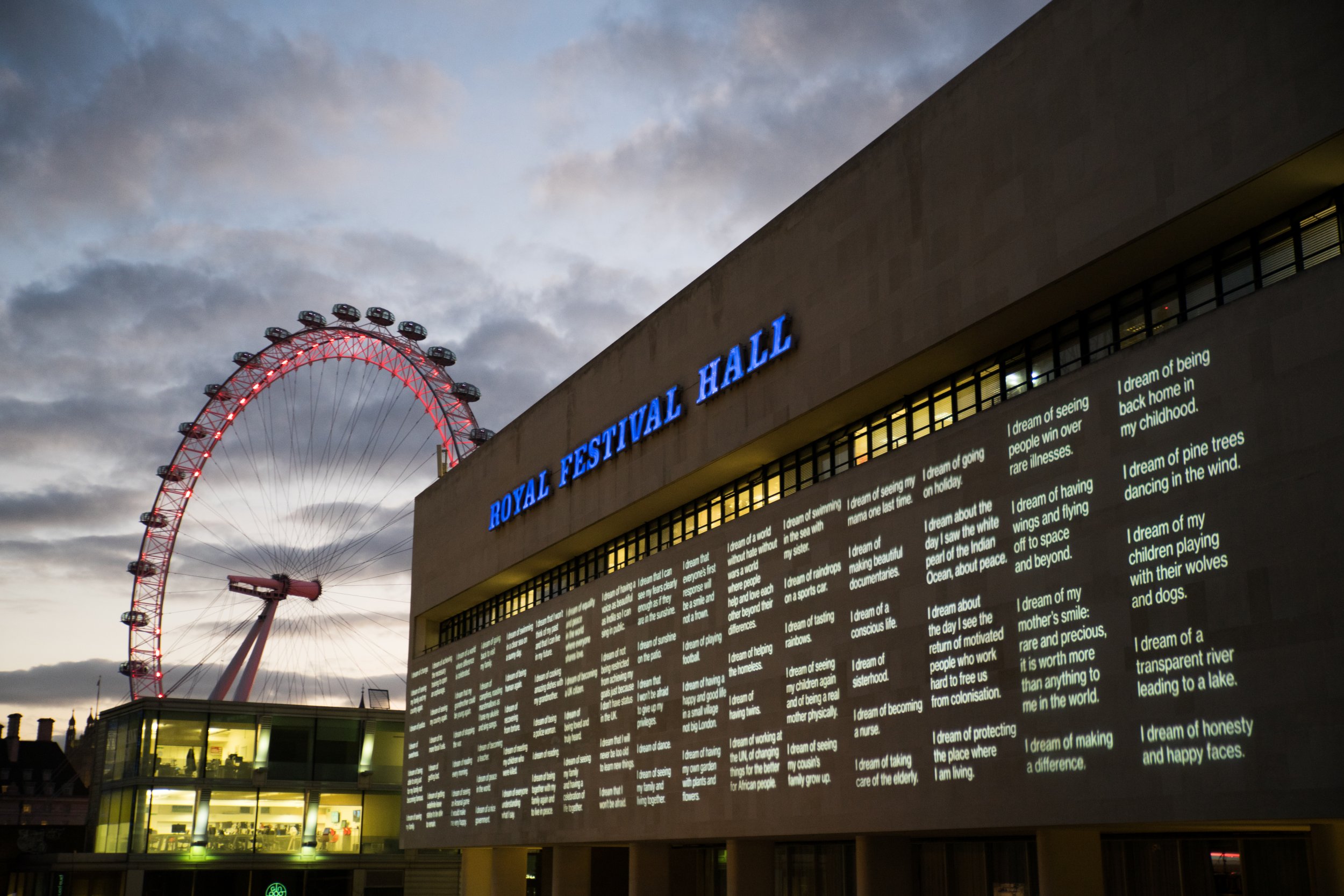 Like graffiti, they're written on walls. But they aren't permanent and they're most visible in the dark. Behold the "Wall of Dreams," a canvas to the hopes and aspirations of 650 refugees projected onto the walls of the Southbank Centre in London from Oct. 13, to Nov. 1.
Artist and poet Morten Søndergaard came up with the idea for the artwork as a way to show the general public a more humane portrayal of refugees who, he says, are often portrayed as a big grey mass.
"The project for me is a way to convey another image of refugees," Søndergaard tells Newsweek. "This is a good chance to know who they are, asking such a simple question that [reveals] such a strong glimpse of a life, a personality. It's like [a] small, compressed narrative."
All sentences begin with "I dream of…" but each end in a different way, reflecting the hope of a specific individual. Many dreams are about the future: becoming doctors, lawyers, teachers, but also dentists, painters, construction workers, football players, motorbike racers, hip-hop composers, make-up artists, or even Elsa, the ice princess from Disney's Frozen. One person dreamt of being both a police officer and a model.
Others dream of family and friends left behind in Syria, Iraq and Afghanistan. Finding freedom, peace and happiness are recurrent themes, as well as reconnecting with their loved ones in European countries like Sweden and France. Out of all the countries in the world, it's Germany that gets the most mentions as a dream destination.
Søndergaard worked with British poets Kayo Chingonyi and Jasmine Cooray who helped him gather and shape the testimonies of refugees from around 20 nationalities currently living in Denmark, Greece, Italy and the U.K.
While some artists may prefer working on their own, for Søndergaard the collaborative nature of the project is what makes it so special, reflecting a collection of voices and a collective effort to bridge cultural differences and translation issues to bring those voices to a wider audience.
"The idea of a dream is powerful; it is predicated on an investment in, a belief, in a future," Chingonyi, who wants to learn to speak fluently the Zambian languages Bemba, Nyanja, and Luvale, tells Newsweek. "I'm not a refugee or asylum seeker but I have interacted with the immigration process in the U.K. I have waited in a long queue to meet with someone who could make big decisions about my future. There are many wishes in such spaces," he added.
"It's been an honour to witness the project's participants express hope, ambition and strength of spirit. It has inspired and humbled me. I think it is really important to dream, but it is something that we can view as a luxury," Cooray says. Her own aspirations reflect the artwork's spirit: "I dream of connection in the chaos, for us to be able to dare to look more closely at each other, to look past narratives that obscure our view," she said.
Søndergaard hopes that the artwork will serve to inform a debate that is central to politics and electoral campaigns, often playing on people's fears of the unknown. "What I hope is you open your mind and see that it's more complex than you thought," he says.
One of the dreams that struck him the most was from a refugee from Greece who said: "I dream about not being afraid of giving up my privileges." According to him, that perfectly captures the fear underlining so many of the debates surrounding immigration, people's fear of losing their own privileges to welcome others.
"You need a counter-voice and I think art can be the place where we discuss this in a new, or a different way," he says, adding, "My dream is that dreams will travel out into the world and people's minds."
As for the next destination for the project, Søndergaard is thinking about the U.N. building in New York, and another, now notorious, landmark in the Big Apple: Trump Tower.
Wall of Dreams is at Southbank Centre's Royal Festival Hall from Friday 13 October - Wednesday 1 November to coincide with Southbank Centre's London Literature Festival , Poetry International and its year-long celebration of Nordic arts and culture, Nordic Matters.
What Is Your Dream? How Hundreds of Refugees' Hopes Ended up on a London Wall | World