'I Feel Guilty': American Leaves Ukraine as Russia Ramps Up Attacks
With Russia gaining ground and terrifying rumors swirling, Thomas Knapp, an American who's been living in Ukraine, is racing to get out of the country and to the safety of the Hungarian or Romanian border.
Knapp bought a flat in Ukraine and established the country as his home, operating a business out of the country and forging friendships. He joined the civilian territorial defense battalion as a volunteer, where he was handed a uniform and a firearm, and while he wanted to stay and fight, Knapp decided on Thursday to leave Ukraine in the hopes of staying safe for his daughters, who live in California.
"I feel very guilty," Knapp told Newsweek. "I came here for business, not to be in the middle of the war, but here I am. I wish I could stay and fight, but I just can't."
A week after invading Ukraine, Putin's forces are making headway in the country despite fierce resistance from Ukrainians. Russian forces captured Kherson, a seaport city in southern Ukraine, giving the Russian military a strategic advantage, and Ukrainian President Volodymyr Zelensky continues to ask Western countries for aid.
Odessa Mayor Gennady Trukhanov announced on Facebook that citizens of the port city on the Black Sea were preparing to defend their home amid reports Russian warships were headed their way. He said residents' job was to act in a way that kept Odessa under control of the Odessians.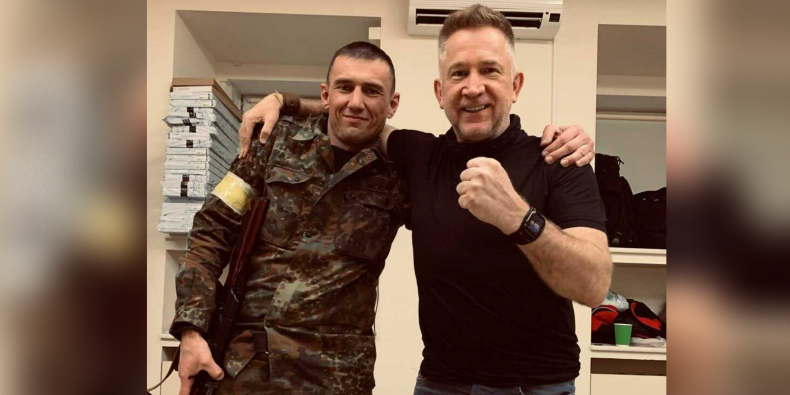 Based on what he's hearing from Ukrainians and data he's looked at, Knapp believes Odessa could be taken by the Russians within days. Having bought a last-minute train ticket to the port city from Kyiv, he plans to get off early and either walk or hitchhike to Romania or Hungary. Ultimately, his goal is to meet up with a friend who's driving from Paris to meet him in Budapest.
"Everyone's been panicking for a month, telling me to leave," Knapp said. "I guess they were right. I stayed a lot longer than anyone wanted me to. I did everything I could."
Before leaving Ukraine, Knapp volunteered for a civilian territorial defense battalion. While trained in firearms, he doesn't have combat experience and struggled with the language barrier. The group partnered him with a fluent English speaker, but Knapp said he can't follow orders in Ukrainian, a problem he believes could endanger people's lives.
Ukrainian officials announced the creation of the International Legion of Territorial Defense of Ukraine on Sunday. The group's purpose is to give foreigners a space to serve in the fight against Russia by creating English-language battalions. In just a few days since the announcement, Zelensky said more than 16,000 people arrived to fight in Ukraine's war with Russia.
After recording a video to help "boost morale" among troops, Knapp said he's "kind of embarrassed" that he's leaving the country. He characterized himself as a "brave man" but said he knows his limits.
Having been "ingrained" into Ukrainian society, Knapp said the Ukrainians he's talked to don't believe Putin will stop at his most current takeover. Putin's speech ahead of the invasion implied he has his sights set on restoring the Soviet Union, meaning he could have his eyes on invading Estonia, Latvia, and even Poland, a Soviet Union ally.
In a video from the train station, Knapp said it was relatively crowded with people looking to head toward Odessa. While he's prepared to return to Ukraine to help rebuild in the aftermath of the war, he didn't seem wholly confident there would be a country to return to if the world doesn't step in to help Ukraine.