'I Feel Like I Am Being Used': Woman Backed For Not Sending Wedding Gift
A woman shared on Reddit's "Am I the A**hole" that she was unsure if she should send a wedding gift to a couple after she was told that she was not wanted at the ceremony.
In u/HokeyPokeyGuestList's post, which received more than 8,500 interactions, she explained while she accepted an invitation to her partner's friend's wedding, she later learned that the bride did not want her to attend the celebration. The poster's confusion over the situation prompted a discussion among commenters whether or not she should still send a gift despite being given two seemingly disingenuous invitations.
"Asking for a Friend," an advice column affiliated with TODAY discussed the etiquette of gift-giving if someone is not invited to a wedding.
In her post, u/HokeyPokeyGuestList wrote that she went out to dinner with her partner, "Martin," and Martin's friends from work, "Andy" and "Anna," who are getting married.
"I thought we got along well, and Andy said he hoped to see me as a guest at his wedding," u/HokeyPokeyGuestList wrote.
She said Martin received the invitation to the wedding, which was addressed to him "and guest." Martin accepted the invitation for both of them, but not long after accepting the invitation, he received a call from Anna.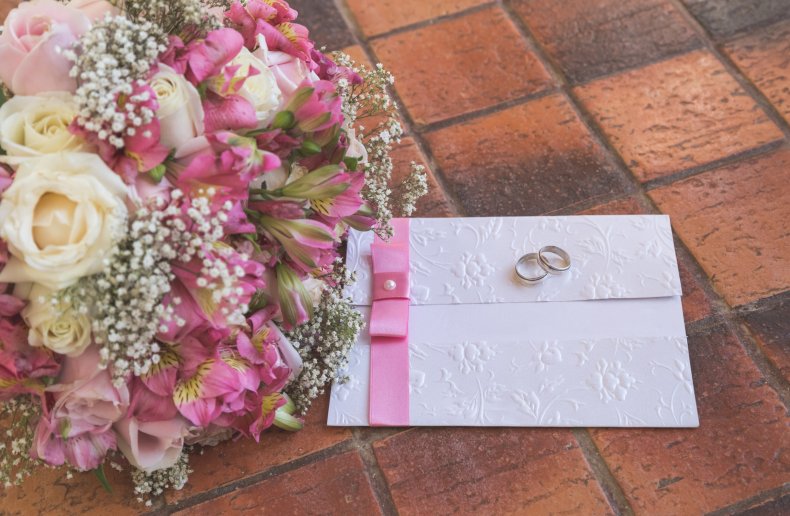 "Apparently she'd miscalculated the number of guests they could have at the venue, and would I mind terribly if she cut me from the guest list?" u/HokeyPokeyGuestList wrote. "Apparently Anna was too embarrassed to ask me herself."
She said she understood why she would be cut from the guestlist and passed her best wishes along to the couple. However, she later heard from Andy that he did not hear about the issue with the venue. Because some other guests were not attending the wedding, he reached out to personally re-invite u/HokeyPokeyGuestList.
She received an invitation in the mail with her name on it and she accepted. Things took a turn when she ran into Anna, who invited her to have coffee together.
When the two sat down to talk, u/HokeyPokeyGuestList said Anna asked her if she was able to "take a hint."
"Anna said wasn't it obvious she didn't want me at her wedding?" u/HokeyPokeyGuestList wrote. "She understood I was unfamiliar with wedding etiquette and how things are done in this country, but the polite thing to do was decline the invitation and send a present."
u/HokeyPokeyGuestList noted in the comments section that they all live in Australia.
She told Martin about her conversation and learned that Anna invited her to be polite, but she expected her to decline the invitation.
u/HokeyPokeyGuestList decided she would not attend the wedding, and Martin said he planned to speak with Andy before making a final decision on whether he would attend.
She said she was unsure whether she should send a gift to the couple.
"All of the wedding etiquette guides I've consulted say that if you decline a wedding invitation after accepting, you should send a present," u/HokeyPokeyGuestList wrote. "But frankly, I feel like I am being used, and giving them both a present feels like I'm saying I'm OK with that."
Caroline Moss responded to a query in the advice column "Asking for a Friend," regarding an individual sending a gift if they were not invited to a wedding.
"Gift giving is a fun ritual that can help you celebrate the newly married couple and show your appreciation for being included in their wedding day," she said. "It is by no means a requirement, whether you are attending the wedding or not."
Moss said giving a gift should not be done simply out because someone feels obligated to do so.
Commenters under u/HokeyPokeyGuestList's post gave similar advice and said she should not give the couple a gift.
"If their invite isn't genuine they shouldn't expect a gift," u/Ab828 commented, which received more than 12,000 votes.
u/WDersUnite joked that if u/HokeyPokeyGuestList wanted to send a gift, she should consider gifting the couple a book about etiquette.
"Pretty sure it's also not good etiquette to invite someone (twice) and later tell them to their face that you don't want them there and act offended they accepted your multiple invitations," u/rabid_houseplant_ wrote.
Newsweek reached out to u/HokeyPokeyGuestList for further comment but did not hear back in time for publication.