'I Feel Pretty' Directors Respond To Body Shaming Backlash From Amy Schumer Comedy
With 35 a percent rating on Rotten Tomatoes, Amy Schumer's I Feel Pretty is projected to bomb in the box office. The low numbers are likely attributed to the backlash the romantic comedy faced for its apparent depiction of body shaming.
Schumer's new rom-com is like 2018's version of Shallow Hal (2001). In I Feel Pretty, Renee Bennett (Schumer) doesn't feel beautiful. Her change in confidence occurs after she falls off her bike during a SoulCycle class. Renee is the only one who thinks she's more attractive than before, and that's where the movie's gag lies.
As shown in the widely criticized trailer, the wet bikini contest, for instance, is supposed to be funny—Renee isn't as slender as the other participants—but having a fuller figure, especially in 2018, is nothing to laugh at. Since Shallow Hal debuted in 2001, voluptuous models known for their curvy figures like Kate Upton, Ashley Graham and Tess Holliday have graced the covers of magazines like Sports Illustrated, Vogue and People—showing skinny isn't the only version of sexy. Though it might seem like I Feel Pretty reverted to this outdated thinking, the film's directors, Abby Kohn and Marc Silverstein, argued the movie wasn't about skinny being beautiful, it was about embracing the body one has. As for the backlash, the directors said people "pre-judged" the movie.
"I think it's simple. If you see the movie, I don't think there's any way you could not understand where that movie's heart is," Silverstein told Newsweek. "That pre-judgment is just that—a pre-judgment."
The pair suggested Renee's confidence helps her accept herself. Kohn reasoned the movie "really sends home a message that believing in yourself is the only real change you need to make."
Kohn and Silverstein, who also co-wrote I Feel Pretty, are no strangers to the romance genre. They're the masterminds behind The Vow, Never Been Kissed, He's Just Not That Into You, How to Be Single and Valentine's Day.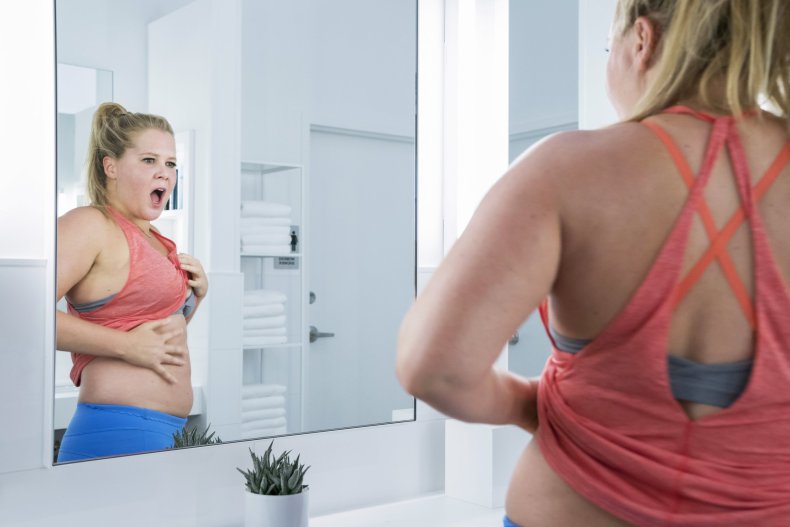 Bringing I Feel Pretty to life was a "really fast" process, Silverstein said. After Kohn shared a three-sentence pitch with Silverstein, they completed the script the following year.
Kohn's objective was to show that Renee always remained the same. "Nothing has changed because it doesn't have to. She gets all this confidence, and at the end obviously realizes she was perfect the way she was. She just needed to believe it," Kohn said. "It came together and it was something that we felt could be really funny, and also be about something that we cared about."
The directors knew Schumer would be perfect to portray Renee. After sending the comedian the finished script, the Snatched star jumped on board within days of reading it.
"We didn't think about anybody else. She is just so perfect for this character," Kohn said. "Thematically, the things we want to say are the things she wants to say."
"She really brought a side that I hadn't seen of her before," Kohn continued. "A really emotionally honest side that I feel really draws us into this character. She allows us to go on that journey with her."
I Feel Pretty is slated to premiere in theaters Friday.