A North Carolina teacher said she was unjustly terminated on the second day of school after she was accused of violating the school's mask policy around students.
Julia Haferman, who taught fourth grade at Bradford Preparatory School in Charlotte, told the Charlotte-based news station WSOC-TV that she was approached by school officials on the second day of the fall semester. The officials told Haferman she had been exposed to someone who tested positive for COVID-19 and that they received complaints from students who said she was not masked while walking near them, she said.
"It was a false allegation," Haferman said during a recorded interview with WSOC-TV. "I feel targeted, 100 percent.
"To be terminated based on, 'a student said,' 'a parent said,' and for me to have no ability to respond is devastating."
According to COVID-19 guidance the school posted on its website, all students, staff members and visitors "must wear a mask indoors during school hours." Haferman said teachers are allowed to remove their masks while standing at the front of their classrooms but are required to put their masks back on whenever they move around.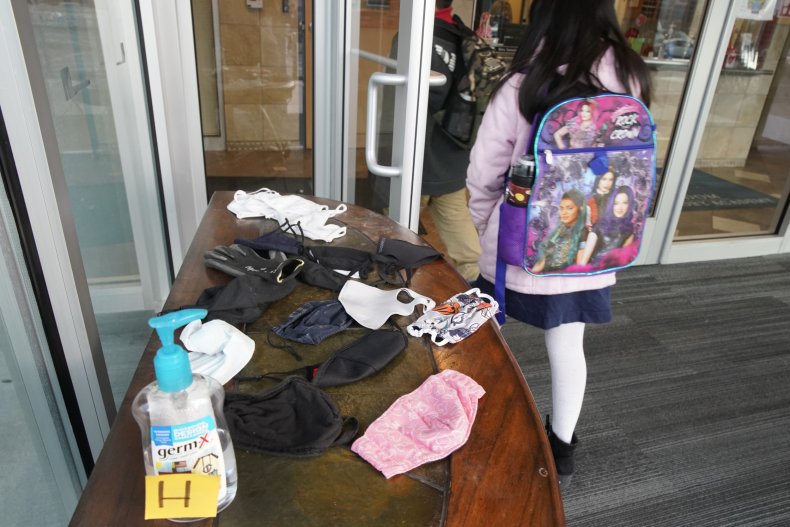 Haferman told the station she kept her mask on except for the time she spent standing at her classroom's whiteboard, and a parent who spoke with the station also said his daughter saw Haferman without a mask only while she was teaching at the front of the classroom.
However, a termination letter Haferman shared in part with the station disputed her claim.
And she alleged that other teachers have been spotted without their masks on but none have been terminated.
In a statement that an attorney for the school shared with WSOC-TV, the school confirmed that Haferman's employment ended on August 11. By the time of her termination, the school said it had employed her for three years.
The attorney's statement said the school's mask policy complies with local and state requirements and added that the school is required to quarantine individuals who were directly exposed to the virus, including when masks had not been worn. At the time of Haferman's dismissal, more than 20 people in the building in which she taught had tested positive for the virus, the statement added.
The school reported 21 active COVID-19 cases due to in-school exposure as of September 3, according to the school's virus dashboard. An additional 17 active cases were reported by September 3 among individuals who had been exposed outside of school, the data showed.
The school said it would release additional information regarding Haferman's termination if she signs a release, the attorney's statement concluded. Haferman told the station she intended to speak with her attorney before making a decision about signing the release.
On Friday, an attorney representing the school told Newsweek that while they were limited in the amount of information they could share about current and former employees, the school disputed the allegations Haferman made about her termination.
"Bradford vehemently disagrees with the employee's claims, and a letter was sent to her, which she received last weekend to that effect," the attorney said in a statement.
Updated 9/10 at 7:20 p.m. ET: This article has been updated to include further comment from an attorney representing Bradford Preparatory School.