'I Fell in Love With My Best Friend and Finally Asked Her Out'
When Rae and I were in high school in London we naturally drifted into the same group of friends. We probably met around the age of 12, but we didn't become good friends until we were 13 or 14. I'm about to turn 30 and for the most part I've given up the party lifestyle, but when I was a teenager I'd often go to parties and pubs with that group of friends, which included Rae.
We got to know each other more, and as time went on, we became closer and closer. Rae lived at the bottom of the street my parents lived on, so we'd get off the bus at the same stop on the way back from nights out, walk the rest of the way home together and sometimes there would be a cheeky kiss.
But it was never very serious back then, we were just teenagers being teenagers. Though as we turned 16 or so, perhaps those "end of the night" kisses became more regular. But I went off to college and she stayed at the school where we met. Though we didn't didn't intentionally lose touch, we crossed paths less and less.
Then, when I went to university, we barely saw each other for the next three years. I think Rae had some casual relationships and I had a couple of more serious, long term relationships. Or at least what I thought was serious at the time. Looking back, I think during my early 20s I was quite broken and I didn't really love myself. And like RuPaul always says: "If you don't love yourself, how the hell are you going to love anyone else?" So that was where I was at during university, and even when Rae and I were back home for vacations, we never really made a point to meet up with each other.
But during those years, I definitely thought of her quite often. There was always a sense that maybe she was the one who had gotten away. I definitely did have feelings for her, but I wasn't very emotionally mature back then and didn't really understand my own feelings at the time.
However, when we both returned to London after university we started hanging out more regularly and I just found myself thinking, "Oh god, she's so f****** awesome." But we spent a few months hanging out as best friends again before I finally asked her out on a date.
Those months were really fun. It seemed like we didn't have a care in the world; we were two kids returning from university with some time on our hands at a point when no one really expected us to have a full time job, or a foot on the career ladder yet. It was just blissful good times spent as best friends, without any responsibilities to distract us. It was during that time that I realized I was absolutely in love with her, and so I decided to take the step to ask her out.
But even when I did, Rae wasn't entirely sure whether it was a date or not. One of our mutual friends had to confirm that I had indeed asked her out on a date. We went to see the movie This Is The End, which is exactly my humor, though I don't really know if Rae enjoyed it that much!
Afterwards, I told her that we should date, and I think she laughed at me. But I somehow won her over and things developed quite quickly into a relationship. I can't speak for Rae, but I wanted her to be my girlfriend immediately.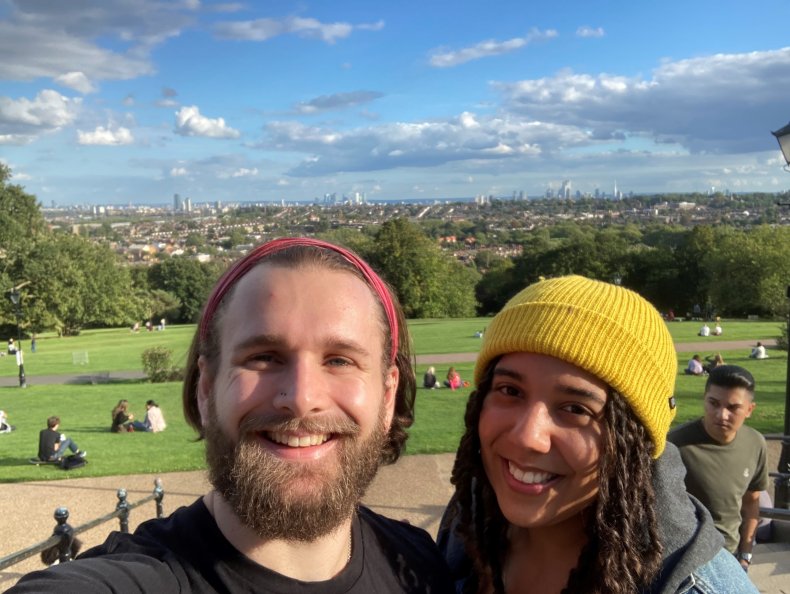 During those early months there was no acclimatization period because we knew each other so well. There was also little sense of having to get to know the other person's quirks, likes and dislikes, or any dread about having to meet their friends and family. We had bypassed so much of that, and it allowed us to go deeper into the emotional side of the relationship much more quickly. Because we had known each other for almost a decade, there wasn't any awkwardness. I never felt I had to hide any of my feelings from Rae because we already understood each other so well.
There was a period during the first two years of our relationship where I was in a really bad place. I know Rae wasn't completely comfortable with some of my partying, but she loved and accepted me. However, it quite quickly became apparent that I wasn't happy in that state. It wasn't like Rae ever said I had to stop anything or she would break up with me, she just suggested that I might be happier if I started to take care of myself. And I came to the realization that I would.
I have had a lot of problems coming to terms with my emotions and I have felt guilt and shame about my impulses and behaviors. But Rae is so emotionally mature, and she has helped me like no one else I have ever met. I feel so fortunate because she really helps me understand myself. And we just have so much fun together.
We love so many of the same things; video games, going out on adventures to new places, being in nature. The only area we differ in is our taste in music, which is obviously fine!
I would say that Rae is like the yin to my yang. She can be very cautious, but I think the fact that she sees me racing head over heels into things motivates her to be more carefree. So we really balance each other out.
I think I bring humor and a sense of "I'm going to go for it!" to our relationship, and I think I've been able to encourage Rae in her career and remind her that she has the ability and confidence to pursue what she wants in life. I have seen her put her all into studying whilst working two jobs and see that through to the end to become a primary school teacher.
In early 2018 we took a vacation to Paris, and at around 8pm on February 12 we were standing just outside the Louvre museum. The building was all lit up and I got down on one knee in front of Rae. I had decided to use my mom's old engagement ring to propose, but I didn't actually have it on me at the time as I needed to get it resized. So I had a picture of the ring on my phone when I got down on one knee and showed her that. She wasn't quite sure what it was until I said: "Will you marry me?" I really went all out with the cheesy Parisian proposal. But it worked, we got married on July 27, 2019 in London.
Although much of our first year of marriage has been spent in lockdown or working from home, we're pretty good when we're locked away together. Rae and I can make our own fun. We love playing board games and video games, and there's always something for us to have a good chat about. I just love chilling out and spending time with her. After all this time we still find things to talk about.
I think my advice to anyone who is in love with their best friend would be that it's important to be really open and honest with the person. If you can, communicate your feelings in a selfless way.
I just knew Rae was the right person for me, and I'm so glad I took that leap of faith and asked her out. Looking back now, it's difficult for me to say that anything I had before this relationship with her was serious. I think before Rae, I had never really understood what a balanced relationship was.
There's just so much I love about Rae and being married to her. I could honestly talk about her for hours.
Asher Alexander is a north London based music publicist at Republic Media. He's a hopeful romantic, keen athlete, and loves live music. He urges you to support the Music Venue Trust's SaveOurVenues campaign! More info at https://saveourvenues.co.uk/
All views expressed in this piece are the writer's own.
As told to Jenny Haward.