'I Finally Became a Father After a Gruelling 5-Year IVF Journey'
My wife and I met on Tinder later in life. Trish was 39 and I was 43 and we quickly realized that we wanted to be together and that we both really wanted children. One of the interesting elements of meeting someone when you're older is that you can bypass some of those early stages of a relationship; we decided we should just get on and start a family. While that sounds simple, what we didn't realize then was that the process of having children is not always straightforward.
After six months of waiting to see whether we would get pregnant naturally, we realized we weren't getting any younger, although aside from the age factor, there wasn't anything concerning that had come up in fertility tests for either of us.
I don't think anyone really aspires to be in a fertility consultation and I recall going to our first appointment thinking I was a supporting member of the cast because it was all going to be about my partner, Trish. Then, the spotlight turned on me. I was told, "Chris, we need to take your medical history, and understand what's going on with you, too"
As you embark on the fertility journey, you quickly learn that at least 50 percent of all fertility issues are related to the male partner in a heterosexual couple. That's a staggering fact, and I just don't think there's an awareness amongst men that this is the case. For us, it was a little bit of me and a little bit of Trish and so, we were advised that to fast track pregnancy we should get fertility treatment. It was recommended that we try in vitro fertilisation (IVF) with Intracytoplasmic Sperm Injection (ICSI). This method finds the best sperm from the sample and injects it into the egg to create an embryo.
That first IVF treatment is full of hope and expectation. We had science involved and an expert team and I remember thinking: why wouldn't this work the first time? We then realized, because we were both over 40 by then, that the chances of success were actually quite low.
We were creating a good number of embryos, but nothing was happening when they were implanted; we weren't getting pregnant. It becomes almost like this cruel game of roulette, where you realize the more spins of the wheel you have, the more likely pregnancy is to happen. But when it doesn't work, it's difficult and you have to dust yourself down and try again, hoping that your money doesn't run out.
Over time, your doubts also creep in. As a man, recalibrating and thinking about how you can provide support is really important. I was trying to play as active a role as I could; going to appointments and helping Trish with hormone injections. I saw my role as the motivator and the coach of the team, almost as a way of avoiding my feelings. I understood Trish was carrying the physical burden, but there was also a slight feeling of helplessness because I wasn't on that physical journey with her.
Over the next four or five years we created 18 embryos in total—a huge amount—and went through about nine cycles of IVF. A few times, we took pregnancy tests that actually came out positive—those were amazing moments. But one thing that fertility treatment does is take away that naivety and ability to enjoy the moment, because there's always a note of caution. With one pregnancy, it turned out that two embryos had implanted. But within six weeks we were down to only one, and then unfortunately that became a miscarriage. Each time an IVF cycle wasn't successful, we would ask ourselves if there was anything else we could be doing. We were watching our alcohol and caffeine intake, taking nutrients, trying to remove stress from our lives and watching what we were eating. But there comes a point where, with each crushing piece of bad news, you need a bit of a break.
Constantly getting your hopes up and then experiencing devastating disappointment, particularly as you know you're getting older and seeing your friends with their families growing, can feel very, very lonely. We had agreed that Trish and I were complete as a family and that anything else was going to be an added bonus on top. But over time, you begin looking at what else you are sacrificing to afford more fertility treatment. We put off getting married, going on holiday and buying a car. I see how this whole process can cause immense pain and in some cases, break relationships.
Sometimes I was almost putting on a cheerful face to my friends, when it wasn't necessarily how I was feeling inside. I remember my best mate coming to me and saying he had something to tell me. There were tears in his eyes and I just knew. I said: "You're pregnant again with your fourth child." I was happy for him, but I knew he really wanted Trish and I to just have one child. I did go and see a counsellor during our fertility journey, because it felt important that I had a space where I could be really honest that I was angry and upset and thinking, why not me?
I remember being sat in the park one day, seeing families playing. There were probably around 100 people and I recall thinking: we have such a small chance of becoming the family playing with their children. The park was full, but I was incredibly lonely.
We were on this rollercoaster of hope and then bad news and miscarriages and in 2018 our consultant suggested considering a sperm or an egg donor. That's a tough moment, when you think you might have to change your view of a family and you might have to use someone else's genetics. I'm totally appreciative that for some people it's not even a choice. One percent of men don't have any sperm whatsoever and obviously if you're in a single sex couple then this is the route.
But we were also just about to get married, and we were exhausted. We had one embryo from our most recent round of IVF and we agreed to put it on ice, literally. We went on honeymoon and in early 2019 we decided to give one more fresh round of IVF a go, but none of the four embryos from that round were viable. Our consultant reminded us we had one embryo in the freezer, and that it only takes one for a pregnancy to happen.
It was a staggering moment to take a pregnancy test after that embryo was implanted and see that it was positive. No one on the fertility journey tells you how many pregnancy tests you're going to get through, because you never believe that first one. Five pregnancy tests later, we realized we were actually pregnant.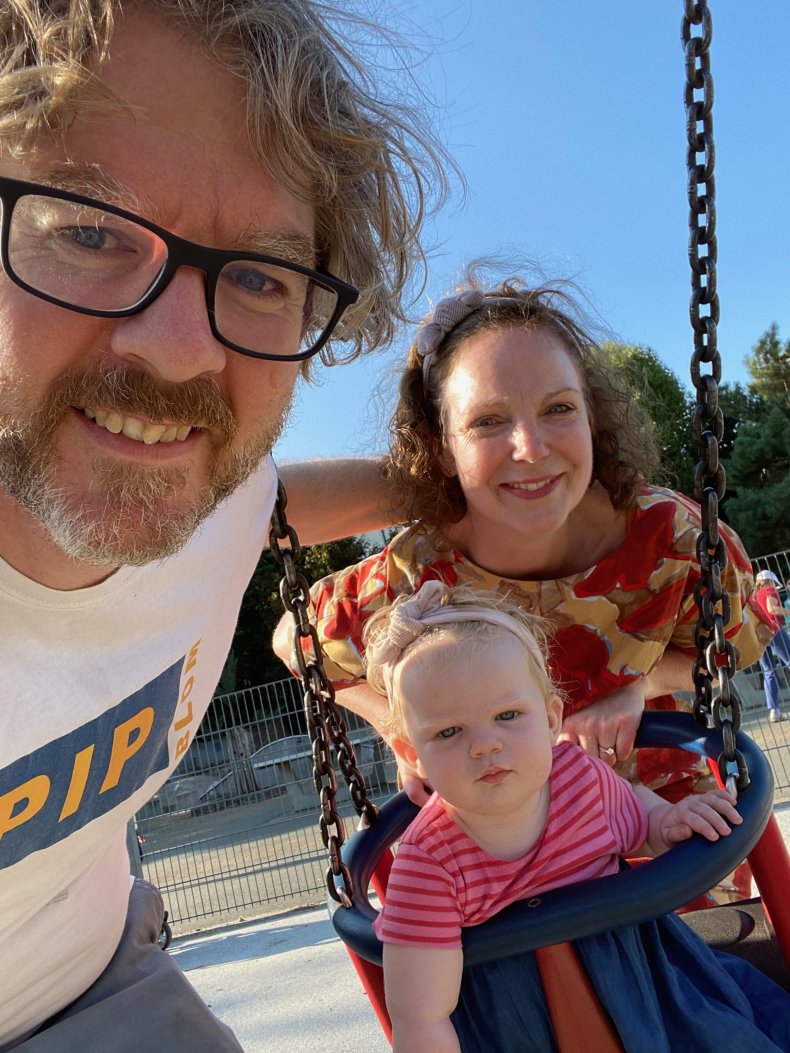 But after going through so much, you can't get overly excited. It had been a five year journey, so we didn't allow ourselves to think that it was all going to be fine. There was so much that could go wrong, and tragically, for some people that can happen, even at a late stage. I remember holding our baby girl, Rosie, for the first time in January, 2020 and just thinking that I was so grateful. I was so utterly grateful that after all of that hard work, those questions you ask yourself, the soul searching and the challenges we had faced, it had actually turned out to be worth it. And I'm grateful every single day.
I wanted to set up a podcast to take people through the IVF journey we went on and help provide empathy for people through each stage. Personally, I had to go on a journey where I recognized that I wasn't taking the lead role, and that Trish was much more important in the process than I was. That's just a fact of life. I think the important thing that I was trying to do in providing a male perspective was ensuring that there was empathy for both parents. Interestingly, I would say as many of my listeners are female as they are male. I didn't want this to be exclusive to men in any shape or form, I was very wary of that, but I wanted to provide some pragmatic tips for a male partner and share a different perspective.
I also lost my dad when I was quite young, so Father's Day has always had a tinge of sadness for me. But, I know that I am one of the lucky ones who is now able to celebrate my second Father's Day. My first Father's Day in 2020 had a moment where it felt like all my life had been building up to that point. It was probably the proudest day of my life apart from Rosie's birth and our wedding.
Gratitude is the word that comes to mind; I'm just trying to enjoy every single moment. I think that's all you can really do.
Chris Lawson lives in Essex, England with his wife, Trish and their daughter, Rosie. Chris is the creator of the ivf DAD podcast. You can listen and find out more here. Or, follow Chris on Instagram @ivfdadpodcast.
All views expressed in this article are the author's own.
As told to Jenny Haward.