'I Finally Heard It From a Woman': Trump Responds to 'I Love You' Shout From Montana Crowd
During a rally in Missoula, Montana, on Thursday, President Donald Trump acknowledged a shout of "I love you" from the crowd, appearing glad it was "finally a woman."
"I love you too, who said that?" Trump shouted back, pointing into the crowd. "Who said that? It's finally a woman—you know, I get it from the men all the time, and so far, every guy that has said 'I love you,' they are just not my type. I finally heard it from a woman. Thank you."
The Make America Great Again rally took place in the Minuteman Aviation Hangar and followed similar headline-grabbing appearances in Kentucky, Ohio and Pennsylvania. Today the president will travel and take the stage in Mesa, Arizona, followed by Elko, Nevada.
He is addressing key states as the November 6 U.S. midterm elections approach.
On Thursday, Trump again praised Montana Republican Rep. Greg Gianforte, saying his assault of The Guardian reporter Ben Jacobs in May 2017 helped him win his election to the House.
"Greg is smart—and, by the way, never wrestle him," the president said. "Any guy who can do a body slam...he's my guy," he added, making a gesture that resembled a body-slam movement.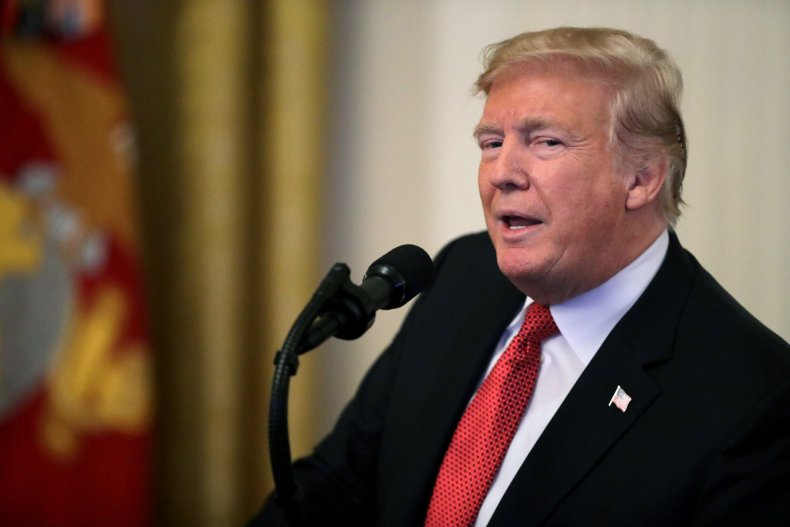 "We endorsed Greg very early, but I had heard that he had body-slammed a reporter," Trump continued. "And he was way up, and this was, like, the day of the election, or just before.
"And I say, 'Oh, this is terrible, he's going to lose the election.' Then I said, 'Well wait a minute, I know Montana pretty well, I think it might help him'—and it did. He's a great guy, a tough cookie." The crowd laughed and applauded as the president spoke of the assault case.
In June 2017, a Montana court judge sentenced Gianforte to 40 hours of community service. He was ordered to pay a $385 fine and take 20 hours of anger management sessions but avoided a short jail term. Gianforte also issued a full apology to Jacobs.
In a statement to CNN, The Guardian U.S. editor John Mulholland criticized Trump's remarks.
Mulholland said, "The president…tonight applauded the assault on an American journalist who works for The Guardian. To celebrate an attack on a journalist who was simply doing his job is an attack on the First Amendment by someone who has taken an oath to defend it.
"In the aftermath of the murder of Jamal Khashoggi, it runs the risk of inviting other assaults on journalists both here and across the world, where they often face far greater threats. We hope decent people will denounce these comments, and that the president will see fit to apologize."