I Fled Gangs in Honduras and the Cartel, but the U.S. Taking My Daughter Was Torture | Opinion
I fled from Honduras with my daughter because there is no justice in our country that could protect us from the corruption and death threats against my family. In order to survive, my teenage daughter and I had no choice but to escape, an experience we thought would be the most painful of our lives. We were wrong.
It turned out, the worst part of our journey began once we reached the United States.
As a police officer in Honduras for more than 12 years, I tried to do the best for my community, despite the death threats my family faced because I refused to do business with gangs. By 2008, my father disappeared, and the threats became a reality.
We searched for him everywhere. We went to the police and the prosecutor's office but found no help. It wasn't until we went to the medical examiner's office that we finally learned what had happened. We were shown images of his death. He had been beaten, tortured, shot in the head and dumped under a bridge. We weren't even able to see his body because the morgue had already buried him, claiming it was too "full."
After that, I decided to investigate his death myself. That's when the threats became even more extreme. My entire family went into hiding separately, in hopes that would increase the likelihood of survival for each of us.
Then, gang members tried to kill me. Several times. They threatened to kidnap my daughter. I went to the police and the prosecutor's office, but no one could help. I realized that if this could all happen to me as a police officer, there was no chance of safety in Honduras.
In June 2018, I decided I had no choice but to take my daughter and flee for our lives.
On our journey to America, we were kidnapped and held captive for three days by a cartel in Mexico. Men with AK-45s showed us videos of them murdering those who did not pay their ransom. Our hope for a future of freedom and opportunity in the United States helped get us through.
My mother miraculously was able to obtain the money to pay the ransom. Once the cartel released us, I thought the worst was over, but this was just the beginning. The harshest experience was waiting for us at America's border.
We finally arrived in June 2018 with the intention of seeking asylum. We thought we had finally reached safety, but instead we were greeted with treatment that I would call torture. U.S. immigration officials took my daughter from me, who was then 14 years old, and put me in jail.
I thought the threats in Honduras and kidnapping by the cartel were hard, but no—having my child brutally taken away from me was worse than any other pain I had ever faced.
After two weeks during which I was not allowed to ask for asylum, they sent me back to Honduras without any information about where my daughter was or if I would ever be able to see her again. Immigration officials tricked me into signing my own deportation, something I never would have done willingly. They treated me as less than human and left me feeling destroyed. The pain I felt was all-consuming, and I considered taking my life several times.
Before this experience, I always thought prisons and detention centers were created for people who had committed serious crimes. How is fleeing your country to save your family from violence and death a crime?
My daughter and I came to America dreaming of safety, knowing we had to fight for our lives. The truth of the matter is that seeking asylum is a universal right. But being locked up strips away your dreams of a better future, especially when they take your child from you. Knowing how my daughter suffered during our separation will haunt me for the rest of my life.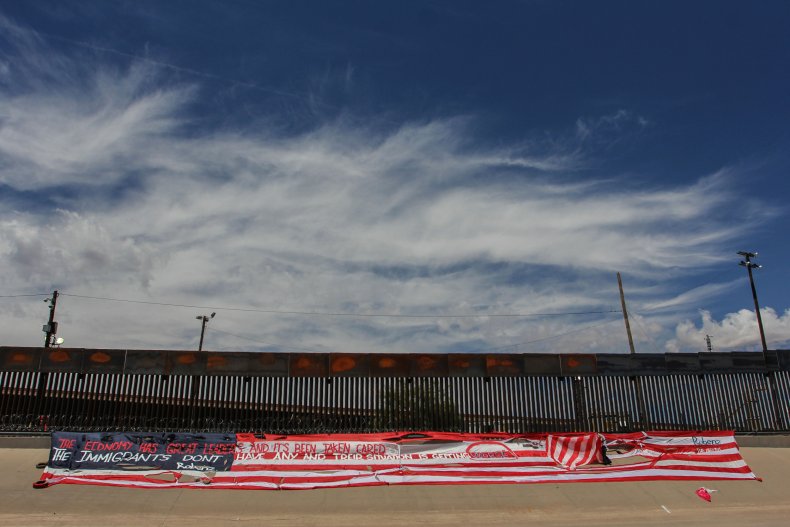 I only got to hold my daughter again because attorneys from Al Otro Lado, a legal aid organization based out of Tijuana, found me in Honduras and explained that what happened to us was illegal. They helped me return to America, along with dozens of other separated parents who were deported without their children last year. After more than a year of separation, I was able to reunite with my daughter in the United States in April. We are now going through the asylum process together.
I want the American people to know that while we came here seeking safety, my family and I are willing and prepared to persevere and work hard. We are here to be the best people we can be. It has been a privilege to get to know this beautiful country.
It breaks my heart to hear stories of more families being separated, a year after President Donald Trump said he was stopping them on June 20, 2018.
I hope that the ending to our story is a beautiful one and that we are granted asylum. I hope that my family can build a life here and have the honor of contributing to the prosperity of this country.
Elmer Gomez is a father and former police officer from Honduras.
The views expressed in this article are the writer's own.
I Fled Gangs in Honduras and the Cartel, but the U.S. Taking My Daughter Was Torture | Opinion | Opinion