I Flew Almost 2,000 Miles to Get the COVID-19 Vaccine | Opinion
To get vaccinated, my boyfriend and I had to fly 1,992 miles from our home in Quito, Ecuador, to Orlando, Florida. Before our trip, we gave up hope to get vaccinated any time soon as Ecuador—a country with 17 million people—has only administered at least one vaccine shot to 4.49 percent of the population.
Meanwhile, over 100 million Americans, or 32 percent of the population, have been fully vaccinated with a record of 4.6 million vaccine doses administered in a single day. At the rate the U.S. is vaccinating, all Ecuadorians would have received at least one dose in 3.7 days.
Once in Florida, we were able to get vaccinated because we Googled, "COVID-19 vaccine near me" and three pop-up locations appeared. We went to the first location to see if we would have any luck. We were required to have proof of residency in Florida, which we didn't have. They told us to come back at the end of the day in case there were any leftover vaccines. Our hopes went up immediately. The line barely had any people in it.
We went to the second pop-up location with even fewer people in line, and they told us the same thing. As we were leaving, a nurse ran toward us yelling, "I made it happen! You can get the vaccine!" They asked us a couple of health and personal questions and 10 minutes later, we were fully vaccinated.
Meanwhile, my 78 and 85-year-old grandparents had been waiting for months to get vaccinated in Ecuador. At the beginning of April, they finally received confirmation securing their place to get their first dose.
In March, I was interning with The OpEd Project in New York City. I was hoping my grandparents would get vaccinated then. I was so afraid to fly back home because I felt that if I saw my grandparents, I would infect them or worse. Ever since I came back to Quito in June, my family and I have been mindful to take all the safety precautions with the few people we see, since my grandparents live next to us and we visit them almost every day.
Knowing that they would be vaccinated was a relief. However, the same week I was vaccinated after only 10 minutes, they had to wait in a line of 500 elders for nine hours for a vaccine that never arrived. My mother took them home at the end of the day, furious. Fortunately, they were able to get the first dose the next day. They were a few of the lucky ones.
Getting COVID-19 in Ecuador is much worse than getting it in the U.S. because we don't have many resources. On April 21, Ecuadorian President Lenín Moreno declared a state of emergency—our entire medical system collapsed, 96 percent of hospital beds in intensive care units were occupied and deaths increased three times since last year.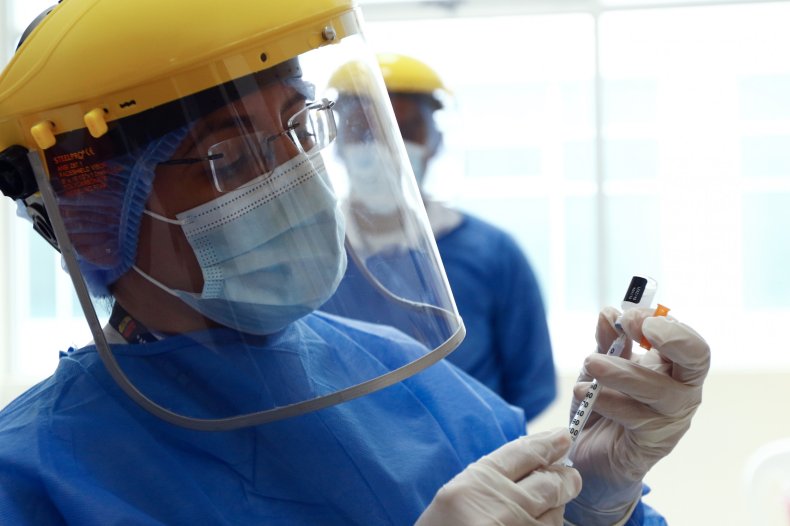 The U.S. recently announced that they will be sharing 60 million doses of the AstraZeneca (a vaccine that is not approved for use in the U.S.) with other countries, yet thousands of Pfizer, Moderna and Johnson & Johnson vaccines wind up in the garbage every day because of state guidelines, vaccines that could assist countries around the world battle COVID-19.
This, to me, living in a country where people are dying because we don't have access to either medical treatment or vaccines, is completely unacceptable.
State guidelines are necessary to maintain an order of priority for more vulnerable groups. There is no justification, however, for throwing away vaccines. They should be administered to people who may not be vulnerable, taking into consideration that they may potentially harm others.
It's not only state regulations that worry me. In Orlando, I waited in empty lines when people over 18 were eligible to get vaccinated. Why weren't people lining up to get vaccinated?
Those who are not getting vaccinated need to know that their choice comes from a place of privilege. In Ecuador, we cannot afford the luxury of choice because if we get COVID-19 and need medical assistance, we wouldn't be able to get it. For most of us, getting the vaccine is the only way we can protect ourselves and our loved ones.
It's unbearable to see how the U.S. is literally throwing away thousands of vaccines that the world needs. The U.S. has more vaccines than there are people willing to take the vaccine—doses to vaccinate 500 million people.
No vaccines should be wasted and oversupply should be used beyond U.S. borders because after all, the pandemic goes beyond personal choice and frontiers. The pandemic will not be over until it is over worldwide.
Alegría Sanchis is the social media and marketing associate at The OpEd Project and lives in Quito, Ecuador.
The views expressed in this article are the writer's own.