'I Found a Baby In The Trash, Now I'm Adopting Him'
Growing up in Haiti, my mom was a single parent. She pretty much played the role of both mother and father. She fought hard for me and my siblings to have a good life and she always wanted the best for us.
But I know how it feels to grow up without a father, so have always wanted to help other children who had lost their parents. As a teenager, I started volunteering at our local orphanage. When I met those kids, their smiles warmed my heart. I wanted to be there for them.
I worked there throughout my early adult years and when I was 22, I moved to the Unites States to attend Texas State University. But, I would always make sure to spend time at the orphanage during the school holidays.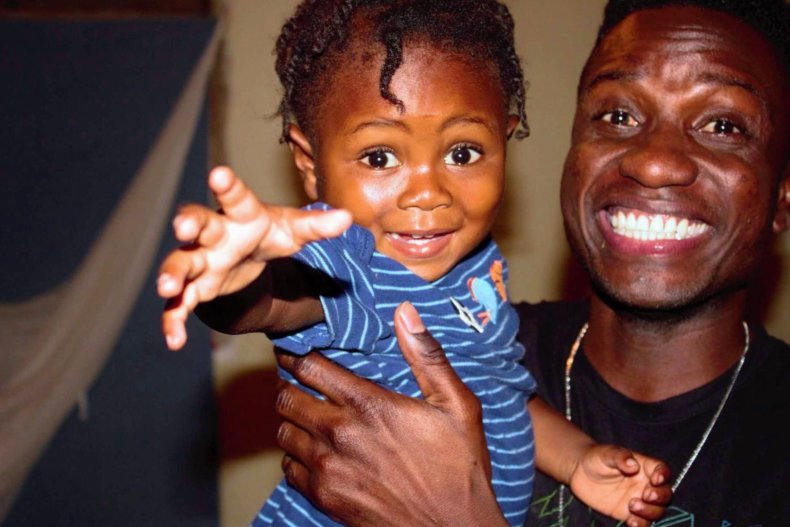 During my freshman year of college in 2017, I travelled home to spend the Christmas holidays with my family. On New Year's Eve, at around 8pm I was on my way to the orphanage to help out with a party for the children. As I made my way through the street, a loud noise caught my attention.
At first, I thought it was just people having fun during the holidays, but then I passed a woman who looked very panicked and started to see a commotion in the distance. I asked what was going on. She said: "They have found a baby in the trash over there. Nobody wants to touch it."
I couldn't believe it. I thought: "I need to see this." I got there and I saw about 15 to 20 people just staring at the baby. He was crying, he had no clothes on and had fire ants crawling all over him.
Some people were saying: "He's cursed, I won't touch that baby, the devil is trying to get us." Because of superstition in Haiti, they felt the baby could harm them if they touched him. They didn't want anything to do with him.
But to me, the baby was a precious living soul. I had to save him. I felt like I could feel the excruciating pain he must have been feeling at that moment. It was like my heart had been dropped on the floor. I was nervous, but proceeded to pick him up from the trash.
I think that because of social media, many young people might not think to actually pick up the baby in a situation like this. I suspect many would take out their phone to film the commotion and think: "It's not my responsibility to help."
Straight away I decided to take the baby home. So I went to my mom's house, but she was shocked and asked: "What are you doing with a baby in the middle of the night?" I explained that I had found him in the trash can. I said I could see the pain he was in and she understood.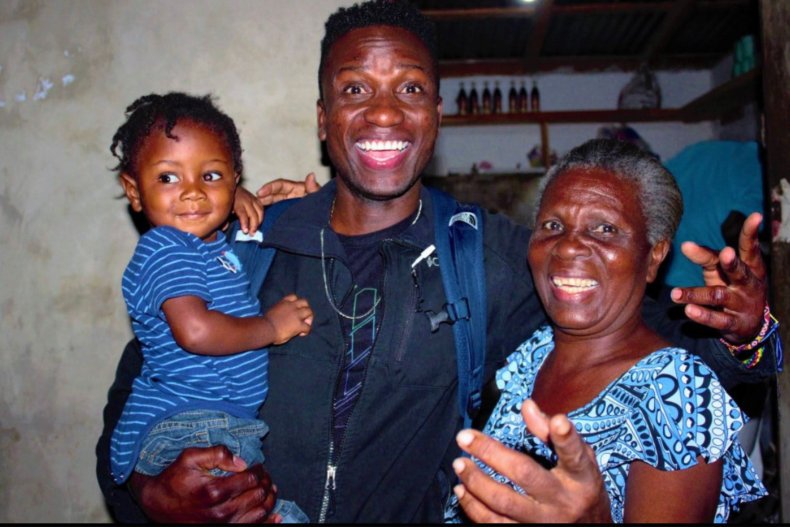 We cleaned him and clothed him. He had some fire ant bites, so we put lotions on him to ease the pain and made sure he was okay. By that time, the doctors was closed for the night, so we waited until the morning to take him for a check up.
The baby was in good health; he was crying and had some bites, but he was okay. The doctors prescribed him some medicine and, fortunately, after a couple of days he was fine.
After we visited the doctor I called the police to investigate what had happened. They didn't know who or where his biological parents were and have since launched an investigation. They have said they will arrest the baby's parents if they find them, so I think whoever left him there is scared.
On January 2, 2018, law enforcement visited again and asked me questions about myself. I told them I volunteered at the orphanage and enjoyed spending time with the children. One of the officers said he thought I had a kind heart. He asked whether I'd be willing to become the baby's legal guardian.
In Haiti, there is a large population of orphaned children; many of them don't know who their parents are or live on the streets. I didn't know what would have happened to the baby if we did not take him in.
So I asked to have some time to think about it. I had some sleepless nights, I was tossing and turning while considering the decision. Because I knew if I became his legal guardian I would be completely responsible for this baby. Everything I did would have an impact on him.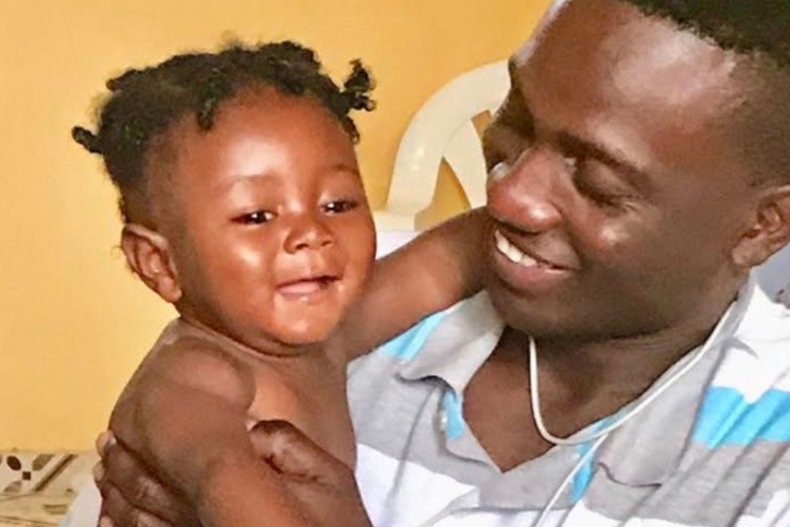 I thought: "There must be a reason for this." Sometimes in life, you don't have to know what to do, you just have to be ready to do it. I have always wanted to do something great. To me, this was that moment.
After a couple of days, I took a leap of faith and decided to become the baby's legal guardian. My mother and I called him Emilio Angel Jeremiah. The day after signing the paperwork, I knew I was in Emilio's life for good.
I stayed in Haiti for a few more weeks, but eventually had to return to the United States. My mom said: "Jimmy, I have your back. Go back and study, I will take care of the baby for you while you're abroad." My mom is my hero and she really loves Emilio, it's a joy to be around them together.
Emilio has transformed my life tremendously. I have learned how to take responsibility, even though I wasn't ready to be a father. I have become wiser and more patient. He has changed my life in so many ways, which I am so thankful for.
I started talking about adopting Emilio in 2019. I could still take care of him as his legal guardian, but I want him to know that he is family. Yes I found him, but I always want to be in his life by becoming his adoptive father.
I started the process the following year, but needed financial help with the $30,000 adoption costs, so I started a GoFundMe page in early 2022. We have since raised over $70,000. I had no idea I would receive so much love and kindness from people, and will ensure any left over funds will go to the orphanage in Haiti or to charities helping needy families and abandoned children.
Now, Emilio is almost five. He's not shy at all, he's so outgoing; he loves playing guitar, singing and dancing. I would love for the two of us to go travelling together one day; let the world see the great Emilio!
In the future, I would like to stay in the United States while traveling back and forth to Haiti. I know Emilio and I will have an amazing future together. I hope our journey can bring light to people. I hope it raises awareness that life needs to be treasured, valued and cherished.
Jimmy Amisial, 27, is a student at Texas State University. He started a fundraising campaign to support Emilio's adoption on GoFundMe. You can follow his journey on Instagram @jimmyluv6.
All views expressed in this article are the author's own.
As told to Monica Greep.