On our fifth date, my boyfriend Dave and I were Travelling The Silk Road, or more accurately, visiting an exhibit of that name at the Museum of Natural History in New York. On our previous dates, we'd been to a wine bar, a concert, a poetry slam, the zoo, everywhere except the one place I really wanted to go: to bed with him. There was just this weird disconnect between these mushy things that Dave would say and write to me and the physical distance he was maintaining. So, when we were finished at the museum, I just wanted to go home.
But then Dave asked me if I wanted to go to Shake Shack, and because I love cheeseburgers, I replied that I did. It was crowded, and we had to wedge ourselves into the small counter space. I just remember that Dave smelt so good, I really felt like I was falling in love with him.
Then Dave said that he had something to tell me. At that moment, I wanted to throw a pickle in his face. Because at 38-years-old, divorced and with children, I had come to realize that every single man I was meeting online had "something" they had to tell me. It was rarely good.
Dave went on to tell me that he was really attracted to me, but he had an autoimmune disease that affected his bile ducts. He explained he had an infection and that he'd been walking around with a drain in his side and a bag strapped to his leg. This was something that would happen from time to time, because there was no cure for the disease he had, and eventually, he would need a liver transplant.
All I heard from this confession was that he was very attracted to me. I did some quick mental tabulations to see if a wonky liver was a deal-breaker and I leaned in to kiss him. But then a really dark thought crossed my mind and I said: "Hey, you're not dating me for my liver, are you?"
Dave told me that he was on a transplant list and that if he ever had an emergency situation, he could have a live liver donor. That's when someone would give him a lobe of their liver, and both the segments regenerate to a new liver. His brother has already agreed to do that for him.
So Dave and I fell in love. We didn't immediately marry, but we moved in together and had a child.
Then, six years later in 2016, Dave started feeling lousy and an MRI revealed that he had a very aggressive form of cancer growing deep in his liver. The doctor told him that he needed a transplant immediately, so he called his brother but it turned out his blood type was not compatible.
I know that I am A positive, as is Dave, and so, a doctor said that I could be considered as a donor.
I began testing right away. I met with so many healthcare professionals who all explained that the risks range from infection, to hernia or death. I had to tell them: "What choice do I have? If I lose him, I, by extension, lose my life."
My final appointment was an MRI scan where doctors had to map out how they were going to resect a lobe of my liver. On January 3rd, 2017 the doctors told us that I have a very healthy, but also a very lopsided liver and that they couldn't just resect a lobe of it. And so that was it, I lost my chance to save Dave.
Dave and I had actually married earlier that same day. Besides being in love with Dave, I wanted to get married before the transplant for logistical reasons and also to distract ourselves while awaiting the transplant team's verdict. We were married at City Hall with just our four kids present and it was a beautiful and simple ceremony. Our wedding day was bittersweet for me.
But I couldn't dwell on that, because I had to find him a new liver. And so, I turned to Facebook, as one does when a new liver is needed.
I am normally quite private on social media, so asking our friends and family if they'd be willing to be a liver donor was difficult for me. A good friend offered to post on my behalf and encouraged people to reach out to me directly. The response was overwhelmingly positive and about ten people responded saying that they'd be willing to be tested to see if they were a match. While those offers were so kind and generous, it was not what we needed. Because the donor testing is so extensive, the transplant team will only test one person at a time and it takes weeks between testing and officially approving a donor. Dave needed the transplant as soon as possible before the cancer spread from his liver so we needed to be sure that anyone who volunteered would be willing to go through with the operation itself.
I found it nearly impossible to ask that second question: if you are approved as a donor, will you be willing to actually go through with this very risky surgery?
And then my friend Sara Kate contacted me directly with a text that simply said: "I'm A positive, can I help?" I didn't know Sara Kate very well at the time; she had been married to the brother of one of Dave's closest friends. But, she is someone I've always admired; a talented chef, writer and activist and one of the most beautiful and stylish women I've ever met. While it would be easy to be intimidated by Sara Kate, she is also incredibly warm and compassionate.
I knew instinctively that she was offering to have the surgery. But I didn't know how to respond.
Having had my own fair share of surgeries—including four C-sections—I knew the pain associated with surgery, the frustratingly long recovery period, the medications involved and the scars that never fade completely. Sara Kate had never had surgery before or never been a patient in a hospital. Most significantly, Sara Kate is a mother. How could I live with myself if the surgery went wrong and we took this incredible woman away from her daughter?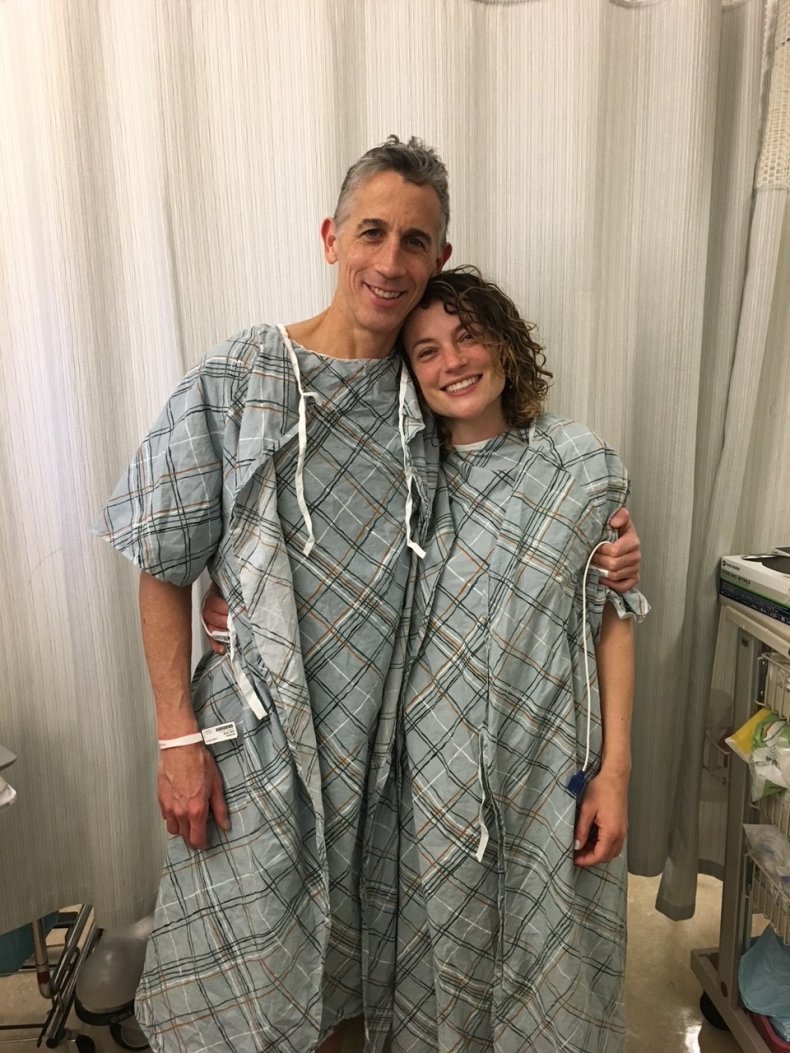 Then Sara Kate told me it would be her honor to help us. She understood something that had taken me weeks of donor testing to comprehend: saving someone's life is an incredible, rare honor. When I told Dave that Sara Kate had agreed to help us, he cried.
Sara Kate began testing right away and we developed a close bond immediately. But the day the panel of doctors convened to discuss her test results was very hard for Dave and I. We were plagued with concerns: what if her liver wasn't suitable for donation? What if she changed her mind and didn't want to go ahead with the surgery? While we would certainly understand, we didn't know who else we could ask.
Sara Kate called Dave and I on the evening of January 31, 2017 with the incredible news that she had been approved as a donor and that it would be her honor to donate a lobe of her liver to save Dave's life. All three of us cried. It was still a hard gift for us to accept, but we knew that Dave's was a life worth saving.
So, on Valentine's Day 2017, we had this really weird group "date" at Columbia Presbyterian hospital in New York, where Sarah Kate gave 58 percent of her liver to my now-husband, Dave.
A large group had gathered at the hospital, including both Dave and Sara Kate's parents, Sara Kate's partner, Pete, and her daughter, Ursula, and Dave's brother, Josh. Sara Kate's mother taught me how to knit, which helped take my mind off of what was happening in the two operating rooms just down the hall. I'll never forget the feeling of looking up from my knitting to see the surgeon who operated on Sara Kate walking down the hallway towards us. He wasn't smiling and I felt faint. He entered the room, slumped down in a chair and finally said: "everything went fine." He was disappointed because he had been hoping to remove the lobe of her liver laparoscopically, but realized that he would need to make larger incisions. Even though I was incredibly relieved, it would be hours before I could stop shaking. It was not until Dave's surgeon came in to tell us that the transplant had been a success—Dave's old liver had been completely removed and Sara Kate's liver was now working inside him—that I cried with joy and relief.
The recovery process for both Sara Kate and Dave was intense and slow; Pete and I rarely left the hospital for the first week. Soon, Sara Kate was able to climb a few stairs and was ready to be discharged. She came to say goodbye in her regular clothes and it felt so good to see her able to return home.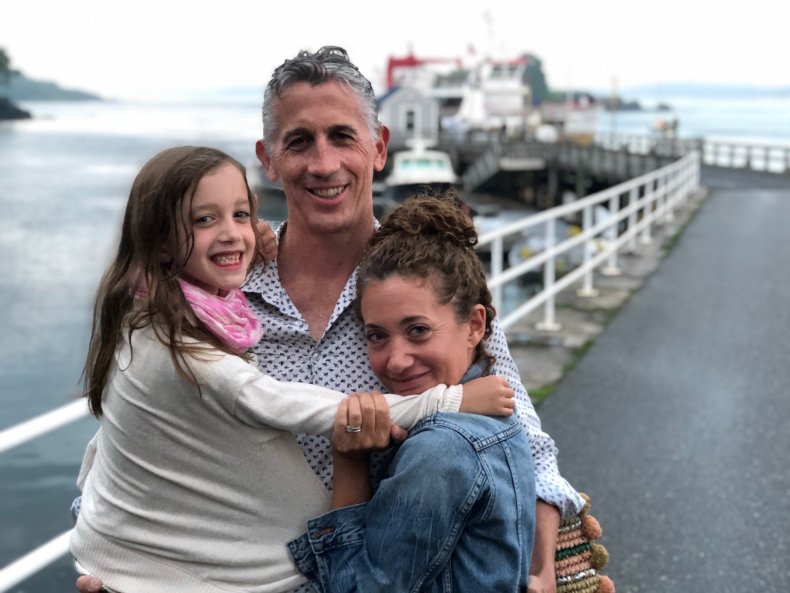 Although Facebook was the expedient way to announce our situation to our friends and family, I believe Sara Kate would have found out about the situation and would have wanted to help even without seeing the social media post.
The transplant has changed our lives in many ways. We don't take much for granted; especially good health. Dave and I were given an incredible gift and we try to be mindful of that as we raise our child.
We recently moved to Maine because we felt that living in a dense area during this pandemic was risky for Dave's health. But he and Sara Kate are both still doing really well. I get mad at Dave all the time, I think that probably shows how great he's doing. As for Sarah Kate, she was born and raised in Los Angeles, so all I can say is this: that place really is a City of Angels.
Stacey Bader is an award-winning storyteller, writer, speaker, and teacher. She is a seven-time winner of The Moth StorySLAM whose stories have been featured on PRX's The Moth Radio Hour and PBS' Stories from the Stage. Find out more at staceybader.com.
This is an edited and adapted version of a story originally told live at The Moth–one of the more than 40,000 true personal stories shared from stages around the world since 1997. It can be found on their website and heard on The Moth Radio Hour and podcast.
All views expressed in this piece are the author's own.