'I Found The Love of My Life, Years Later We Made a Shocking Discovery'
I started dating my wife, Kaitlyn, in our sophomore year of high school. We had a few classes together and got along really well. I've had a love of dogs for as long as I can remember and Katlyn shared that interest—even now it's hard to keep her from wanting to bring home every animal under the sun. We were just always around one another. Hanging out with friends is great, but it's always been easier around her.
In August of 2022, I proposed. But not for the reason you may expect. At the end of July, something unusual happened out of nowhere. I was eating dinner and the next thing I knew, I was staring up at the ceiling, wondering why I was staring at the ceiling.
I don't remember much of what happened next, but Kaitlyn said I'd had a seizure for two to three minutes. She was asking me whether I knew where I was and what was going on, but all I remember is staring upwards while profusely sweating.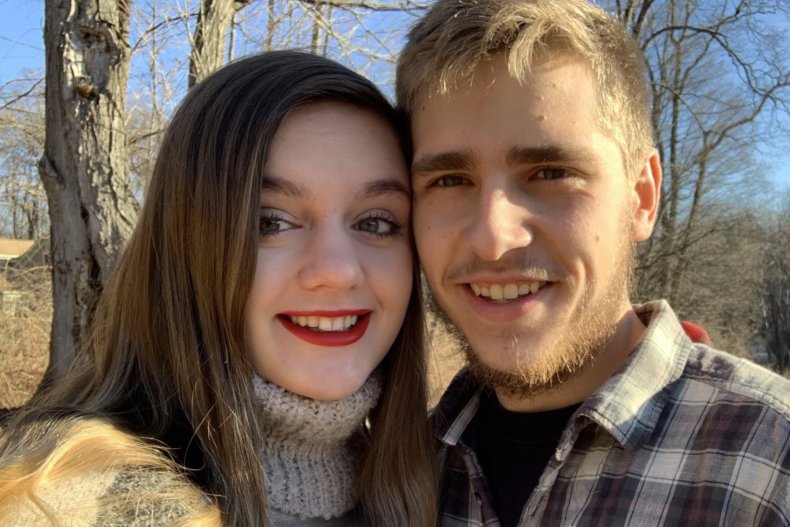 It was scary because I didn't know what had happened. I had been getting headaches for a while, but no other symptoms. Kaitlyn really pushed me to go and see a doctor. If it weren't for her, I think I would have gone years without actually going to get examined.
Shortly after the incident, I went to my doctor and had an MRI scan. They found a mass in my brain which initially they thought was a tumor. I was referred to Yale Medicine for the surgery and was set to be operated on by a top neurosurgeon specializing in brain tumors.
However, soon after my referral, doctors there discovered that the mass in my brain was not a tumor, but instead a a non-cancerous cavernous malformation—a cluster of abnormal blood vessels—deep in the vermis of the brain.
I was told that my cavernoma had expanded to a dangerous level, and if left untreated it could burst and bleed into my brain, increasing my chance of a stroke, neurologic issues, or in the worst case scenario, death.
After hearing that, I don't want to say I was scared, but it was definitely nerve-racking. I was told that medication wasn't an option and that in two months I would have to undergo surgery on my brain to remove the cavernoma.
Getting married two weeks before surgery
So, after discovering I'd have to undergo surgery, I decided to propose to Katlyn. In the back of my mind I had always known I wanted to marry her and everyone around us knew we were perfect for each other. Both of us knew we didn't want to go through the operation without being married to one another.
In addition, after the COVID-19 pandemic, we thought it would be easier for her to visit and get information from the doctor if we were husband and wife. So, we decided to take the plunge and get married on September 3, 2022, just over two weeks before my brain surgery.
There weren't that many people—just close friends and family, but it was amazing to see everyone who had helped us along the way and everyone we loved come and reciprocate that.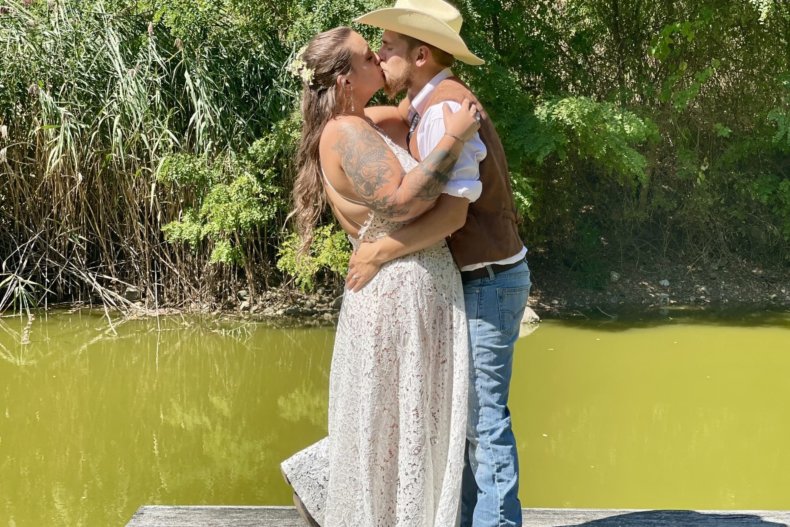 On the day of the wedding, I was nervous. In fact, for the whole morning I was more nervous than I'd ever been. But then just seeing her come on down the aisle in her wedding dress, smiling ear to ear, was incredible.
Right afterwards, we went down to Myrtle Beach, South Carolina and spent four or five days by the water. Having nobody checking in on us, no responsibilities, just relaxing was great. It was a good way to take my mind off of the surgery, which I knew would be stressful.
On the day of the surgery, on September 20, I had to arrive at the hospital at 5.45 a.m. It's an hour and a half drive from my house, so we left at 4.00 a.m. For the entire car ride, my wife and I were quiet; neither of us really said anything. At times I would try and make light of the situation, but Kaitlyn was an emotional wreck.
My surgery was at 7.15 a.m. and despite everything, I felt calm and collected. Before going to the hospital my uncle had said to me: "You can go in there and complain about it, or you can go in there, get done what you need to get done."
Waking up from surgery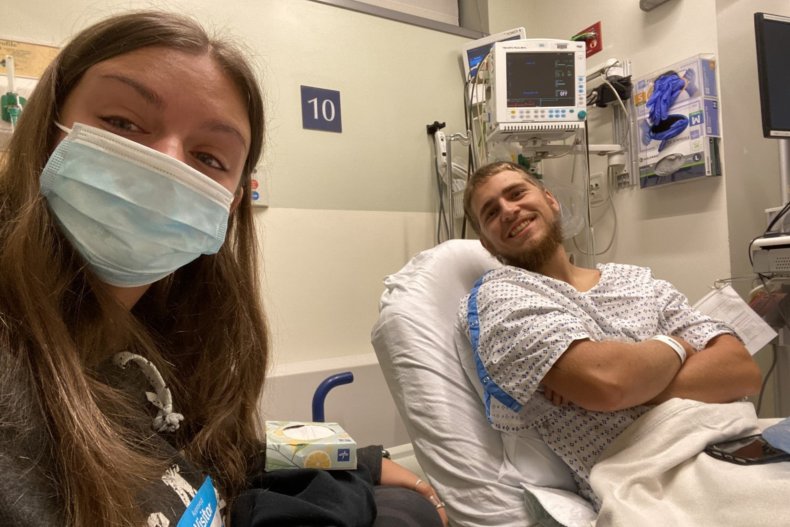 I woke up and the first thing that I said to my wife was: "You're still crying?!" Almost instantly afterwards I fell back to sleep for the next day and a half. When I finally came to, I thought: "Okay, I can move my fingers. I can move my toes. Everything kind of seems normal."
In the back of my mind I had been concerned about what would happen after the surgery—there's a million different things that could go wrong, but beforehand both my doctors had reassured me that I was in really good hands.
I hadn't realized initially, but the doctors who operated on me, Dr. Jennifer Moliterno Gunel and Dr. Murat Gunel at Yale School of Medicine, were actually a married couple themselves. While the process was nerve-wracking, both Jennifer and Murat were really positive about everything and made myself and my wife feel more comfortable about the whole situation.
I had to undergo another MRI in early January and both doctors told me they didn't see any reason for me to come back, it appears that they were able to successfully remove the cavernoma. I have to go back for a follow-up in a few months, but it's all looking positive.
Life after brain surgery
The only physical impact the surgery has had on me is that my handwriting isn't as good as it was, but in Layman's terms, that's kind of small potatoes. I don't have any headaches anymore, which was a big tell-tale sign.
I can only say thank you to my doctors. I came to them when I was in need and I don't think I've ever dealt with people who were as understanding and serious about helping me at the same time. The whole thing is completely surreal.
My advice to anyone is that if you think something could be wrong, don't just sit on it. It's better to act on it and at least you know what's going on and do something about it. I just wish it was that simple for everyone.
As for married life, it's awesome. I'm married to someone who makes me happy all day, every day. Even when I'm angry, it's hard to remain so around her. Kaitlyn means the world to me and, in fact, I will be taking her last name soon. Her dad only had daughters, so this is a way for the Reda name to continue on. Getting married is something we always talked about, we just had a little extra nudge that pushed everything to happen when it did.
Alexander Cianciolo is a heavy equipment operator in Kent, Connecticut. He lives with his wife Kaitlyn, an oral surgery assistant, and their two dogs – a Great Dane, Cleo, and a chocolate Labrador Retriever named Buck. Find him on Facebook as AJ Cianciolo.
All views expressed in this article are the author's own.
As told to Newsweek's My Turn associate editor, Monica Greep.
Do you have a unique experience or personal story to share? Email the My Turn team at myturn@newsweek.com