Notorious conservative commentator Ann Coulter has declared that she's "done" with President Donald Trump's position on Deferred Action for Childhood Arrivals (DACA), in response to the Supreme Court hearing arguments on DACA Tuesday.
"Many of the people in DACA, no longer very young, are far from 'angels.' Some are very tough, hardened criminals. President Obama said he had no legal right to sign order, but would anyway. If Supreme Court remedies with overturn, a deal will be made with Dems for them to stay!" tweeted President Trump on Tuesday.
"Okay, that does it. I give up. They can stay. You must go," Coulter replied to the president's tweet.
Once a strong supporter of the president and his policies—she even wrote a book called In Trump We Trust—and noted for her strongly-worded opinions on matters of race and sexism, among other topics, Coulter has been critical of Trump's immigration plans since the president's campaign promise to build his infamous Mexican border wall have slowed.
"NO WALL. KEEPS SAME MASSIVE LEVELS OF LEGAL IMMIGRATION. And this is the rube-bait campaign document, not even a serious bill," she replied to Trump's May immigration proposal, which suggested a switch to a "merit based" system, in a tweet.
In August, she was critical of the president's alleged employment of undocumented migrant workers, according to a Washington Post article.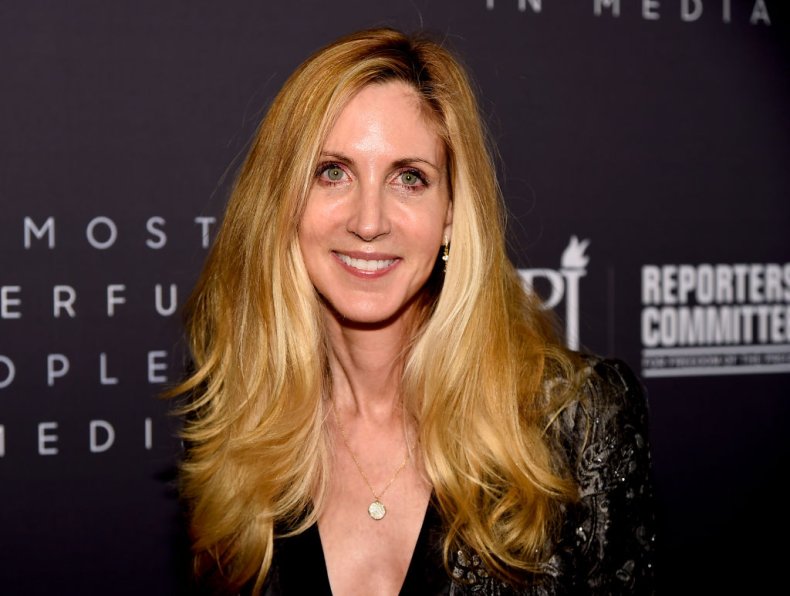 "Yes, why WON'T authorities charge the employers using all the illegal alien workers? ANSWER: BOTH REPUBLICANS AND DEMOCRATS SUCK UP TO EMPLOYERS FOR THEIR CAMPAIGN DONATIONS," she tweeted.
In a September Op-Ed for The Hill, Coulter wrote about both what she saw as Democratic inaction to America's immigration issues and broken campaign promises from Trump's regime.
"Our country is being inundated with 100,000 Latin Americans every month. That's in addition to the thousands of refugees being admitted each month from the rest of the world," she wrote. "Did we vote for this? I'm fairly certain we did not. In fact, as I recall, Americans have voted for the exact opposite every time they've been given the chance to vote on immigration. We even chose an utterly implausible individual as president of the United States—because he was a developer and he said he'd build a wall."
But she has had praise for other Trump-related matters—including saying that a man who stabbed the Baby Trump balloon was "Proving once again that Alabama is the greatest state in the union." The balloon had been floating over the city's streets during the president's appearance at the "Game of the Century" between LSU and Alabama.