'I Gave Out Free Contraception at My Texas Cafe—Residents Called The Police'
It was a bright, sunny day on July 26, 2022, when I drove up to my coffee shop in Wolfforth, Texas. I took a picture in front of the coffee mural by our store and walked inside, thinking: This is going to be a great morning.
An hour and a half later, while I was manning the early morning rush, I got a call on my cell phone. A stern voice said, "I have a weird question for you, Destiny. Are you dealing drugs in your shop?"
Local residents in our town had called the police on us, telling them that we were dealing drugs in our bathroom and handing out illegal substances to minors.
In actuality, we were handing out free contraceptive packs, which we have been doing since late July. The packs, which come from a Texas nonprofit called Jane's Due Process, contain two Plan B pills, two condoms and a pregnancy test. So far, we have handed out close to 100 of these kits, mostly to young women.
This initiative has divided our small town. We're a rural community. There's not much out here really, except 5,000 people and farmers, many of whom are stuck in their ways. As a result, we've had regular protests, and people calling the store to complain—as well as the call from the police.
On the morning of July 26, I had a 15-minute phone conversation with the police officer, who said they would need to check that what we were doing was legal, because nobody had ever done this before. There is no place in Wolfforth that sells Plan B.
I was really nervous after the call. This shop is my livelihood, and I've put my heart and soul into the business since I opened it with my husband two years ago. It scared me to think that, even though I had done my research and spoken to an attorney beforehand, some-one could take my business away from me. The thought made my heart race. I wondered: What have I got myself into?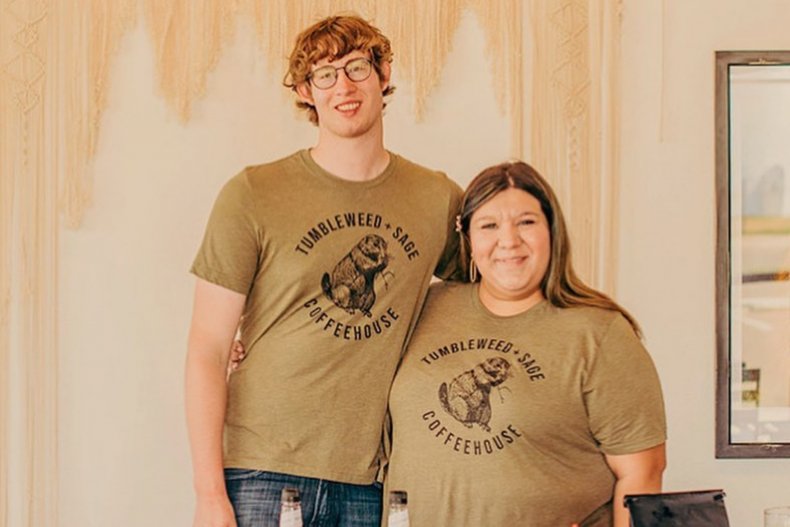 The police department made a Facebook post about the investigation the next day, and our customers responded and showed their support. I didn't want anyone coming after the police on our behalf, because we know the officers were just doing their jobs, but it was a relief to see people saying, "Hey, back off, they're not doing anything wrong." That was a breath of fresh air.
Thankfully, the police called back later that afternoon and said we were fine to continue.
It's not the first time our store has been the subject of controversy. Whenever we host drag brunches or drag story time events, we get a lot of backlash and people protesting outside our shop. People hold signs that say, "It's Not OK To Be Gay."
Why we're handing out Plan B in Texas
When we created our coffee shop, we wanted it to be inclusive and inviting, no matter who you are or how you identify, just a place where you can be yourself and be comfortable. Zero judgements, zero questions.
That's a big reason why I wanted to give out these free Plan B packs. There's nowhere else that provides Plan B in town, and just one store where you can buy condoms—but you're likely to bump into someone you know, and that's always super awkward and uncomfortable.
I've just had a child, too, which was a big motivator for me. As a small business owner, I don't have health insurance, so I had to go to Planned Parenthood for my pregnancy test. I found out I was pregnant, and I wanted to keep the baby, but as I left the building, people yelled, "Baby killer" at me. I felt so ashamed and it ruined what should have been a very happy moment.
So when Jane's Due Process reached out, we agreed to stock their kits in our store. If I can save someone from that feeling of shame from either going to the pharmacy or Planned Parenthood, that is a big deal to me. I want women to feel comfortable in that situation.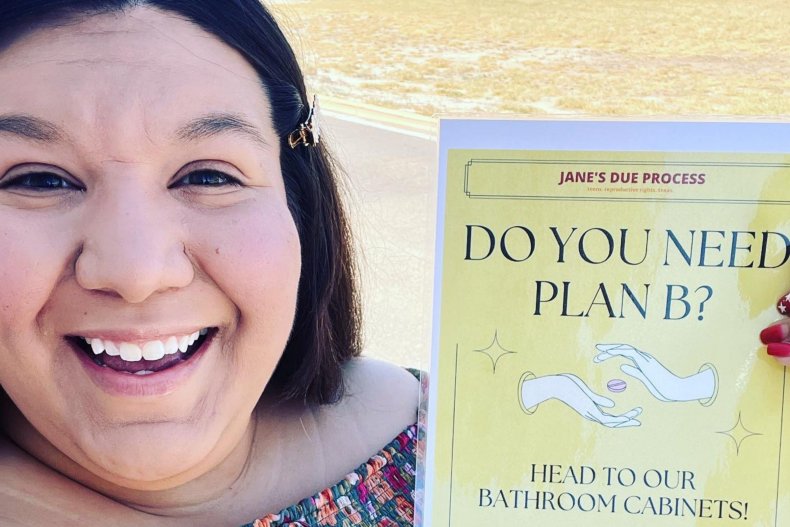 The issue of contraception hits close to home now that I have first-hand experience of being a mother. Having a child is very expensive, and not everyone can afford that cost. It's also a big responsibility, and people might feel they're not yet mature enough. Most women who request our kits are college age or younger. There are also women who are my age, 27, who have small children already. We want these kits to go to these people who need them the most.
Sometimes people order coffee with their kit, I think because they feel embarrassed, but they don't have to order anything. We've had people at the drive-thru saying, "Hey, I need a Plan B kit," and we just hand it over, no questions asked.
Backlash and protests
The overall response has been more positive than negative, but I get emotional about the criticism. We might get 100 positive comments online about it, and then get two negative reviews, and that hurts me. I don't get why they're so upset.
The people who say negative things seem to think that Plan B is an abortion pill. They appear not to be educated about what it actually is, and what it does.
People protest outside our store on random days, typically in the mornings, when traffic is at a standstill. They hold graphic photos of abortions and call us baby killers. Some have told me, "Blood is on your hands." I'm like, I'm not performing abortions here. This is a bakery.
There are usually no more than two or three people out there at a time—the most we've had was eight—and they are mostly men in their 50s or 60s.
I offered them water once, as it was 100 degrees outside, but they just yelled at me, so I've stopped going out there. Now I try to ignore them, although every fiber of my being wants to go out there and say, "What on Earth are you doing?"
I feel sorry for them. They don't seem to want to educate themselves about what Plan B is, and they instead believe the propaganda they have been fed. I feel really sad, especially when women are out there protesting, because I think, somewhere down the line, someone has taught them something wrong and put this fear into their hearts. I believe these women have been oppressed from educating themselves about contraception.
Support from the community
My husband has been so supportive in the face of this negativity, even though it has been overwhelming for both of us.
However, we have also experienced an outpouring of positive support. The day after we started handing out the Plan B kits, we had a line outside our door from open to close. It was overwhelming—in a good sense. All sorts of people showed up: from young women and young fathers, to older gentlemen and couples. People were there to show support. Some gave us donations, others just said, "Thank you so much for what you're doing."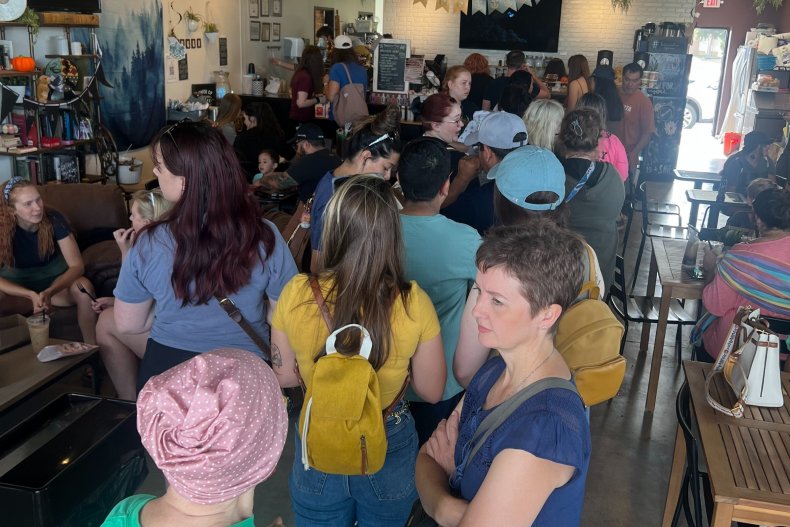 A grandma recently brought in her granddaughter, who was going off to college next year. She sat down and bought her granddaughter a coffee and pastry, then opened up one of the Plan B kits and walked her through what each item was and how to use it.
It was just so heartwarming to see that, and it sunk in that this was bigger than any of us. We're helping future generations of women understand that they have a choice, and that they have support in our community.
I grew up in Texas and I didn't learn about safe sex at school or at home. Even as an adult at college, my mom refused to talk to me about it. I don't want to be like that with my son. I want for him to be comfortable talking to me about contraception and safe sex, without feeling any shame.
I am worried about women's future rights to contraception, because so much has already been taken from women in the overturning of Roe v. Wade. The ignorance that I've witnessed from local residents about Plan B has been terrifying. I worry it will result in the death of the pill.
Until then, I will continue giving out Plan B kits. As long as my shop is open, we will be providing this service.
Destiny Adams owns the coffee shop Tumbleweed + Sage in Wolfforth, Texas. The store is on Instagram at @tumbleweedandsage.
All views expressed in this article are the author's own.
As told to Katie Russell.