I Grew Up Poor. Here's What Biden's Relief Plan Would Have Meant to Me | Opinion
I grew up in poverty. My family relied on an assortment of public assistance programs for my entire childhood. There were many times where the free lunch I got at school was the only meal I would have that day. Even now, as a working-class family with no financial safety net, my husband and I and our children are one missed paycheck or serious medical crisis away from a major disaster, as the saying goes.
My firsthand experience with the challenges of living in poverty and the vital resources that people in those circumstances rely on for daily survival means I am deeply familiar with safety net programs such as those addressed in President Biden's proposed relief plan.
As the COVID-19 pandemic now passes the one-year mark in the United States, many families across the country are way beyond the point of financial desperation. They urgently need help as they try to survive loss of income, lack of childcare and other support resources, as well as medical emergencies posed by a deadly threat that has hit communities of color and low-income areas especially hard.
The actions proposed by President Biden as part of his American Rescue Plan would provide substantial relief to those in the most dire straits; in some cases, they could even be a literal lifesaver.
A team of researchers at Columbia University recently estimated that if passed in its current proposed form, President Biden's economic relief plan could cut child poverty in half. Their report highlights several specific policy elements that would have the most impact in making that happen. These include the extension of SNAP benefit increases, the stimulus payments of $1,400 for eligible adults and dependents, the continuation of unemployment expansions, a fully refundable Child Tax Credit of up to $3,600 (depending on age of the child) and an expanded Earned Income Tax Credit.
I know what a huge difference these proposed actions could have on children whose families are struggling to keep their heads above water, because I was one of them.
SNAP benefits are especially valuable right now when many kids are learning remotely and may not have access to the free in-school meals they might normally receive. A continued increase in SNAP allotments would prevent kids from going hungry, while allowing families to use the limited funds they have for other critical household expenses.
Those essential expenses include things like power and heat. This winter has brought brutal weather and frigid temperatures to many parts of the country, meaning utility bills that are even higher than normal. Some state and local governments implemented utility shut-off moratoriums last year, but many of those actions have since expired or will soon, and while some utility companies have been lenient and flexible with customers who are struggling to pay their bills, others are proceeding with shut-offs for accounts with past due balances.
The enhanced unemployment benefits would be a huge help to those who have lost their jobs as a result of the pandemic. Meanwhile, for those who are still working, many of whom are among the lowest-paid essential workers keeping our communities going, the tax credits and other programs could help them with the exorbitant costs of the childcare they need so they can go to work.
Biden's proposed relief package includes other initiatives that would also influence child poverty, and poverty in general, such as rental assistance programs and childcare subsidies, which the Columbia team didn't even include as a factor when calculating their projections.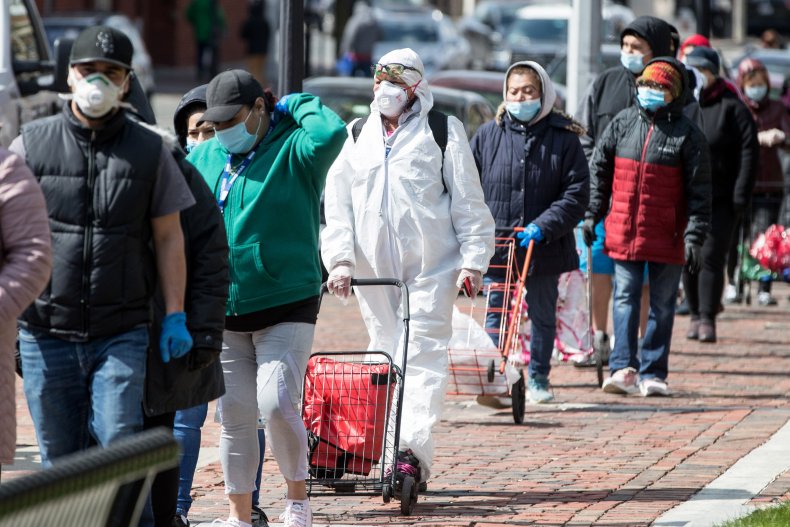 Of course, these projections are only a possibility if the plan were to be enacted in its original, proposed form, and that's far from a sure thing. Although the package did pass the House Budget Committee on Monday, it must now go to a full House vote and then head to the Senate, where it is likely to encounter some roadblocks.
The Biden administration is facing mounting pressure to get some sort of relief to struggling American families soon, especially as some current programs such as expanded unemployment benefits are set to expire in the next few weeks. Democratic leaders have indicated their intentions to try and get a package passed purely on a 50-member (plus Kamala Harris as the tie-breaker) majority, but that would require the buy-in of conservative-leaning Senate Democrats like Joe Manchin of West Virginia, who have voiced objections to portions of the package, like the $15 minimum wage. So there's a good chance that at least some concessions will have to be made, and core pieces of the plan may end up getting cut.
Whatever the final outcome of this plan, there are still other opportunities for federal lawmakers to have a significant impact on child poverty in this country. In addition to the $15 minimum wage, other ideas proposed by Democratic leaders, such as significant widespread student loan forgiveness, Universal Basic Income, and guaranteed healthcare coverage through a program like Medicare for All could completely transform the lives of many disadvantaged children, having an unprecedented impact on both their daily existence now as well as their odds of a promising future in years ahead.
Bobbi Dempsey is a writer specializing in poverty, income inequality, and issues affecting working class and low-income communities. She is also an economic justice fellow at Community Change. Connect with Bobbi on Twitter at @bobbidempsey.
The views in this article are the author's own.