I started a family later in life and my daughters, Gracie and Molly, were born when I was in my late 30s. I was living a typical, happy middle class American life in Concord, New Hampshire with my girls and my husband Kenny. We were living what you'd call the American dream. I was working as a school teacher and track coach and my daughters were active in dance and theater.
Then, in 2016, Molly got sick.
We took her to the doctors again and again and were told she was too thin, or stressed or had a sinus infection. Finally, in May of 2016, we took her to the emergency room (ER) where an undiagnosed brain tumor ruptured and killed her. Looking back now, I realize that we must have watched her slowly dying all day. Molly was rushed to another hospital and the tumor was removed in the hope that she would wake up and recover, but she didn't.
We had a very profound experience with Molly's death. She was one of those kids who touched people, so her funeral filled a 1,300 seat theater in Concord. It was held as a show and it was full of performers who were all her friends.
But life after that was very different and we were devastated. Gracie started therapy almost immediately as did I shortly after. But I also started having these dreams about needing to have a baby. When you've lost a child and three months later you start having a dream where you need to have a baby, you assume it is a traumatic response to stress. But the dreams were very intense. I would wake up two or three times a week with my heart pounding. So, after discussing it with Kenny, we went to my obstetrician-gynecologist (OB-GYN) and had some blood work done. I was 53 at the time, so I found a doctor, Dr. Vito Cardone in Boston, Massachusetts who immediately agreed to work with me.
We completed all the physical testing to see if I had a body that could support a pregnancy and afterwards, Dr. Cardone told me that my body was made to have babies. We could have started IVF then, but the price tag was overwhelming. Still, I felt like I had tried. The universe seemed to listen, because the dreams stopped.
We then settled a lawsuit against the hospital in June 2018 and suddenly this huge piece of our life had come to an end. It's a turning point that I think most people who have suffered a traumatic loss eventually get to: we could either be sad for the rest of our lives or try to build a life without Molly.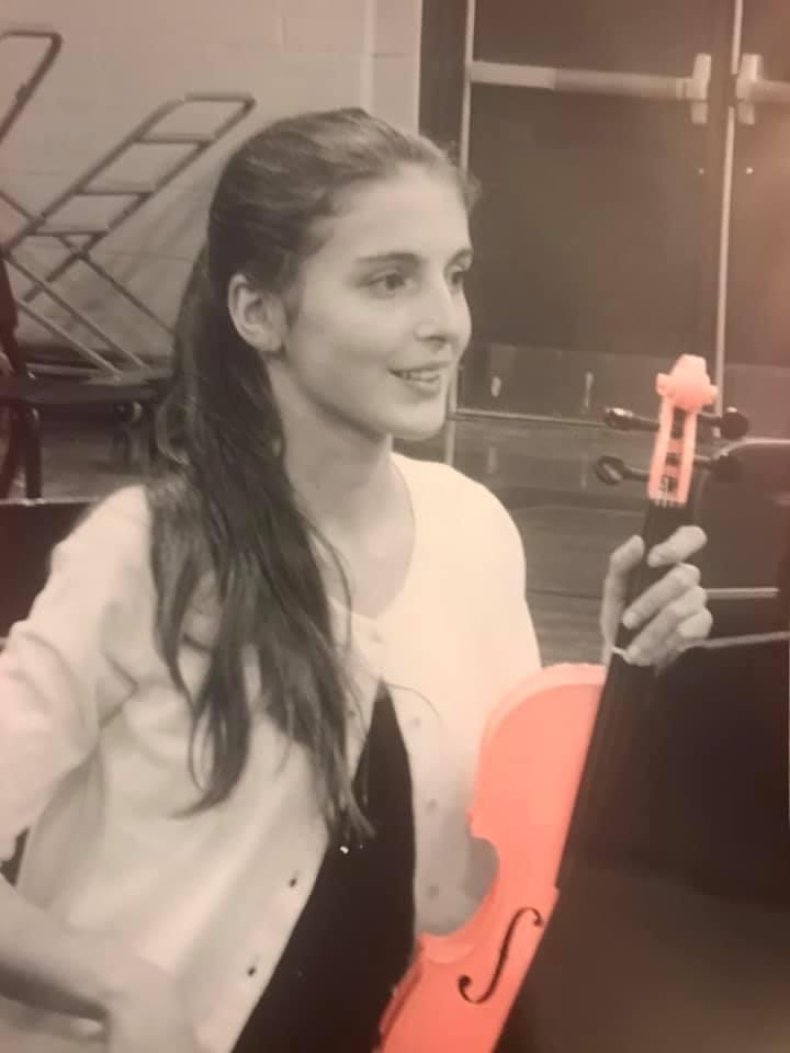 A month later, I had the baby dream again. So, we made the choice to return to Dr. Cardone. I had to come off on anti-anxiety medicine and medication for a jaw condition called trigeminal neuralgia, but about half way through, my jaw was hurting so much that I told Kenny I had to have surgery. I just couldn't live in that much pain.
The subsequent MRI on my jaw showed that I had three brain tumors. It was horrifying and I had to have two brain surgeries within six months before I was given a clean bill of health. In the meantime, Kenny was battling kidney disease.
I had just recovered from brain surgery and we were in Florida on vacation in April 2019 when we found out that the daughter from a family we know was on a life support machine. She had gone into anaphylaxis after accidentally eating something she was allergic to.
This young woman was only 20 and had danced in Molly's funeral performance, so we wanted to help her family navigate the loss of a child. During that time the family decided to donate their daughter's organs and it so happened that she was a match for Kenny's blood type and he received her kidney. We celebrate May 9 like a birthday because he was given a whole new life on the day of the surgery.
So, the way the first five months of 2019 unfolded had nothing to do with baby making but everything to do with being able to make a baby.
We had our first embryo transfer in September 2019, but it was unsuccessful. Then the COVID-19 pandemic happened and everything stopped. It wasn't until July 26, 2020 that we were able to have another embryo transfer. It went well, and on August 5, we found out that I was pregnant. I was beside myself with joy, but also aware that I had a gift in my hands that I didn't want to drop and break. But we got to the end of the first trimester and everything was fine, and I began to tell people between mid-December 2020 and New Year 2021. I was still telling people the week I gave birth, as I never made a big announcement.
Most people, if I told them face to face, responded with a sort of deadpan disbelief. Then, 99.9 percent were happy for us. Gracie had a hard time at first, she was worried about falling in love with a sibling and then the potential of losing them again. So we just supported her and gave her the freedom to feel that.
I actually had my easiest pregnancy. My due date was April 13 this year, but in mid March I developed preeclampsia. It's a common condition that happens to pregnant women at all ages, but two days after the diagnosis my blood pressure went up to 197/115. My doctor then told me I had to go into hospital and have the baby.
Luckily, I went into labor on my own and started really feeling contractions at 9.30am on March 20. Our son Jack was born at 12.30pm that same day. Seeing him was overwhelming. It was so quick that everyone was a little bit surprised, but he was this perfect little baby boy.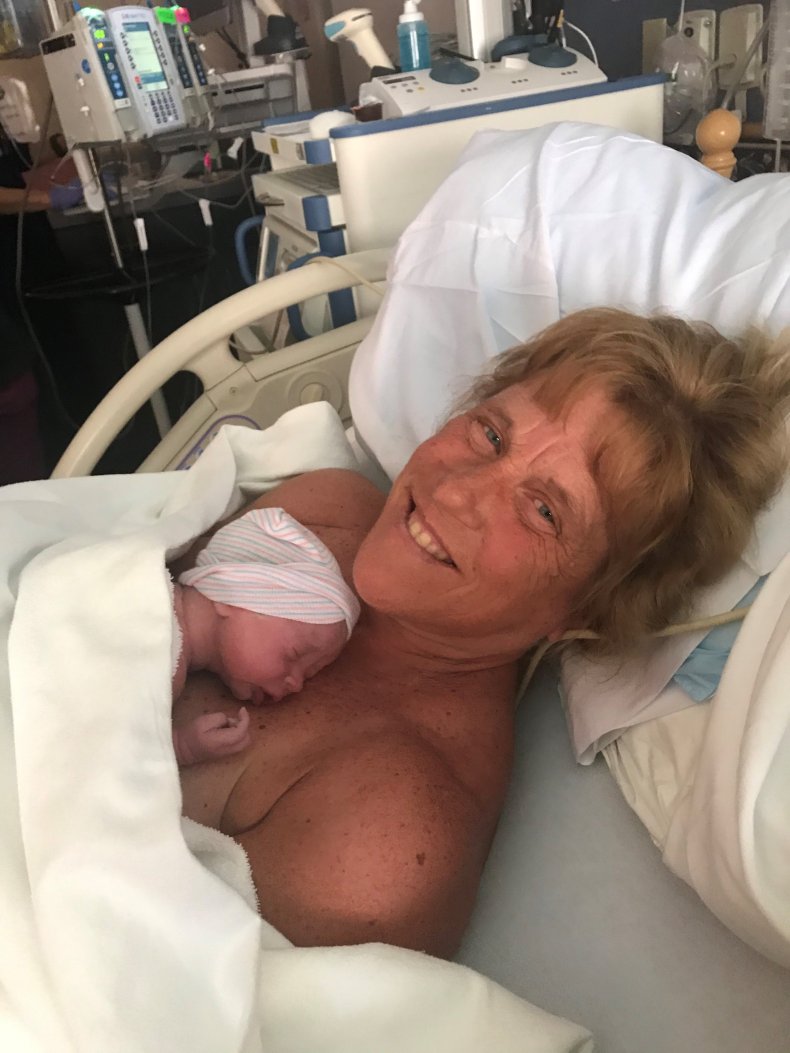 The first days have been incredibly typical in some ways. He keeps us up all night! But that's all babies. The beautiful part is that I am on maternity leave and Kenny has retired. We don't have the financial pressures that we had 20 years ago. And Gracie is in love with Jack. She is an early childhood major and her internship is at a childcare center, so she's a natural.
We have a big waiting list of people who want to meet Jack and that's beautiful. They just look at him as this little miracle. Everything that people have said to me during the pregnancy and after Jack's birth has been positive and the small amount of negativity we've received has primarily come from people we don't know.
When it comes to any criticism that I am giving women false hope, it's important for me to say that it wasn't just creating an embryo that was incredible, it was that I was healthy enough to have a baby at 57 and that I found a doctor who was willing to work with me. It was a rigorous process. We had psychological testing, physical testing and social and emotional testing. I appreciate this won't be possible for all women trying for a baby later in life, but my opinion is that it's much easier to live with not having a baby if you've been given the chance to try.
I've learned in my life, and especially since Molly died, that people who have been hurt tend to be hurtful. I don't take it personally and that has been a very conscious effort on my part. The most common thing is people saying that I'm old, I'm going to be an elderly mother or they ask how I could do this to a child. My biological father had a daughter when he was 86 and my sister is a beautiful human being. The world is better with her here. So I look at it that way. Jack is here. Whatever his life path is, I'm just a piece of it.
We also live in a society where grandparents are often raising, or helping raise, grandchildren. Jack will be 20 when I'm 77, he will be an adult and I don't think he's going to regret that he was born. We will just create a village for him, as we did for our daughters.
My message to people who are critical of us would be to step out of your line of sight and try to see it from a different angle. I'm not someone who has had an easy life so I came into this with some resilience. But I will say that Molly's death was like taking the worst thing you can imagine and multiplying it by infinity. So certain things really, truly don't bother me now. If my life is a trigger for someone else, I really have no control over that. Until you have been us, you can't really criticize what we do.
Molly would have turned 18 on April 1. Gracie was holding Jack the other night and she started to cry and then I began to cry. That gets no easier. The weeks leading up to and between Molly's birthday on April 1 and day of her death on May 7 are the worst. But I will say that I feel better going into them than I have in five years, and that's because I have a focus. I can celebrate Molly better if I'm in a place of happiness and openness.
As much as Jack is tied into Molly, it was never that Molly died and then I decided to have a baby. Molly died and then I had those dreams and I wondered for a long time what I was supposed to do. Molly and Jack are connected but Jack is not Molly, or a replacement.
"Are you happy?" is not a question I have been able to answer "yes" to for the last five years. But in life there are moments of wonder that bring happiness, like the birth of Jack. So, I think I am now able to feel happy in a way that I have not been since Molly died.
Barbara Higgins is an educator living in Concord, New Hampshire. She is married to Kenny and has three children, Gracie, 19, Jack, born on March 20, 2021 and Molly, who died on May 7, 2016.
All views expressed in this article are the author's own.
As told to Jenny Haward.