'I Had A Brain Hemorrhage at 23 And Was Told I'd Never Walk Again'
On the day of my 23rd birthday in the mid 90s, my mom, dad and brother had taken me out to Covent Garden in London to celebrate. We were sitting in a cafe and I had a lovely slice of cake with a profiterole on top of it. Whilst I was eating I suddenly started to get a headache on the right side of my head. I didn't think much of it though, and I also didn't want to waste my cake.
But as we left the cafe, I really wasn't feeling well and my legs had started to feel jelly-like. A young lady in her 20s walked past, I don't know if she was trained in first aid, but she took one look at me and offered to phone for an ambulance for me.
The ambulance arrived and the paramedics got me into a wheelchair and into the back of an ambulance. The last memory I have from my 23rd birthday is the ambulance pulling away from Covent Garden and a paramedic shining a torch in my eye.
I now know that I was taken to London's University College Hospital emergency room and as my symptoms indicated my problem was brain related, I was transferred to National Hospital for Neurology and Neurosurgery, also in London. I was there for about four or five weeks and I was unconscious for almost the entire time. I think I did drift in and out of consciousness occasionally because a strange thing I remember is seeing myself lying in a hospital bed, looking down at myself in what felt like an out of body experience. I recall seeing all of my colleagues at work standing around my bedside. They told me afterwards that they did come and visit me there.
During the time I was at the National Hospital for Neurology and Neurosurgery, I had MRI scans where doctors discovered I had an arteriovenous malformation (AVM), which is tangle of blood vessels in the brain. They're rare; only around 18 in every 100,000 people in the U.K. will have an AVM, and only one or two will see any symptoms. In the U.S. they typically occur in less than 1 percent of the population.
Most people with an AVM have no problems and don't even know they have it. But for an unlucky few, around 4 percent, the AVM hemorrhages—which is what happened to me. Some also have their AVM on the surface of their brain so doctors can operate and stop the bleeding but I had to be really awkward—mine was inside my brain there was no way of operating. It wasn't until the end of the following month, January 1996, that I was transferred to Middlesex Hospital where I regained consciousness. So I have no real memories of the six weeks from the day of my 23rd birthday to the end of January the following year.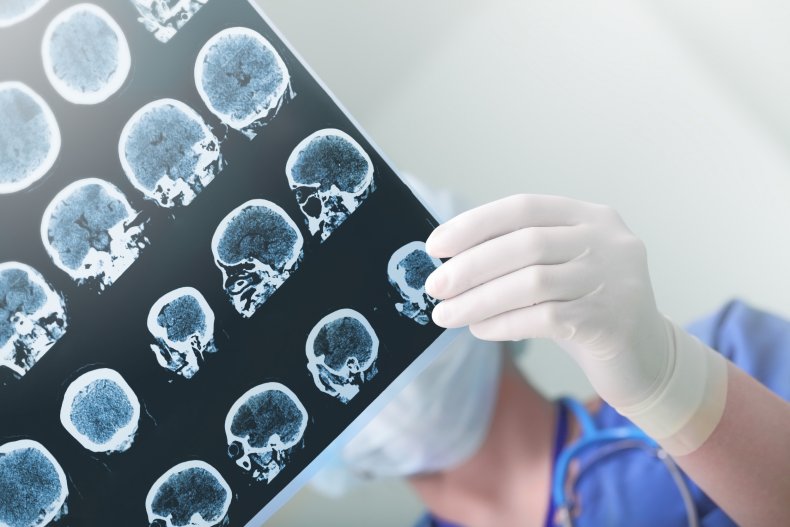 When I woke up I had a tracheotomy to help me breathe and because the bleed was on the right side of my brain, I was paralysed down my left side—I couldn't move anything. The doctors would come to do their rounds and would speak to my parents rather than to me directly because with the amount of brain damage I had registered, they didn't think I would be able to understand what they were saying. It wasn't until I gestured that they bring me a pen and paper so I could communicate through writing, that they realised I could. I was told that medically I shouldn't have survived the hemorrhage, let alone have a chance of recovering.
In April 1996, I left the hospital and I was transferred to a rehab center that specializes in intensive rehabilitation for people who have had strokes. There I had intensive physiotherapy and also worked with an occupational therapist every day. The sessions were perhaps 30 minutes long each, but because my mom was pretty much with me all the time, she would watch all the exercises the physiotherapists did with me and then afterwards she would get me to repeat them myself in my own time. That really helped, but I was told I would be lucky to walk again at all, and to do so within eight years would be a great achievement.
Once you leave the rehab center you work with your local hospital where the physiotherapists might not be as experienced, so although I continued to have treatment, I really had to keep going myself. It was really down to my mom who kept pushing me and didn't let me give up. Within eight months I was able to stand and walk a few steps. So I was able to go back to the rehab facility and say: "Remember the guy who you said wouldn't walk for eight years? Here I am on my feet."
Within a year and a half I went back to my job at an engineering business, because the company had kept the job open for me. My colleagues from work had also kept in contact with me throughout my recovery. I'd known these people for a long time and every week or so they would send me a card or something.
I remember my boss saying that if I needed a bed in the corner office to rest on, they would put one in there for me so I could come back to work. They were very supportive employers and I felt very lucky. I helped with one of their first really successful products that was part of the official merchandise for the Star Wars film The Phantom Menace. They even bought me a car that had been adapted for me so I could re-learn how to drive and I was back on the road by 1999.
I continued in engineering work and then research, but after the Great Recession in 2009 I decided it was time for a change, and I went to work in Windsor Castle as a warden looking after visitors. I've been doing that for the past 11 years. Although I very occasionally see the Royal family, they are very busy. I'll perhaps get to see the Queen at the Christmas party if she walks through. I'm not seeing her regularly, especially now, with the COVID-19 pandemic.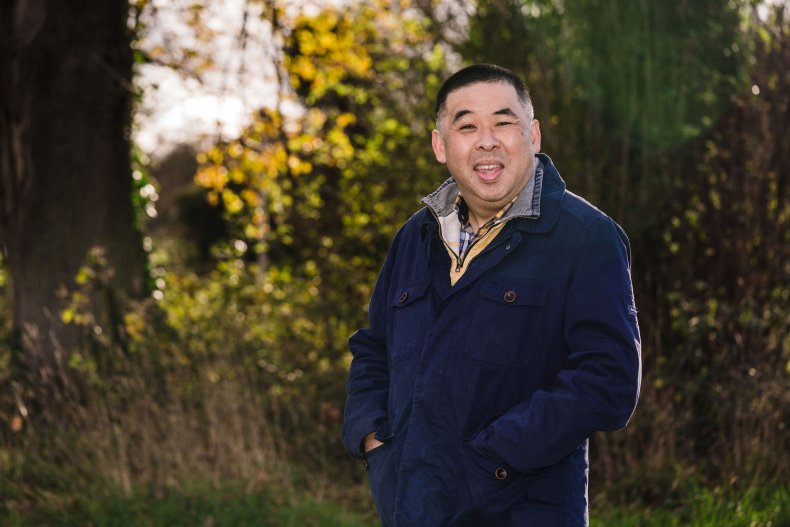 In October 2014, I met my wife Anna online. We're both Christians so we met on a Christian dating site. We were emailing constantly for a month or two, then in January 2015, we finally met up face-to-face in Winchester, just as it had started to snow. I remember it so well. We were married 51 weeks later—when you meet the right person you just want to get on with it.
Even now I still have no use of my left hand and I still have a slight limp in my left leg. But you probably wouldn't notice the limp, and it's improving. In the past couple of years I have been able to find treatments that just weren't available 20 years ago. My short term memory isn't great sometimes, but I can still remember everything back from before I had my brain hemorrhage. All my engineering knowledge seems to still be in there, luckily!
Last year, I was in a big electrical shop and I saw an elderly gentleman, probably in his 70s. All he wanted was a basic cell phone and the sales person was trying to sell him the flashiest one in there. Engineering has always been my passion, so I thought that I could advise someone like that with my knowledge of electronics and help them avoid getting ripped off. So, during the pandemic with Windsor Castle closed, I decided to start my own business.
Recovering from the hemorrhage has taught me that you need a lot of patience in life and that it's important not to give up. Anything is possible; the doctors said I'd never walk again, but I just kept going.
Eventually I got back on my feet, and now here I am.
Kin Wan lives in Wokingham, England with his wife, Anna. He has just started his own business, ASK-KIN where he offers electronics advice and help fixing electrical products. You can find out more at askkin.co.uk or follow him on Instagram @25yearspoststroke
All views expressed in this article are the author's own.
As told to Jenny Haward.