'I Had To Google MP35, Too': Social Media Reacts As ABC's 'Abbot Elementary' Ratings Soar
ABC's Abbott Elementary is becoming a hit — quickly.
Following creator and series star Quinta Brunson through the trials and tribulations of being a second grade teacher in the Philadelphia Public School System, the mockumentary-style sitcom has grown an avid social media fanbase, and made ratings history along the way.
Premiering on December 7, 2021, Deadline reports that Abbott Elementary initially earned an 0.6 rating in the 18 to 49 demographic and 2.79 million viewers.
More than a month after its debut, those numbers have skyrocketed.
According to Deadline, after 35 days of viewing across ABC's linear and digital platform's, the ratings for Abbott Elementary's series premiere jumped 300 percent, recording a 2.4 rating and 7.1 million total viewers in the same demographic.
Per ABC, that jump marks the largest percentage growth from LS+D to MP35 for any new comedy premiere. (LS+D is Nielsen's live plus same-day rating statistic.) ABC began tracking MP35, a rating that accounts for streams across multiple streaming platforms over a 35-day period, in 2017.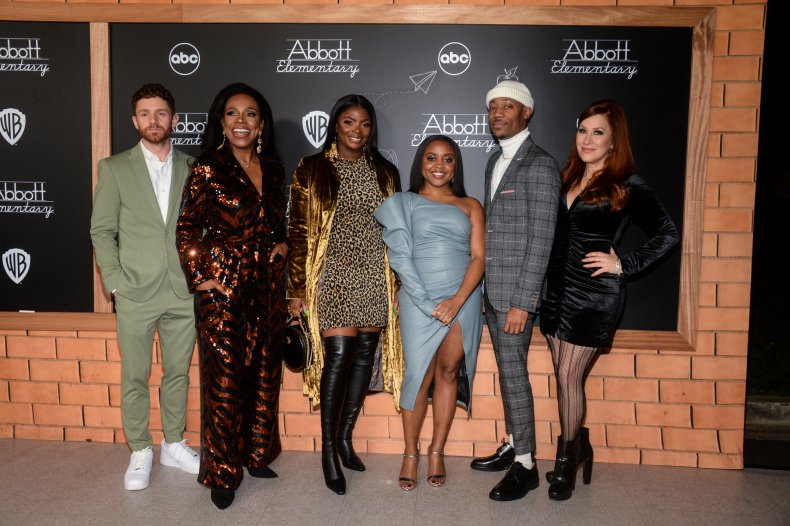 While Abbott Elementary garners increasing attention from viewers across the country, even Brunson said she was unclear what exactly the massive spike in MP35 meant.
"I had to google MP35, too," Brunson tweeted.
"Thank you so much for watching everyone!," she added.
Abbott Elementary, which features Tyler James Williams, Jannelle James, Chris Perfetti, Lisa Ann Walter and Sheryl Lee Ralph alongside Brunson, has also made waves across social media. From viewers to Hollywood stars like Gabrielle Union, fans of the sitcom have shown strong support for the series online.
In an excited tweet responding to Abbott Elementary's historic ratings jump, Union congratulated Brunson for the show's success and pleaded for an announcement confirming a second season.
"@quintabrunson let's goooooooooo!!!!!," Union tweeted. "Need that season 2 pickup announcement ASAP."
In a separate tweet, which has received more than 3,000 retweets and 37,000 likes, Twitter user @ItsZaeOk speculated that the success of Abbott Elementary resonates farther than television ratings.
"I think it says something for abbott elementary to be attracting a crowd of people that don't regularly watch network sitcoms," @ItsZaeOk tweeted.
Although much of the conversation surrounding Abbott Elementary has taken place on Twitter, the sitcom has quickly made its way onto other social media platforms. In a Reddit thread posted on r/television, viewers came together to react to the ratings success and speculated about why the show is gaining traction the way that it is.
Redditor u/StregaCagna drew comparisons between Abbott Elementary and previous successful network sitcoms and commented on the show's portrayal of teaching in an underfunded public school district.
"It's a great show with solid bones and a ton of potential," they wrote. "It's way ahead of where, say, Parks and Rec was at the start and seems like it could go all the way."
"Also, as a former teacher in a district that always ranked in the bottom 10% in my state, it rings very true," they added.
Responding to the recent fanfare, Redditor u/LiveFromNewYork95 said they are shocked that a sitcom is becoming so popular in 2022.
"I honestly didn't think I'd ever see a network TV sitcom that moved the needle again the way this show is," they commented. "Is viewership anywhere near sitcoms of the past? No. But it's still getting talked about and gaining traction in a way I assumed went away for good."