'I Had A Double Mastectomy, COVID-19 Has Prevented My Reconstructive Surgery'
In June of 2019 I had my annual mammogram. When I received my results in August, it turned out there was an issue and I had to have a biopsy. That biopsy showed that I had breast cancer. It had advanced to stage three and spread to both breasts and my lymph nodes.
So I was quickly scheduled to have a double mastectomy surgery about two to three weeks later. I didn't really have time to deal with it and how it was going to affect me.
I was feeling confident right up until it was time for the surgery itself, and then I broke down. I felt like I was losing something, and I suppose I was feeling sorry for myself and thinking, "why me?" But I have a good support system with my friends, and my husband has really stood by me during this whole ordeal.
At the same time as my double mastectomy, my plastic surgeon put in my tissue expanders. Because my breast tissue was completely removed, tissue expanders were placed under my muscle where my breasts had been and they have been inflated over time to make room for breast implants, which I will have put in during my breast reconstruction surgery.
My original breast reconstruction surgery date was scheduled for February 2020, but after my chemotherapy in November and December of 2019, my doctor decided that I had to go through radiation treatment as well.
I had that radiation treatment in early 2020, and therefore had to postpone my surgery. And then COVID-19 hit the U.S., my husband lost his job and we lost our health insurance.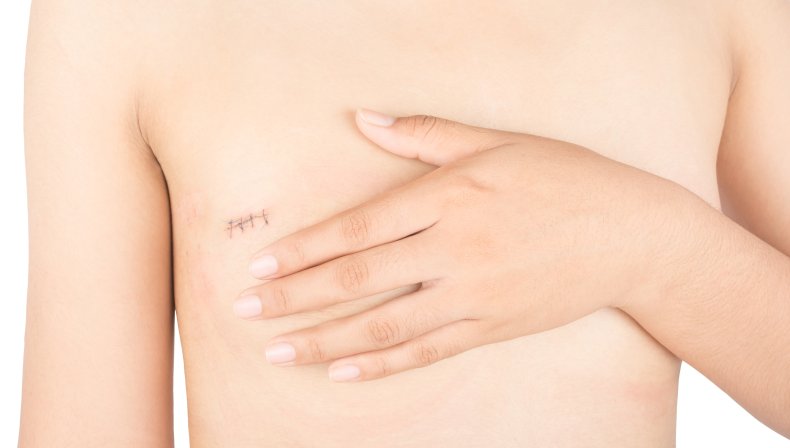 When I was originally looking at having the reconstruction, I knew I didn't have the money to pay for it. So, I started calling various organizations including the American Cancer Society and Susan G. Koman, any groups I could find online that had anything to do with breast cancer. I did a lot of research on my own at first. Then my Cleveland Regional Cancer Center here in Cleveland, Tennessee, suggested several foundations that I could call to see if I was eligible for any kind of support or grant. One of them was Alliance in Reconstructive Surgery (AiRS) Foundation, and it turned out I was eligible for a grant from them for my reconstructive surgery. I received my grant of $5,000 in November of last year and it was a huge relief.
But because this was all completed right after my mastectomy in August, when my husband lost his job in March, I lost the ability to pay for the rest of the breast reconstruction surgery using my husband's health insurance, and my plastic surgeon doesn't accept the health insurance I am on.
So I had to resubmit my grant application and request the full amount for the surgery from The AiRS Foundation, which is $6,714. I received that, which was wonderful. However, my surgery has now been delayed by eight months and my next appointment to see my plastic surgeon is in November.
With the pandemic, I don't know if we will be able to set a surgery date for November or December or if we will have to wait until the New Year. It's frustrating, but I'm just taking it a day at a time. I know things are going to move forward and I have to be patient because COVID-19 has impacted many people's lives. I'm lucky that my cancer was caught in time and that I have had very good doctors.
But it's very important to me to have reconstructive surgery. I'm in my mid-50s and I wasn't ready to live without my breasts. Some women can have a mastectomy without the reconstructive surgery, but my breasts were a big part of me. For me to feel whole again, to feel natural and like a woman, I need the reconstruction.
I also lost my hair in January, and I had beautiful, long, thick hair. My breasts and my hair made up a big part of my identity, and I lost both of them. So, I bought a beautiful wig and I put makeup on and wore a mastectomy bra, because I wanted to look and feel my best.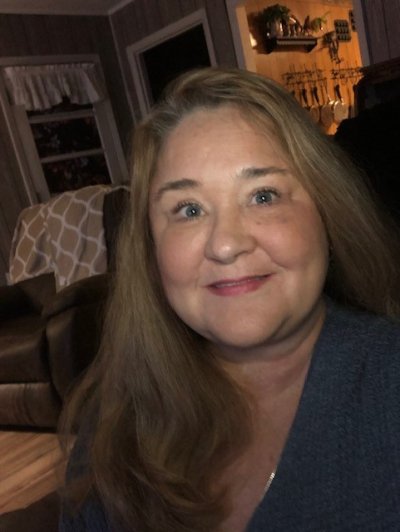 Of course, some people can go out in public without their hair and throw a hat on, and I did use scarves for a while because it was easier during chemo, but afterwards my wig came in really handy. Because I lost my eyelashes and my eyebrows, so I wore fake eyelashes and had my eyebrows tattooed by a permanent make up artist.
A lot of the time makeup artists who do permanent makeup will also do nipple tattooing for women who have had mastectomies. I'm waiting for my implants to get nipple tattoos, and the woman who is doing mine has actually offered to do it for me for free, because she says that's her way of giving back. I'm paying for the materials, but her labor comes at no cost.
While I wait for my surgery, I've only really been going outdoors for doctor's appointments, because I am at higher risk from COVID-19 due to my chemotherapy, radiation treatment and mastectomy surgery. So to break the monotony I learned how to crochet, how to do 3D painting and I read a lot of books about cancer. One that really spoke to me was Chicken Soup for the Soul: The Cancer Book: 101 Stories of Courage, Support & Love, it shows how different people have coped with their cancer.
Even though we are in the midst of a pandemic, I really want to encourage women to continue with their annual mammograms. That's how my cancer was discovered and it had progressed to stage three in the time since my previous mammogram, and I go every year.
If you are diagnosed with cancer, there are many organizations you can reach out to for support; the National Breast Cancer Coalition; the Cancer Recovery Foundation; and the AiRS Foundation, who have helped me. I would encourage women who have had their reconstruction surgery delay to try to stay positive and take it in their stride, as I have tried to do.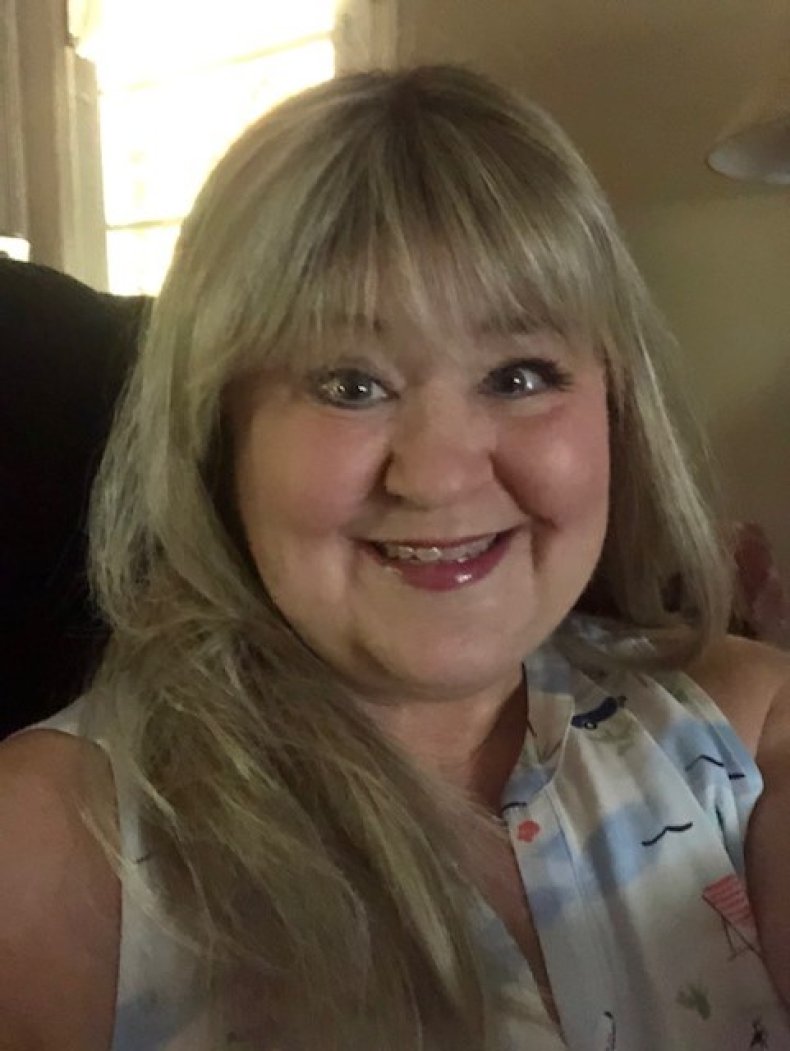 I wasn't expecting the diagnosis, because cancer didn't run in my family so I wasn't very familiar with it. So when I discovered I had cancer, I thought, "well, we're going to take care of this, we're going to charge ahead and be positive."
But there were many times when I needed help and my husband has really stepped up. I don't think I'd ever realized quite how close our relationship is. We've been together for 20 years in December and he has really been there for me through my cancer diagnosis and treatment. I can't tell you what that has meant to me.
I've grown closer to God and I have found that people are willing to help you if you are in need. I've learned that the whole world isn't against you.
Darla Blose is a breast cancer survivor living in Cleveland, Tennessee with her husband. She received a grant to pay for her post-mastectomy breast reconstruction surgery from the Alliance in Reconstructive Surgery (AiRs) Foundation—a resource and a support system for the women who have had mastectomies as a result of breast cancer, including providing financial support for breast reconstruction.
Breast Cancer Awareness Month 2020 begins today and runs throughout October.
All views expressed in this piece are the writer's own.
As told to Jenny Haward.